ExcelR – Business Analyst, Full Stack Development, Tableau & amp; Power BI Course Training
Raising Excellence
Level up your web development skills with ExcelR Full Stack Developer Certification Training Course in Bangalore. Join us and unlock endless possibilities in the world of web development.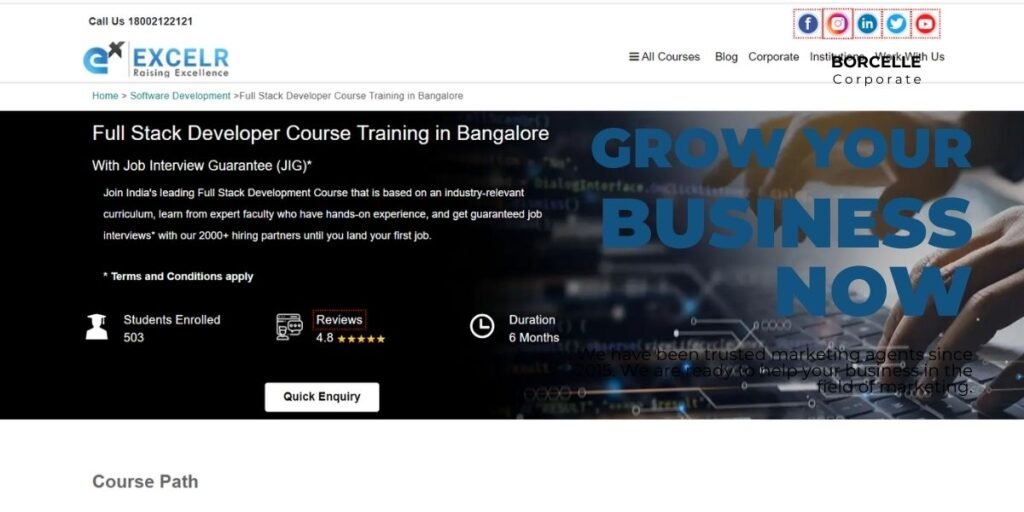 Our comprehensive program is designed to equip you with the necessary skills and knowledge to excel as a Full Stack Developer. Led by industry experts and seasoned practitioners, our course curriculum covers a wide range of technologies and frameworks, including HTML/CSS, JavaScript, Node.js, React, and more. You'll gain hands-on experience in both front-end and back-end development, enabling you to build dynamic and interactive web applications.
At ExcelR, we believe in learning by doing. Our training methodology focuses on practical application, allowing you to work on real-world projects, engage in coding exercises, and tackle industry-relevant challenges. Through interactive sessions, workshops, and hands-on projects, you'll develop the expertise and confidence to succeed as a Full Stack Developer.
Our faculty members are passionate professionals who are dedicated to your success. They provide personalized guidance and mentorship throughout the course, ensuring that you receive the support needed to sharpen your skills and overcome any hurdles along the way. You'll also have the opportunity to network with professionals from diverse backgrounds, fostering a collaborative learning environment.
ExcelR's cutting-edge training facilities in Bangalore provide an ideal environment for your learning journey. With access to state-of-the-art infrastructure and industry-standard tools, you'll have everything you need to master Full Stack Development.
Upon successful completion of the course, you'll receive a prestigious Full Stack Developer Certification from ExcelR. This certification will validate your expertise and open doors to exciting career opportunities in the rapidly growing field of web development.
Don't miss out on this incredible opportunity to become a skilled Full Stack Developer. Limited seats are available for ExcelR's Full Stack Developer Certification Training Course in Bangalore. Enroll now and secure your spot in our upcoming batch. Visit excelr.com to learn more and kickstart your journey towards a successful career as a Full Stack Developer.
Contact Information
Safeway Plaza, 10, 3rd floor, 27th Main Rd, BTM 1st Stage, Bengaluru, Karnataka 560068
There are no reviews yet.