Admitek
Online Admission Software
Admitek SevenM, based in Kolkata, India, is one of the most preferred tech conglomerates and ranks on the top with its tech-related products and services. SevenM's products are being used by many businesses and professionals around the world. SevenM has grown its market share by expanding its services beyond regular tech solutions to other types of digital media platforms.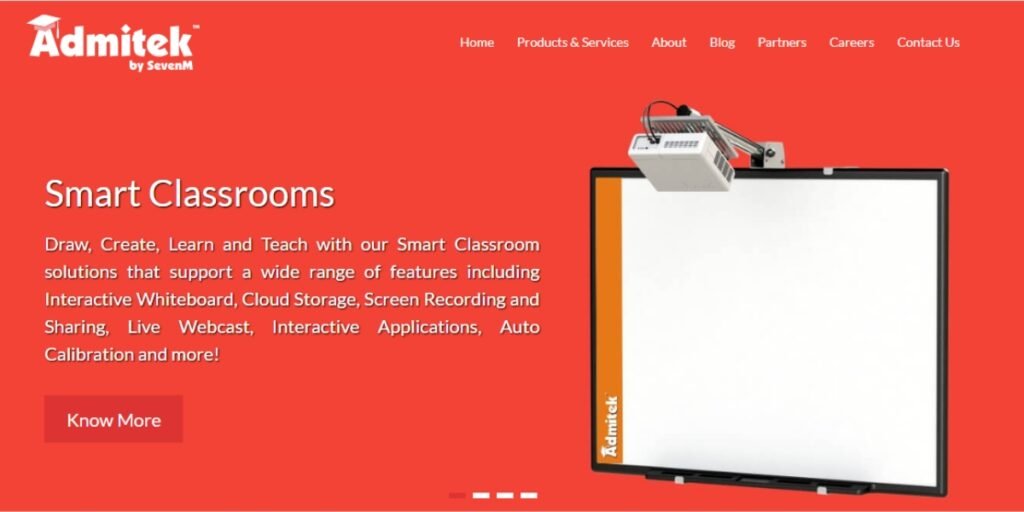 Founded almost two decades ago SevenM is a young and innovative tech company which empowers its clients by giving intelligent solutions that contribute significantly to their businesses. Being one of the top tech companies, SevenM is rapidly expanding its functionalities and is recognised for its user-friendly solutions that help business transformation with speed, flexibility, manageability, reliability, security, and engineering.
Services:
Admitek iCampus
Online Admission System
Admitek Speech
Virtual & Smart Classes
Admitek PayMate
Website Manager
Admitek DigiLib
Id Card Solutions
Benefits of Partnering with Admitek
Admitek offers several benefits to partners who collaborate with them, including:
Cutting-Edge Technology: Admitek utilizes the latest and most advanced technology to develop innovative solutions that help their partners stay ahead of the competition.
Customized Solutions: Admitek understands that every partner has unique requirements and offers tailored solutions that address specific needs.
Expertise: Admitek has a team of experienced professionals with expertise in various domains, including software development, digital marketing, and project management.
Cost-Effective: Admitek's solutions are cost-effective and provide value for money. They work with partners to find the most cost-efficient solutions without compromising on quality.
Reliability: Admitek is committed to providing reliable solutions and support to its partners. They ensure that their products are user-friendly, reliable, and scalable.
Long-term Partnership: Admitek values long-term partnerships and works closely with their partners to understand their needs and provide ongoing support.
Contact Information
508, Saltee Plaza Beside ILS Hospitals Dum Dum 1, Khudiram Bose Sarani Kolkata 700080, India