Whsuites
Exclusive Lead Management Software For Business
WHSuites is a fully integrated lead management software that is specially designed to increase the sale conversion as well as team productivity. This Lead Management software consists of an inbuilt feature that is used by anyone of any team size to increase the business output.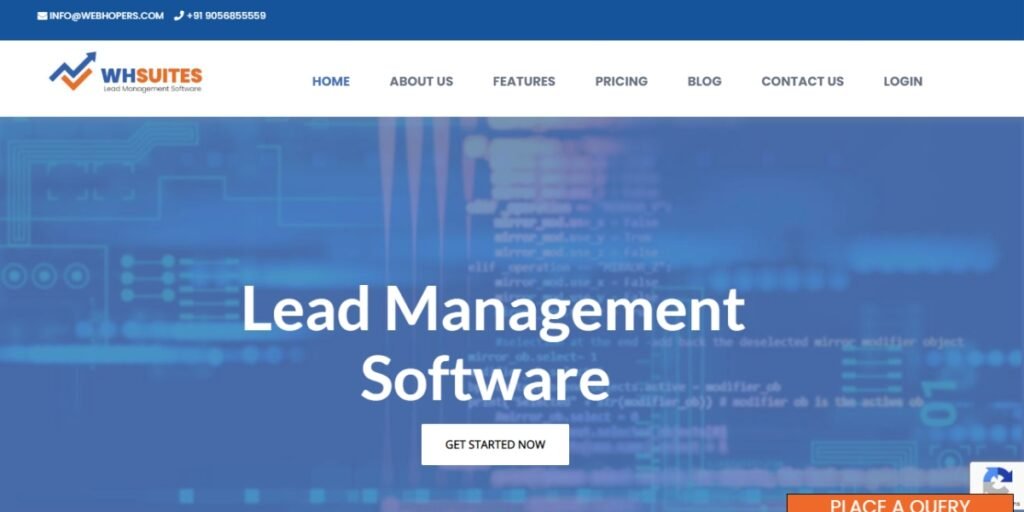 WHSuites is owned by WebHopers Infotech PVT. LTD. (Chandigarh's Topmost Google Partner company). Everyone wants to increase the productivity of the team so that business follows the smooth track. But due to mismanagement and fewer resources, we came to know that most businesses facing low conversion rates issues. Even after getting so many inquiries through different mediums the productivity of teams hampered.
Services:
Automate Leads Systems
Track Leads Activity
Manage Your Teams
Secured Application
Bulk Lead Assignment
Duplicate leads Check
Benefits of Partnering with Whsuites
Partnering with Whsuites can offer numerous benefits for businesses. Here are some of the key advantages of partnering with Whsuites:
High-quality services: Whsuites provides top-notch services to its clients. Partnering with Whsuites can help businesses deliver exceptional services to their customers, which can enhance their reputation and help them stand out in their industry.
Cost savings: Partnering with Whsuites can also help businesses save money. Whsuites provides affordable services, which can help businesses cut down on their operational costs.
Increased efficiency: Whsuites offers a wide range of services, including customer support, data entry, virtual assistant services, and more. By partnering with Whsuites, businesses can improve their efficiency and productivity by outsourcing non-core functions to a reliable partner.
Flexibility: Whsuites offers flexible services that can be customized to meet the unique needs of each client. This allows businesses to scale their operations up or down as needed, depending on their current workload.
Access to expertise: Whsuites employs highly skilled professionals with expertise in various domains. By partnering with Whsuites, businesses can access this expertise without having to invest in hiring and training their own employees.
Contact Information
3rd Floor, Showroom NO. A-303, A-304, TOWN-A, AK Trade Center, Ambala Chandigarh Road, Mohali, SAS Nagar, Punjab, 140603