SimpleCRM
Campaign Management For Market Reach
We deliver high-value, enterprise-grade, scalable solutions in the areas of Customer Relationship Management (CRM) and Intelligent Automation. SimpleCRM empowers your organization to deliver a consistently great customer experience. Moreover, you can expect these benfits without breaking the bank – our cost-effective commercial models create a compelling value proposition!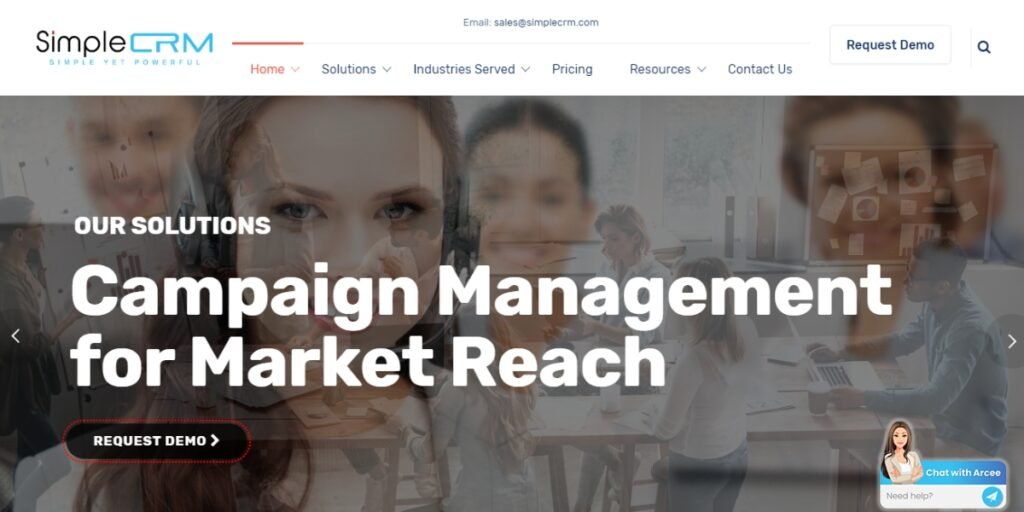 We employ customer-focused and highly engaged team members with a joint experience of delivering 350+ enterprise software projects globally. Well established best-practices and templatized procedures enable rapid, error-free and repeatable operations. We leverage open-source & in-house developed software frameworks to have 100% control over quality, upgrades, maintenance and cost without external dependencies.
Services:
CRM
Sales Automation
Digital Marketing
Service Automation
Mobile Apps
Benefits of Partnering with SimpleCRM
Partnering with SimpleCRM can bring a variety of benefits to your organization. Here are some of the key advantages of partnering with SimpleCRM:
Comprehensive CRM Solution: SimpleCRM is a comprehensive CRM solution that can help your organization manage customer relationships effectively. It offers a wide range of features such as sales automation, marketing automation, customer support, and analytics that can help you streamline your business operations and improve customer engagement.
Customizable: SimpleCRM is highly customizable, allowing you to tailor the solution to your specific business needs. You can easily configure the solution to match your business processes, workflows, and branding.
Cloud-based: SimpleCRM is a cloud-based solution, which means that you can access it from anywhere, anytime. It also ensures that your data is secure and always backed up.
Scalable: SimpleCRM is a scalable solution that can grow with your business. Whether you're a small business or a large enterprise, SimpleCRM can accommodate your needs and scale as your business grows.
Integration: SimpleCRM can integrate with other business applications such as ERP, accounting, and marketing automation tools. This can help you streamline your business processes and improve efficiency.
Contact Information
10/4 IT Park (near VNIT), Nagpur 440022, Maharashtra, India.