Keystone
International Student Recruitment Made Easy
Keystone is trusted by more than 110 million unique prospective students every year to help them make one of the most important decisions of their lifetimes, namely, which higher ed program to attend. In turn, Keystone helps over 5500 higher ed institutions reach and communicate with prospective students in more than 190 countries via its more than 460 websites covering 33 languages and eight-core higher education verticals – Master's, Bachelor's, PhD, Online, Healthcare, MBA, Law and Academic Courses.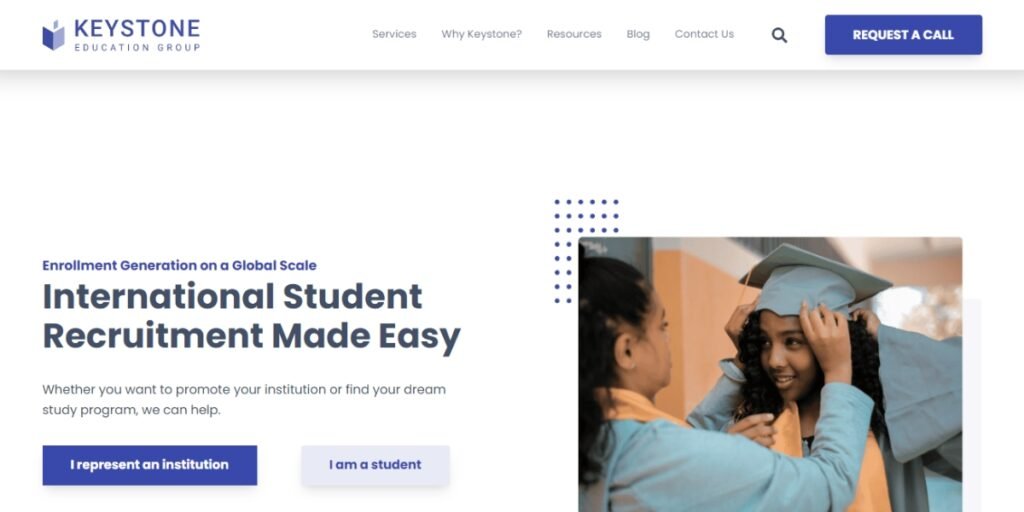 Headquartered in Oslo, Norway, and backed by Viking Venture and Verdane, leading Nordic venture firms, Keystone has an international staff of more than 600 employees.
Services:
Student Lead Generation

CRM & Marketing Automation

Student Recruitment

Student Conversion Services
Benefits of Partnering with Keystone
Some of the key benefits of partnering with Keystone include:
Expertise and Experience: Keystone has a team of highly skilled and experienced professionals who possess a wealth of knowledge and expertise in their respective fields. They can offer invaluable insights and guidance to help businesses achieve their goals and overcome challenges.

Wide Range of Services: Keystone offers a wide range of services, including management consulting, technology solutions, and talent management. This means that businesses can get all the support they need in one place, rather than having to work with multiple partners.

Customized Solutions: Keystone understands that every business is unique, and therefore, requires customized solutions. They work closely with their clients to understand their specific needs and challenges, and develop tailored solutions to address them.

Results-Oriented Approach: Keystone is committed to delivering results that exceed their clients' expectations. They use a data-driven approach to identify areas of improvement, measure success, and continuously refine their strategies to ensure optimal outcomes.

Long-Term Partnership: Keystone is focused on building long-term partnerships with their clients. They are committed to providing ongoing support and guidance to help businesses achieve sustained growth and success.
Contact Information
Keystone Academic Solutions Rolfsbuktveien 4C & 4D Fornebu, Norway 1364,