Blackbaud
Maximize your impact create the future
Leading uniquely at the intersection point of technology and social good, we provide cloud software, services, expertise, and data intelligence that empower and connect people to drive impact for social good.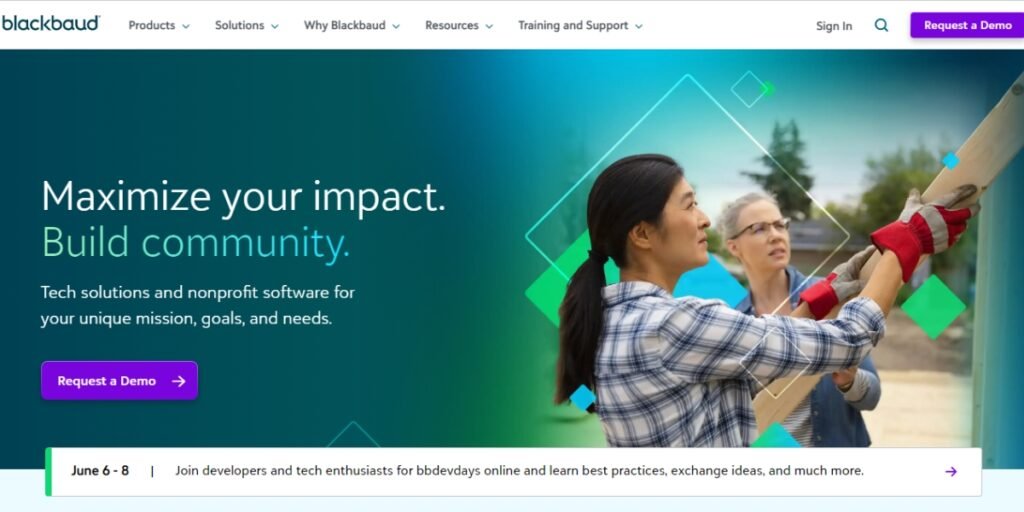 We serve the entire social good community, which includes nonprofits, foundations, corporations, education institutions, healthcare institutions, and the individual change agents who support them.
Services:
FUNDRAISING AND ENGAGEMENT

FINANCIAL MANAGEMENT

EDUCATION SOLUTIONS

CSR AND GRANTMAKING
Benefits of Partnering with Blackbaud
Partnering with Blackbaud can offer several benefits, such as:
Comprehensive Solutions: Blackbaud offers a range of software solutions that can help nonprofits with everything from fundraising and donor management to volunteer coordination and event planning. By partnering with Blackbaud, organizations can access a suite of integrated tools that can streamline their operations and improve their efficiency.

Expert Support: Blackbaud has a team of experts who are dedicated to helping nonprofit organizations succeed. When you partner with Blackbaud, you'll have access to a range of support services, including training, consulting, and technical support, to ensure that you're getting the most out of their software.

Customizable Options: Blackbaud's software solutions are highly customizable, so they can be tailored to meet the specific needs of each organization. This flexibility allows nonprofits to use the tools that are most relevant to their goals and objectives, without paying for unnecessary features.

Data Security: Nonprofits handle sensitive information, including donor information and financial data. Blackbaud's software solutions are designed to keep this information secure, with features such as data encryption and regular security updates.

Industry Expertise: Blackbaud has been working with nonprofit organizations for over 40 years, so they have a deep understanding of the unique challenges facing these organizations. By partnering with Blackbaud, nonprofits can benefit from this expertise and leverage it to achieve their own goals.