If you wish to build a rewarding and successful career in the world of Data Science, the Data Science Course in Hyderabad offered by 360DigiTMG is the way to go. With a well-structured and lucid flow of the lectures, grasp the comprehension of core technologies. 
The Secret Behind Data Science Courses from 360DigiTMG
These days, the term or the concept of Data Science is globally coming into the spotlight. We have perceived and gathered that this notion is associated with data mining, big data and machine learning.
But what exactly is Data Science?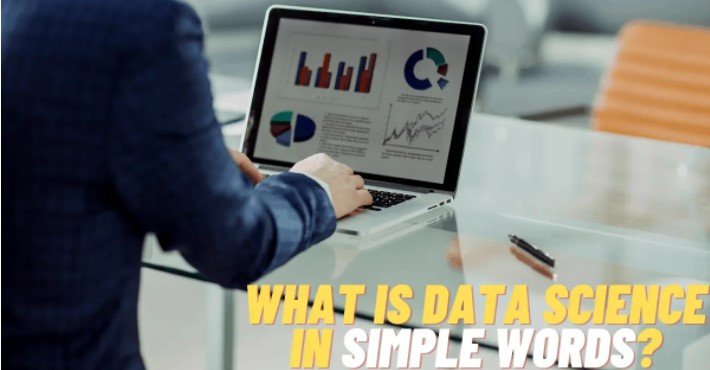 Data Science is an interdisciplinary area of study applying algorithms, scientific methods, processes and systems. Its purpose is to extract insights and knowledge and utilize these data. One can use them across an extensive scope of domains of their application. We can obtain the particulars from both structured and unstructured data.
The concept of Data Science is employed in the operations to unify data analysis, informatics, statistics, their correlated processes, etc. It helps to comprehend and analyze definite and tangible incidents and singularities with the acquired data. Hence, the theories and practices from various fields of studies are applied. These include Computer Science, Domain Knowledge, Statistics, Information Science and Technology, and Mathematics.
As such, Data Science has gradually become a vital part of our day-to-day lives. It is continuing its growth through various industrial and domestics job sectors of all scopes and extents. Since "Data is the New Oil," the outreach of Data Science is now unparalleled compared to similar aspects of the field. Hence, job opportunities and openings for Data Scientists have skyrocketed in the past few years.
However, before diving deeper into the review, evaluate yourself with a few questions:
Do you like working with numbers and experimental data?
Do you have a problem-solving attitude and enjoy unravelling complicated conundrums?
Do you wish for a successful job and future?
Do you want to gain something worthwhile from your knowledge and career?
If the answer to these questions is YES, then 360DigiTMG's Hyderabad Data Science course is made just for you. It delivers all the course outcomes that would help you achieve what you aim to acquire.
Impacts and Promising Features of Data Science
With the help of Data Science, one can determine optimal operations with ease. Overall, it continually maintains its impact due to the close relationship between big data and the world.
This dissemination has made it possible to avail and interpret big data. It allows for alterations of the existing business model of the erstwhile industries. These modifications enable the establishment of new ones. Data-driven organizations can earn in trillions, and as of 2020, they are worth $ 1.2 trillion. The figure had increased from $ 333 billion in 2015 and will do so further in the future.
A few impacts of Data Science include
Quality Improvement: The computation, analysis and processing of data improve the quality of the company data. It makes future work effortless and more efficient. It also allows the creation of higher quality products and machines that would efficiently understand human-driven behavior and perform data-driven jobs.
Automation : The automation of redundant tasks is effortless with the help of Data Science. Now, humans can use data to train their machine counterparts to perform mundane, repetitive and arduous chores.
Since Data Science offers such a colossal impact on the world, the average salary of Data Scientists in the United States of America is approximately $ 166 thousand, according to Glassdoor.
Sectors like Agriculture, Marketing, Transport, and so on invest in their Data Science programs extensively. They can also include Healthcare, E-commerce, Banking, Finance, etc.
These curriculums assist businesses to evaluate and analyze their colossal amount of data, devise better plans and strategies, automate processes, etc.
Data Science Professions After Course Completion
The completion of the Certified Course in Data Science offered by 360DigiTMG makes one eligible for several promising and well-paid professions. These include:
Data Architect
Data Scientist
Business Intelligence (BI) Analyst and Developer
Infrastructure Architect
Machine Learning Engineer
Analytics Manager
Applications Architect
Enterprise Architect
Statistician
Machine Learning Scientist
Data Analyst
All these jobs are well-sought after, and recruitment for them is continually active all over the world. Professionals in the field of Data Science can find job opportunities in well-known companies like:
Google
Flipkart
Amazon
Microsoft
Apple
Walmart
Hewlett Packard Enterprise
IBM
Deloitte
Accenture
[24]7.ai
LinkedIn
Citrix
Fractal Analytics
Two Roads Tech
Now let us see how this certification course can help you obtain your dream job.
360DigiTMG Review on Data Science Course Hyderabad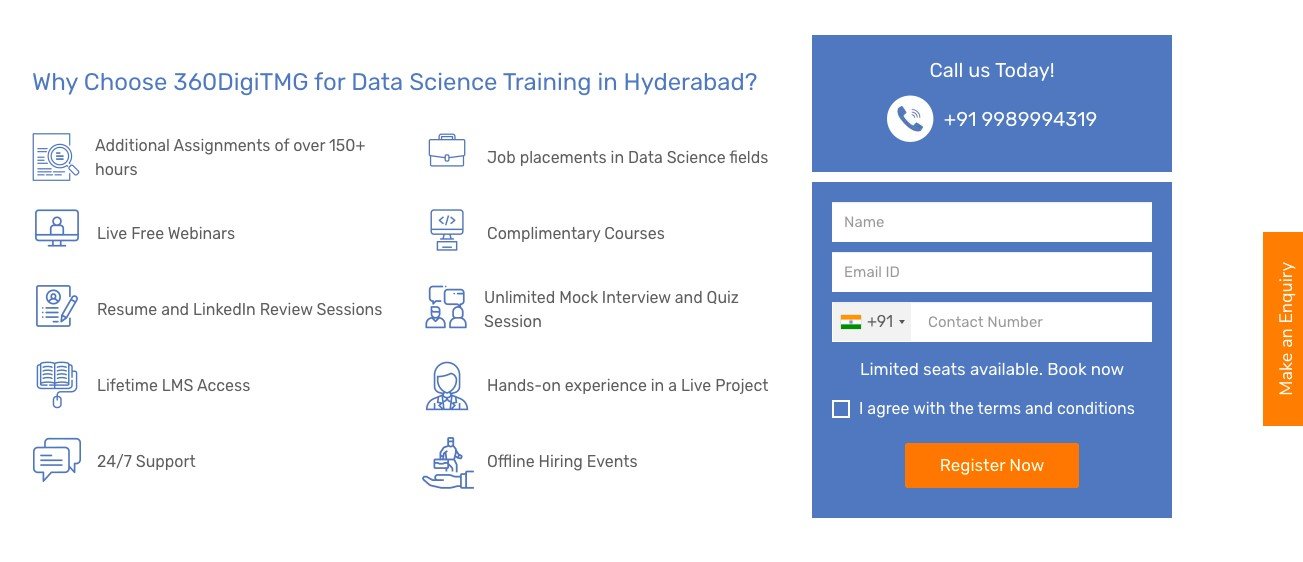 To ensure the smooth uptake and comprehension of Data Science, one must possess prior skills and expertise in certain subjects. Some rudimentary requirements of Data Science include:
Descriptive and Inferential Statistics
Probability Analysis and Calculation
Mathematics for Machine Learning- Linear Algebra, Discrete Maths, Calculus, Optimization Theory
Programming qualification and intermediate expertise for Data Computation and Analysis- Python, Excel, R Programming, Database Query Language (SQL and NoSQL), Tableau, Big Data Technologies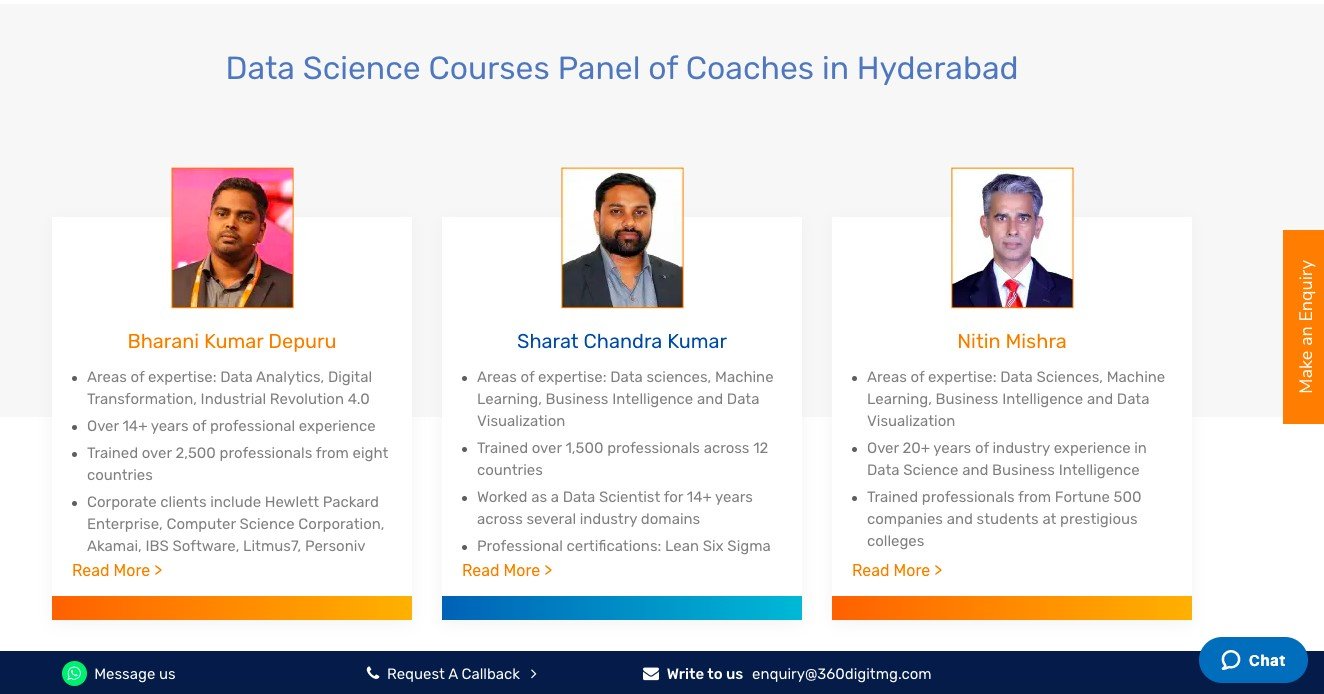 As such, the Data Science Certification course offered by 360DigiTMG is an amalgamation of various topics that helps form the basis of comprehension. Some of these subjects include:
SQL
Tableau
Machine Learning
Python
Statistical Analysis
Hadoop
Pipeline
K-NN
Cluster Analysis
Data Analysis and Cleansing
R Programming
Data Wrangling
Regression Analysis
Data Manipulation
Regular Expression
Github
Rstudio
Data Debugging
360DigiTMG has designed the course for both amateurs and professionals. The time invested behind the course curriculum is structured so that the course takers can expend efforts adequately but not arduously. We divide our content into several modules fashioned to provide the utmost understanding of all the concepts covered.
The course incorporates both the theoretical and the practical aspects of the field of Data Science. Hands-on experience as assignments, projects and case studies helps the course takers implement their textbook knowledge into practical applications. Additionally, the course entails mock interviews, internships, resume building sessions, etc.
A few soft skills that can also be learned through this Data Science certification training comprise:
Problem Solving Aptitude
Increased Dexterity
Time Management
Logical Reasoning
Adaptability
Work Ethics
Teamwork
Interpersonal Skills
Creativity
Inquisitiveness
Critical Thinking
Self-Confidence
Initiative Taking
Stress Management
Decision Making
However, this portrays just the tip of the iceberg. Let us look at the course in more detail
1 : Overview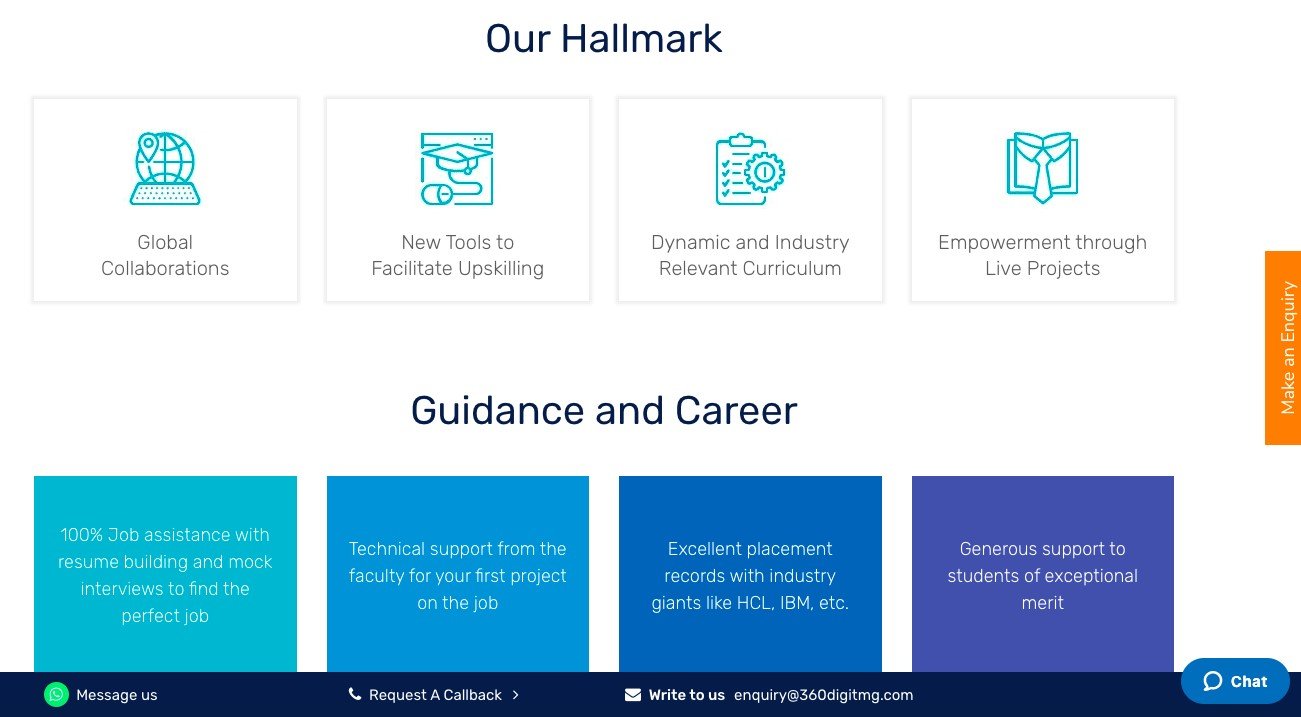 The Certification Course in Data Science offered by 360DigiTMG consists of a comprehensive curriculum covering all the vital and significant concepts on Data Science alongside the inferences and doubts. Along with hands-on projects, it encompasses the entire lifecycle of Data Science from Data Collection, Data Analyzation, Data Transformation, and Data Modelling to Data Visualization and solution of problems and formulation to break down the enormous data and generate insights to compute it.
The module is guaranteed to give your career wings to fly up to achieve a greater level of success. On course completion, one can become an expert in all the topics covered and develop relevant skills. It would range from programming skills in Python and R to Data Segregation and Analysis.
The course would elucidate and enable the course takers to work with an assorted range of tools and techniques. It would allow them to analyze both the structured and the unstructured data from a variety of sources.
Project-based learning and assignments would empower them to solve real-life problems and complications. It would train them to convey the appropriate solutions effectively and efficiently using data visualization tools.
Course takers would explore and implement tools like Apache Spark, Apache Pig, Java, R Studio. Other such contrivances include MapReduce, NoSQL Database, Cloud Computing, SAS, Python, etc.
But then again, you can ask- What makes this course so exceptional? How is it different from others of its kind in the market?
Well, here is where the marvelous and astounding part comes in.
360DigiTMG offers the Certification Course in Data Science Hyderabad in association and collaboration with several well-renowned universities institutions and organizations. A few of them are UTM, IBM and Panasonic.
They provide the course learning content and appropriate assignments. It accredits them so that the course taker can cope with the requirements of real-life adequately. Our curriculum enables a student to be inimitable and stand out in a crowd of similar people.
Nevertheless, that is not all. To highlight the uniqueness of the course, we provide hands-on training and experience with two Capstone projects and a certificate offered by IBM along with assistance in placements.
360DigiTMG grants the course takers the platform to appear for three interview sessions with top companies on the closure of their projects and the Data Science course completion. We would support this endeavor with our mock interviews and resume construction assistance and succors.
2 : Cost
The most appealing aspect of this certification course, set both for beginners and experts, is its price.
360DigiTMG offers all that it has to offer in this course at a minimal cost of Rs. 28,000 + 18% GST.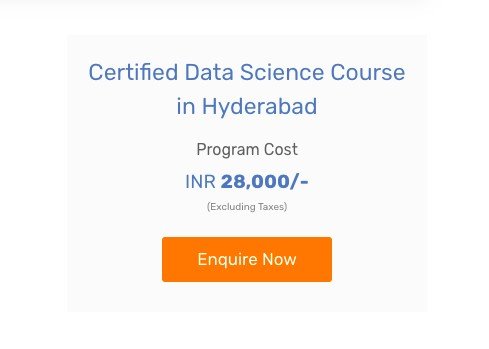 Course takers do not need to pay the entire amount upfront and in one go. They can utilize the Equated Monthly Installment (EMI) option to pay. It would enable them to make the payment on a monthly or quarterly basis.
They accept payment via PayPal and Ccaveneu or using Credit Card and Debit Card.
Eligibility for Professionals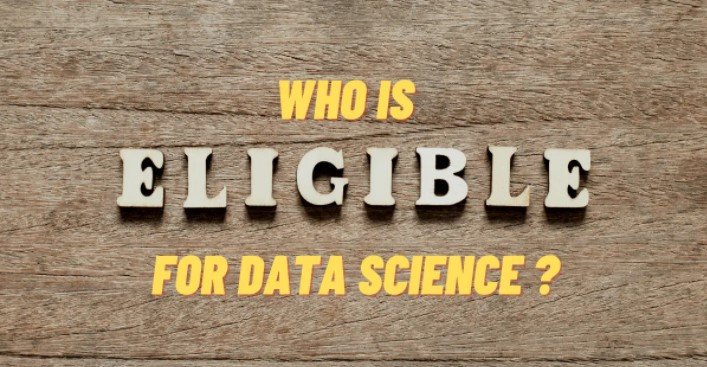 360DigiTMG's Certified Course in Data Science is open to a wide range of people. A list of specialists who can opt for the programs include:
IT Engineers
Freshers
Data Engineers
Business Analysts
HR Managers
Supply Chain Professionals
Banking and Finance Analysts
Data and Analytics Manager
Marketing Managers
Mathematics, Science and Commerce Students and Graduates
3 : Syllabus
The course is broken down into several modules to provide a comprehensive step-by-step understanding and exploration of the various aspects of Data Science. The curriculum begins with the fundamentals of data structure, data analysis and data manipulation.
A set of premier modules offered with the course include Statistics, Data Visualization and Data Analytics. It also encompasses Probability Distribution, Plots, and Inferential and Predictive Analysis and Calculation.
The remaining models cover the essential facets such as Explorative Data Analysis, Data Mining, OLS, Hypothesis Examination, and Linear Regression that enables Supervised Learning. The concluding models encompass and traverse through the data-driven and model-driven algorithms aimed at predictive Forecasting and Time Series Analysis.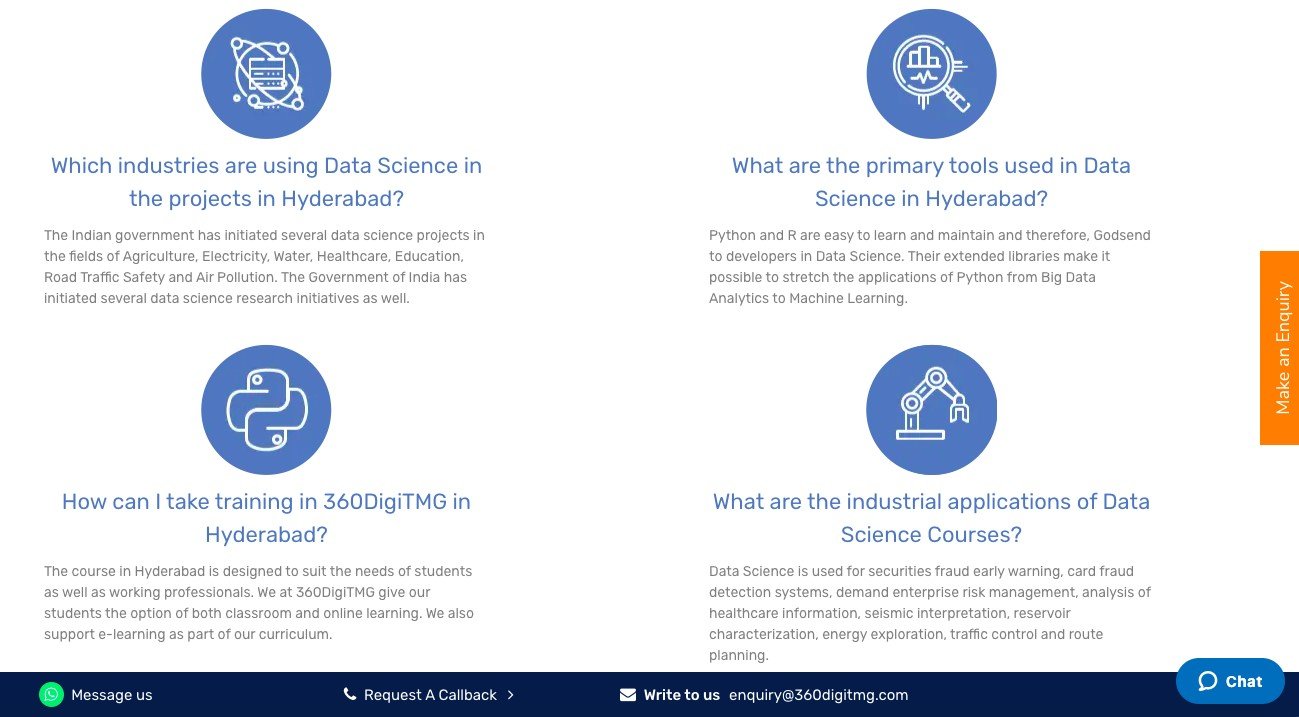 Overall, 360DigiTMG's Certified Data Science Course allows the course takers to:
Utilize text mining to extract customer sentiment analysis
Present data using visualization tools
Acquire domain knowledge and proficiency
Create attractive charts and reports to display and explain the analyzed data
Understand the Hadoop ecosystem
Comprehend and apply the logic and work on the automation of various processes
Review and analyze data to create market trends and business models
Gain exposure to Numpy and Scikit-Learn package
Apply data-driven approaches in corporate decision making and problem-solving
Inspect structured and unstructured data with various tools and techniques.
Additionally, the course provides 24/7 teaching assistance on numerous platforms to clear queries and reinforce the taught content. Such forums include WhatsApp, live and pre-recorded doubt clearing sessions, interview preparation and resume building support and assistance.
The various tools used in this program include:


4 : Placement Cell
In today's world, the impact of Data Science significantly benefits the job of a Data Scientist. They are responsible for breaking down large and complex data into an uncomplicated and usable version. It aids in the creation of software and algorithms that facilitate companies and businesses to analyze the data.
Hence, the knowledge and study of Data Science bring with it several benefits.
Therefore, from the viewpoint of an individual who has completed our Data Science Certification course, the job-seeking benefits include:
Demand : Due to the trendy and upcoming nature of Data Science, companies highly seek employees and workers in this sector globally.
Abundance : Data Science is not a small field. Hence, there is an abundance of job opportunities for Data Scientists and other Data Science jobs.
Earnings : It is a very well-paid job with added incentives. The annual earning of a Data Scientist in India can be in lakhs, making it a highly lucrative career.
Versatility : The applications of Data Science are flexible and multi-purpose. It finds application in health care, banking, E-commerce industries, consultancy services, etc.
The placement cell associated with the course is one of the most exclusive and distinctive features of 360DigiTMG. The alumni of 360DigiTMG, from top corporate executives to leaders of industries and well-renowned faculties of institutions, have made remarkable achievements in their respective fields.
They help bring in the platforms wherein the course takers can gain experience and expertise. Through regular collaboration and mentoring via meetings with the alumni, the students acquire the knowledge to deal with real-life complications and challenges in the corporate world.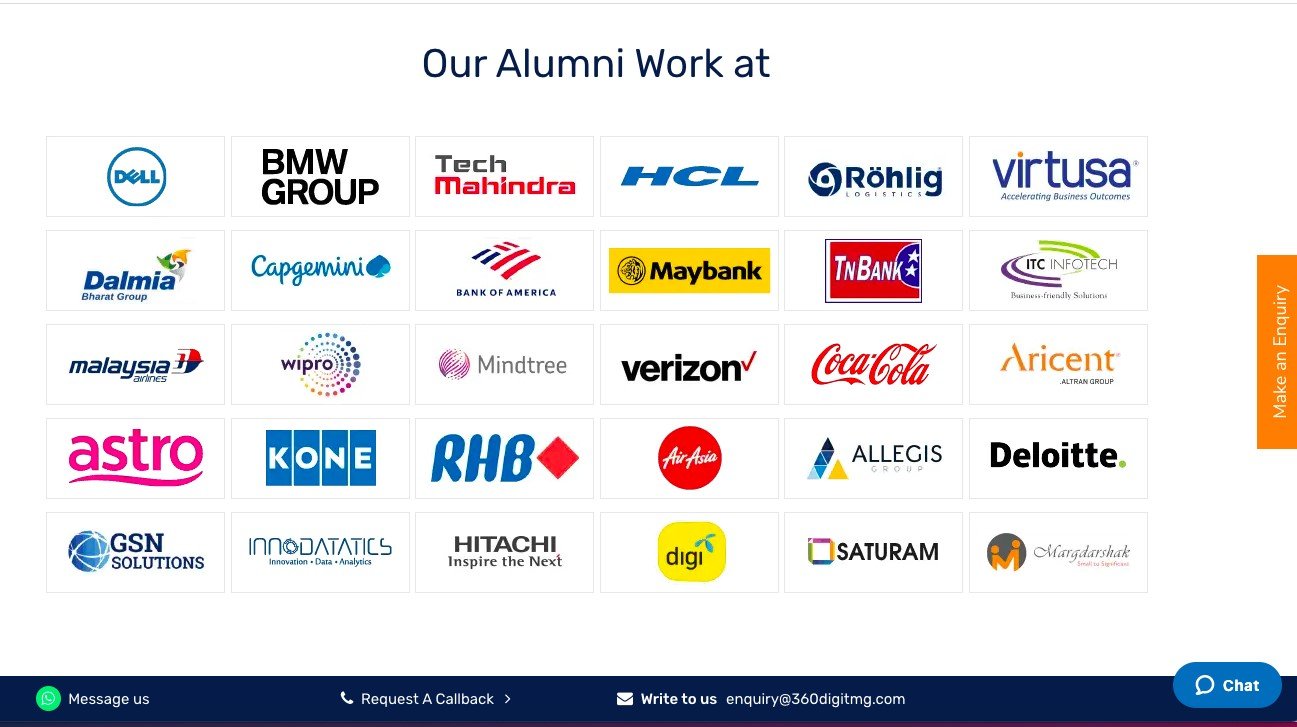 5 : Projects
Mere textbook erudition is not enough in the case of Data Science. Hence, to help acquire hands-on experience and implement their textbook knowledge, 360DigiTMG offers the program to course takers along with ongoing commercial projects. These undertakings allow students to gain technical expertise and customize them to be job-ready and confident in any work environment. Only through working on something can one apply the theoretical knowledge of the subject and devise superior methods to resolve an issue.
In 360DigiTMG's Certified Course in Data Science, Capstone projects play a vital role in depicting all the data science concepts. A few projects that students will work on after opting for the course include:
Attrition Analysis : Personnel attenuation is a growing concern in most organizations. Projects based on attrition analysis would require a student to create a logistic regression model. It would have them predict and calculate the probability of an employee leaving the said corporation. These analytics find application in all major sectors like banking, finance, transport, healthcare, etc.
Churn Prediction of Patients : Using a set of given data and parameters, the course takers would use predictive analysis and forecasting techniques. They would apply their usage to envisage the probability of a patient revisiting for a second time. As deduced from the subject of study, workers in the Data Science field can use churn prediction in the healthcare sector.
Content Creation for News Channels : The immense impact and increased popularity of Data Science in the digital marketing domain have compelled companies and organizations to invest in it. Hence, this project requires students to split news articles into sentences based on some given parameters and classify them centered on grammatical formulation, sentence construction, clarity, delivery, engagement, complexity, ease of reading and comprehension, etc.
6 : Conclusion
360DigiTMG's Certified Course in Data Science is open to all who have a healthy and growing appetite to nurture themselves into successful individuals in the field of Data Science. The program allows students to develop a knack for finding the underlying patterns and algorithms analytically. It helps them to perceive and conclude the source of the problem independently using the skills, techniques, methods and tools acquired through the course.
It also permits the course takers to apply the knowledge that they had assimilated thorough-out the program curriculum to unravel the secrets hidden deep within the data. Project-based learning and assignments enable them to check the progress of their acquired knowledge. It lets them improve their weak areas and strive harder.
Reviews and appraisals by individuals who had previously opted for our courses suggest the same.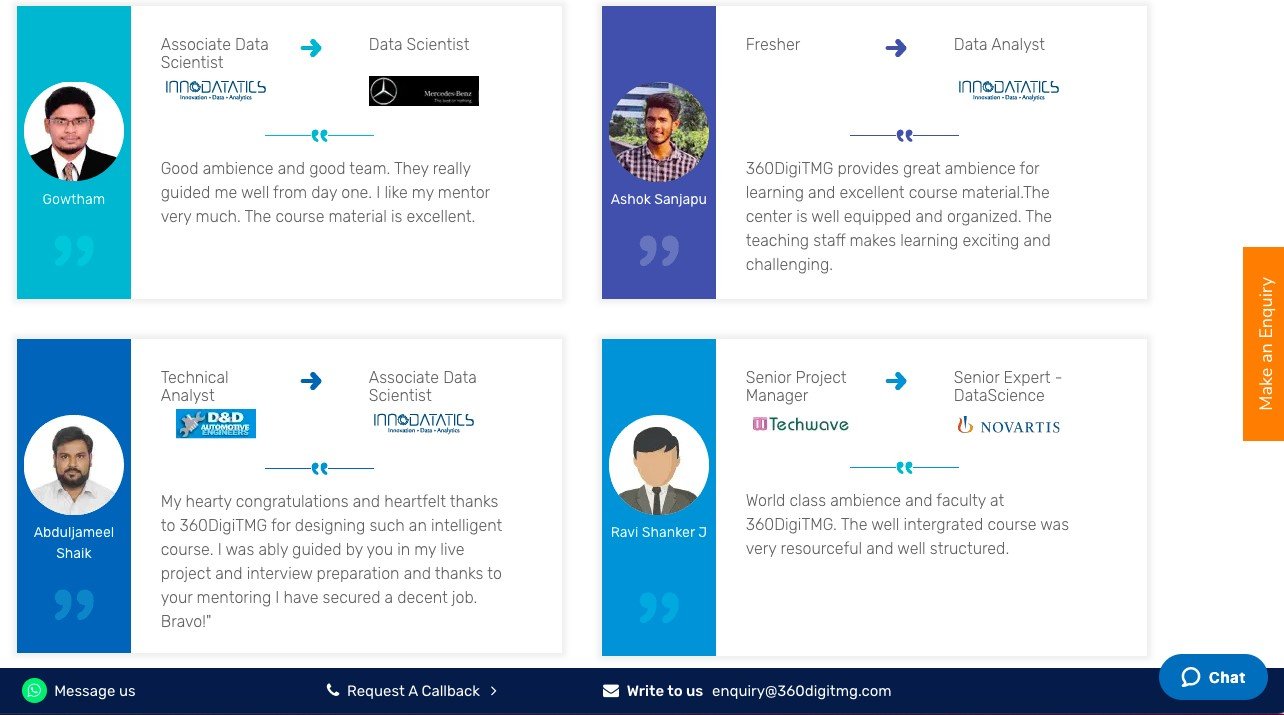 Have a go for our Certified Course in Data Science in Hyderabad to secure a powerful path for the success of your career.
Enroll in 360DigiTMG Data Science Hyderabad course