Keeping in view the current situation prevailing due to the COVID-19 outbreak in India, the Ministry of Human Resource Development is running a campaign for crowdsourcing ideas on upgrading online education for India under the theme words "Padhe Bharat Online".
No doubt; online education in India is vaulting with the development of information technology. India is one of the nations that are developing at an expanding in information technology. Many types of research depict that more than 1.3 billion populations have the availability of high-speed internet and smartphones and a large population is technologically driven persons in India. The advent of the internet has changed the way of life of Indian people.
Today, people like to do everything online, people shop online, do business online, do marketing online, online ticket booking, make friends online, learn online and many more online. In the present scenario, e-commerce has become the most significant online industry, while online education and teaching-learning stand right next to it.
The smartphone has life-style as it has an ever-increasing flood of information is available on the smartphone through the internet and the countless number of online courses are too available in it. That is why the myriads of people in India prefer to learn online.
Viewing the inherent capacity and extensive demand of digital technology in India, our honorable Prime Minister Shri Narendra Modi has also visualized transforming India and providing opportunities for all citizens by domesticating digital technologies through Digital India drive.
These innovative initiatives comprise various projects in large areas relating to the health sector, education sector, business sector, banking, e-governance, labor, and employment, etc. Various digital projects exhorted many colleges, institutes, and universities a part of the Digital India project, many colleges, and universities to offer online courses in India.
Thousands of interesting facts about online education in India make relevant to afford online education to India.
Many researchers found that the online education market in India was worth $ 247 million in 2016, which is supposed to grow by about $ 1.96 billion by 2021.
Moreover, it is also observed that online education is cost-effective. Near about 48% population in India between 15-45 age groups is a target market for online education as they have a higher reach to online channels. These aspects and components of online pursuits among the younger generation show the engagement and caliber of online education in India.
The biggest advantage of online education is learning from anywhere, at any time. For leveraging from online education, only requires a laptop or a smartphone with a high-speed internet connection and smartphones are affordable to each citizen from the poorest to richest. Online education is very beneficial for students as they can learn anywhere at any time.
Secondly, this suppleness of online education helps working professionals to pursue new courses without giving up their jobs to expanding their knowledge expertness as they can learn at weekends or in their free time and during holiday time as well. Moreover, they can collect available course materials with ease at any time.
There are multifaceted benefits of online education as it is much more cost-effective, save time and money than doing a regular on-campus degree or diploma. It is very helpful to students who cannot afford a regular school, college or university level education to accomplish their dream without spending a large amount on a college education or university education.
Since students study at their own time, online education helps to save their time as well. Students can learn as per his/her convenience. In a classroom where students are taught together, many students find it difficult to follow the lessons. Classroom study is still detrimental to the traditional education of India, while online education solves this issue of traditional education.
In online education all the study materials are provided beforehand by the tutors or teachers and students can learn it and make notes by taking their own time. Online pedagogy is not one way but two way and multi-communication, and interaction between students and teachers through audio-video conferences and students can clarify their doubts by live interaction or live chats or forums as well.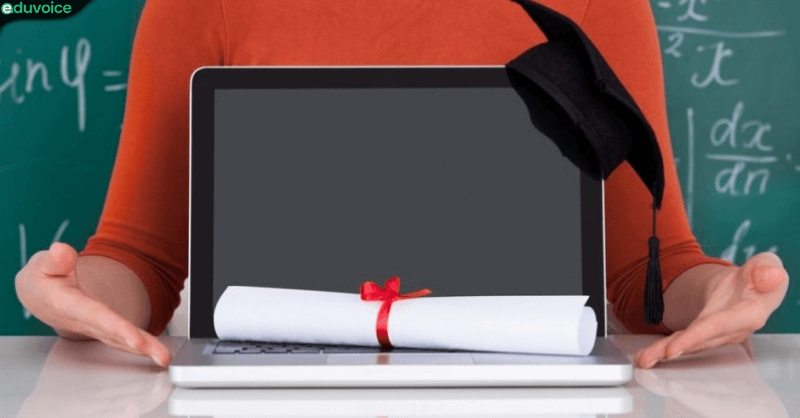 Online degrees, diploma or certificate are accepted by governmental organizations, institutions and non-governmental institutions like companies, industries, and employers in India as long as it is accredited and approved by distance education council, university commissions of India, State school education boards, open schools, open & distance learning universities of India.
Many universities and open schools like Indira Gandhi National Open University (IGNOU), national institute of open schooling (NIOS) encourage working people even their employees for getting online education as well for expanding their academic background.
But with online education pace, there are very high chances of muddle and confusion among the students as they can easily lose their focus on the online study because there are no face-to-face lectures and classmates to remind the students about assignments given by the teachers.
Until and unless the student keeps himself/herself motivated, it takes a long time to complete his/her study course or abandon his/her entire study course.
On the other side, fraudulent in online education or online course is a matter of great concern as there are many institutes and websites that offer online education and online courses without the accreditation of university grants commissions, school education boards, and other governmental educational agencies' authority as they use the name in the name of fake authorities and fake educational organizations or agencies.
Such online education is not helpful to the learners to expand their quality education and get any job. So it is mandatory that central governmental education agencies and State governmental agencies of India should surveillance on such fake online stakeholders.
Online education is not fit in engineering courses, medical study, science courses because that requires labs, practical and hands-on workshop activities.
No doubt, India has galore of techniques to bring reformation in online education but it will take time and need of awareness and information technology literacy among the masses dwelling in rural areas, slum areas, hard geographical areas where internet signal is very poor. The young generation of India is reluctant to online education as they have great potential and convenience in modern information technologies and computer veterans.
For More Such Articles, News Update, Events, and Many More Click Here