The Art And Science Of Microlearning Videos
Short and snappy. Quick and easy. Crisp and concise. Microlearning is the flavor of L&D in 2023. And quite rightly so. As the name suggests, microlearning offers learning in the form of easily consumable bite-sized nuggets. And microlearning is making much noise (for all good reasons) in its cool avatar of videos. Read the article to know all about microlearning videos and some awesome tips to ace the art of designing impactful microlearning videos.
Why Are Microlearning Videos Creating All The Buzz?
In this fast-paced world with dwindling attention spans, corporate training must acquaint itself with changes in learner preferences and rethink its approach to maximize learning. Visuals captivate learners and lead to better retention. As we know, a picture is worth a thousand words, so imagine how magical videos can be. No wonder microlearning videos are working wonders.
Also, with mobile learning becoming an integral corporate training methodology and with an increase in bring-your-own-device (BYOD), learners have the freedom and flexibility to learn on the go using the device of their choice. This has triggered the shift from macro- to microlearning formats, and microlearning videos have gained momentum.
What Are The Key Benefits Of Microlearning Videos?
Microlearning videos are revolutionizing the corporate training landscape. And why not! After all, their manifold benefits are compelling organizations to include them in their training strategy, and learners are all praises for it.
Key Benefits Of Microlearning Videos From An Organization's Perspective
Microlearning videos, being short and concise, can be developed quickly, using modern authoring tools and AI-based tools such as Vyond Go and Synthesia.
Videos are a fantastic way to capture Subject Matter Experts (SMEs) in action. Your SMEs can record short videos to explain complicated concepts or demonstrate skills that can be shared with your learners for better understanding.
Considering the short duration of microlearning videos, it is easy to update them in case of changes in the information. Existing microlearning videos can be redeployed with minimal changes, thereby facilitating continual learning.
Since microlearning videos have a shorter learning curve and are learner-centric, they offer higher knowledge retention and better application in day-to-day tasks, resulting in enhanced productivity and performance. This leads to better business Return On Investment (ROI).
Key Benefits Of Microlearning Videos From The Learners' Perspective
Who doesn't love watching videos? They are everyone's favorite, irrespective of age and gender. The visual appeal of microlearning videos captivates learners and offers them an immersive learning experience.
Microlearning videos offer self-paced learning. Learners can watch videos on the go and absorb content easily, as the videos are short and focused. Microlearning videos facilitate just-in-time learning and are quite helpful in the moment of need. This helps in better job performance and enhances productivity.
Types Of Microlearning Videos For Corporate Training
Microlearning videos can be used to impart various types of training. They can be used at different phases of training, be it pre, during, or post-training throughout the learning journey. They can either be used as standalone modules or as a part of an eLearning course. In this section, let's explore the diverse formats that can be used to offer microlearning videos to your learners.
1. Animated Videos
Short videos with engaging graphics and animations are great for introducing core concepts or summarizing learning at the end of a module. Animated videos that build awareness of process adherence can be used to train new recruits. The catchy graphics and visuals help in better retention of the acquired knowledge.
Animated videos are a good performance support tool to present key information in a visually appealing format. They can also be used as attention-grabbers to introduce a new topic. Imagine a teaser video at the beginning of a compliance training session to introduce a compliance mandate.
2. Story/Scenario-Based Videos
Stories build an emotional connection with the learner, as they provide the required human touch. When you present the concept using a storyline or scenario, learners are able to connect to the concept better. Various real-life work scenarios provide exposure to real workplace challenges, leaving behind a lasting impact in the minds of the learners. These videos are useful for training employees involved in high-risk jobs that involve critical thinking, problem-solving, and decision-making skills.
3. Explainer Videos
Explainer videos featuring an expert or through a narrative are a fantastic way to introduce a complex concept in an easy-to-understand manner. Due to the involvement of the expert or the concept presented using an engaging storyline, these videos can be aligned to accommodate important learning outcomes.
Explainer videos featuring experts help in establishing the required authenticity with the subject delivered, as learners are keen to learn from experts. For instance, an explainer video featuring an expert can be impactful in explaining the features of bestselling products to newly hired sales executives.
4. Interactive Videos
Interactive videos can take your microlearning initiatives to the next level. This approach integrates interactions in the form of click-and-reveal, scroll, hover, and quizzes in the content, creating high-impact learning experiences. The delivery of core concepts followed by interactions boosts performance, as learners test their learning then and there. This also helps in a better application of skills.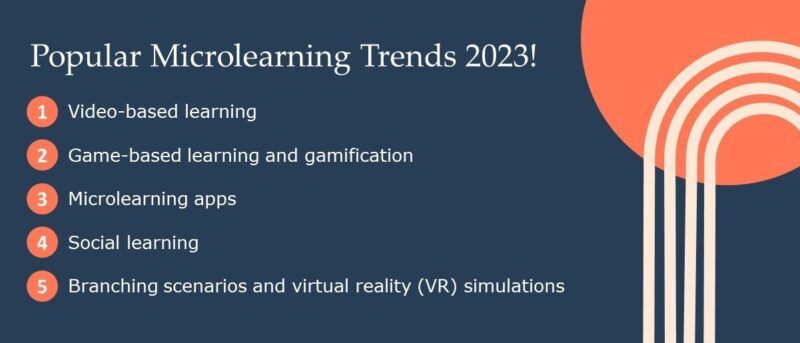 5 Pro Tips To Ace Your Microlearning Videos For Greater Impact
I am sure you are now keen to design microlearning videos for your learners. Here are a few design tips to craft awesome microlearning videos.
Tip 1: Keep It Crisp And Concise
Capturing learners' attention is one of the major challenges faced by L&D teams these days. Modern learners are interested in "what's in it for them," and getting straight to the point is imperative. Keeping this in mind, keep your videos crisp and concise and focus on delivering specific information without any flab.
Tip 2: Focus On A Single Learning Objective
Drop the idea of covering everything in a single video. Rather, focus on a single learning objective per video. When you do this, you are able to provide comprehensive information on the subject and ensure better learning. Focusing on a single learning objective per video avoids confusion and engages learners in the learning process.
Tip 3: Make It Visually Appealing
Less is more. Avoid too much content on your video slides; rather, focus on building a strong narrative and use visuals smartly. The usage of animations and other visual elements grabs learners' attention and helps in the speedy assimilation of the content delivered.
Tip 4: Use The Right Tools
There are various microlearning video authoring tools available, but choosing the right tool is crucial. Check the features and functionalities to find the tool that best suits your training needs. Modern authoring tools such as Vyond can create amazing microlearning videos which can be used as standalone courses or integrated into eLearning courses to deliver impactful training.
Tip 5: Balance Audio And Visuals For Better Impact
Ensure you balance visuals with the audio narration. Remember audio should enhance learner experience and clarify confusion, if any. It mustn't be a repetition of the content on the slides. It should provide additional information and avoid redundancies. If you add background music to your video, ensure it doesn't overlap with the audio narration and distract learners.
Microlearning Videos: The Future Ahead
Microlearning videos are short, sweet, and focused. They can be used at various points of the learning journey to cater to different learning needs. Right from capturing learners' attention to delivering training and offering performance support, microlearning videos have a crucial part to play. They can be used to deliver role-based training, as they can deliver crucial concepts in bite-sized learning nuggets. They are highly engaging and offer immersive learning experiences.