Modern LMSs: A Must-Have For Corporate Training
Modern corporate L&D is incomplete without a Learning Management System (LMS). It has come a long way from just being a technology to a platform that caters to diverse learning needs and offers personalized learning pathways to global learners. This is not all. A new-age LMS comes with multiple features that make it a hot favorite of training managers. What are those advanced features? Is a modern LMS worth the hype? How does it beat traditional LMSs?
For those who are new to the world of eLearning, a Learning Management System, or LMS, is software that helps with the hosting, delivery, and management of digital learning content. It is a repository for all your learning material, which can be accessed by learners anytime. Using an LMS, you can also manage training processes like user registrations and course assignments. The platform also automates tasks like grading assessments, tracking and reporting learners' progress, and awarding certificates. Sounds amazing, right? Let's have a sneak peek into the evolution of LMSs.
The Evolution Of LMSs: Where Did It All Begin?
First developed by Sidney L. Pressey in the 1920s, the primitive teaching machine that resembled a typewriter offered a variety of practical exercises and multiple-choice questions. The learners were required to drill in answers that were recorded, and the learner could only proceed if their response to the previous question was correct—a feature that modern LMSs still use.
After continuous advancements through the years, it was only in 2000 that the first open-source LMS, Moodle (Modular Object-Oriented Dynamic Learning Environment), was introduced and made personalized learning possible by allowing learners to pick the content of their choice. Later, SCORM (Sharable Content Object Reference Model) was introduced in 2004, followed by Experience API, or xAPI, an eLearning specification, in 2010.
Limitations Of Traditional LMSs
You must be thinking about what the need for constant improvement in the LMS versions was. Well, traditional LMSs were never so trainer or learner-friendly and had many limitations.
Let's take a look at the various challenges associated with legacy LMSs:
Mobile compatibility – Traditional LMSs were not accessible on mobile devices, and access to training content was limited to desktops.
Customization – Older LMSs didn't offer the scope to make even little changes pertaining to tweaking the User Interface (UI) or building a learning environment with custom branding to enable organizations to showcase their brand value.
User-friendliness – Traditional LMSs had complex UIs, as the focus was to enhance the technical aspects of the platform rather than make it user-friendly. There was limited or no support post-deployment, and sorting out issues took a long time.
Administration – Legacy LMSs were low on administration features. LMS administrators struggled to enable bulk user registrations, assign courses to multiple groups of learners, coordinate with instructors and other LMS admins, or assist learners with technical issues. The limited access to reports and analytics was another major pain point.
Data security – Legacy LMSs were prone to serious security issues, like data encryption, advanced password authentication, and safe signups like Single Sign-On (SSO) that put the organization's assets at risk and augmented the chances of data exploitation.
How A Modern LMS Wins An Edge Over Traditional LMSs
We just read how traditional LMSs had many drawbacks and needed a makeover to come up with a robust new-age LMS to support rapidly evolving modern-day workplace learning needs. Well, what to expect from a new-age LMS? Let's find out.
The modern LMS comes with brilliant features. Let's see in what ways these features are beneficial for learners, training managers, and LMS administrators.
1. Offers Learners A Seamless Learning Experience
Modern LMSs are learner-centric and make learning an "event" for the learners. It ensures a seamless learning experience for the learners, as it offers:
Simple and easy navigation
It might sound simple and basic, but user-friendliness is a key parameter for a learning platform. Modern LMSs offer a user-friendly interface and simple and easy navigation. Modern LMSs are extremely organized, and finding a course of your choice is just a matter of a few clicks. With legacy LMSs, this was not the case.
Visuals do matter. Modern LMSs have visually appealing interfaces that grab the attention of learners. They allow easy customization of the interface to match corporate branding and add learners' names, thereby offering a personalized learning experience to the learners and enabling them to connect better.
Modern dashboards showcase color-coded course completion status and highlight upcoming training programs with due dates. Your learners can add widgets of their choice (calendar or achievements) and sort courses based on different parameters. Access to the training history along with certificates allows learners to keep track of their learning and motivates them for continual learning.
Modern LMSs also have gamified dashboards that instill a sense of healthy competition among learners. Your LMS can be programmed to unlock badges based on scores or upon completion of a module or entire course. Leaderboards to display top performers can also be configured to motivate learners to perform well and build a learning culture across organizations.
Mobile accessibility is another feature that makes modern LMSs the most sought-after platform for delivering training in the modern corporate L&D space. Modern learners don't like to be restricted to their desktops and specific time slots to undergo training. They love it on the go. New-age LMSs allow the freedom of self-paced learning to learners, as they can access training at their convenience and on a device of their choice. Learning without disrupting the workflow is quite appreciated by modern learners, and organizations too benefit from it, as employees don't have to spend much time away from work, and overall productivity is not hampered.
2. Ensures Optimal Utilization Of The LMS By The Admins
Life was not easy for LMS administrators with legacy LMSs. They had to get indulged to the core, from mundane to advanced tasks to ensure smooth training delivery. Modern LMSs have proved to be a savior, thankfully. Using them, these tasks can either be automated or performed with ease. New-age LMSs allow admins to:
Create multiple user groups and provide access rights easily.
Streamline training plans for different groups of learners.
Automate assigning courses and send notifications to learners based on training requirements.
Generate customized reports to assess learners' progress in visual formats like pie charts and bar graphs.
Leverage tracking data and statistics that provide valuable insights to design personalized learning paths for learners.
Regularly clean up the LMS by deleting obsolete courses and archiving old courses.
Easily integrate with external payment channels and other platforms using the single sign-on (SSO) feature.
Integrate with virtual training platforms such as Webex, Zoom, and Adobe Connect for webinars and VILT sessions to facilitate collaborative and social learning.
Ensure information and data security.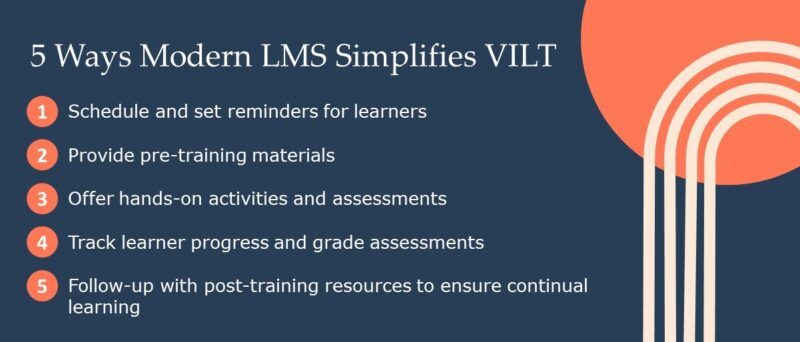 3. Facilitates Simplified Learning Design, Delivery, And Management For Training Managers
 Great training content is not the only prerequisite for a successful training program. Your training managers need a platform that helps deliver and manage training and offers a smooth learning experience to learners. Modern LMSs just make that happen. It allows your training managers to:
Share supplementary learning materials and create and grade assessments.
Conduct virtual training sessions easily.
Focus on imparting training rather than bothering about the course format, as most of the modern LMSs are compatible with eLearning standards such as AICC, SCORM, and xAPI.
Leverage the power of learning analytics to track learners' progress and reconfigure learning paths based on performance.
Plan a learning strategy that best suits learners, as new-age LMSs can track courses that are designed using modern learning strategies like mobile learning, gamification, scenarios, and simulations.
Bottom Line
Legacy LMSs were nightmares for learners, admins, and training managers due to their outdated features that didn't support modern learning formats. Thanks to the new-age LMSs that offer a holistic platform to facilitate top-notch training to learners and help build a future-ready workforce. Hope this article has helped you with valuable insights into the features of the modern LMSs. However, selecting the LMS that's just right for your workplace learning needs is certainly not a cakewalk. One needs to plan carefully and weigh the various pros and cons before selecting the right LMS. Why wait when you have the stage all set? Get started with the search for the right LMS and deliver a wow-worthy learning experience to your learners.