Blended Learning Resource Recommendations For Personalized Learning
Blended Learning is also referred to as hybrid learning. It is a training method that customizes learning experiences by integrating digital media and technology with traditional instructor-led activities. Put simply, in blended learning, learners are given total control of the place, pace, path, and time of their learning.
eBook Release
AI-Driven Personalized Learning – Revolutionizing Blended Learning
AI tools and technologies are making L&D more personal and contextualized. Explore how these insights can improve your blended learning programs.
Benefits Offered By Blended Learning
Efficiency
Training can be delivered efficiently to a large audience through a well-defined blended learning approach. The usage of digital assets such as eBooks, recordings, and videos helps learners get up-to-speed.
Flexibility
Blended learning is flexible in terms of content presentation. Online tools can be opted for subject matter training, whereas topics that are a little difficult or complex can be taken in the classroom.
Inserting online components into training programs increases convenience and flexibility.
Effectiveness
Blended learning has the potential to create meaningful learning experiences. It promotes collaborative learning and enhances student engagement. It offers high interaction capabilities. The interaction between learners and instructors is high – thanks to chat rooms, discussion boards, and email communications.
Personalization
Blended learning helps create personalized learning methods as it helps instructors identify learning gaps with online learning tools. Instructors will gain a deeper understanding of a learner's progress.
Reduced Costs
Blended learning reduces a majority of the associated costs encountered by enterprises or educational institutions. It reduces the costs of renting learning venues or classrooms, traveling costs, and the costs of printing educational materials.
Improved Communication
Through blended learning, both learners and instructors can reach out to each other effectively. It helps them address problems. They can discuss ideas conveniently. The dashboard and other built-in communication tools provided online let learners communicate with their team members and instructors.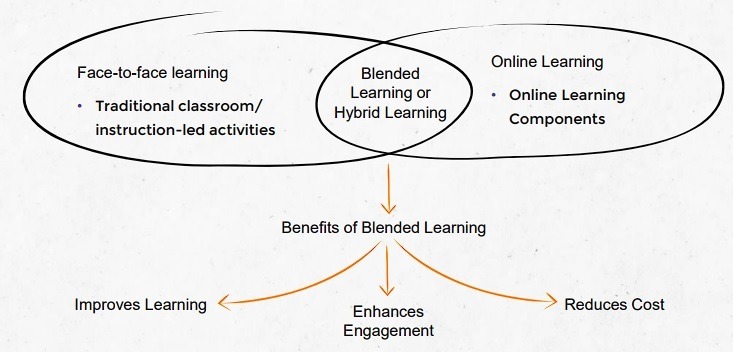 What Blended Learning Isn't
In blended learning, the course content is not just duplicated in numerous formats. The online and in-person elements rigorously work together to create a rich learning experience. It is not a direct equivalent to a technology-rich classroom. Every learner can own a device and still be unsuccessful in controlling aspects of their learning experience. Blended learning is not just about adding technological elements. Training managers must keep in mind these 4 spectrums to successfully implement their blended learning strategies.
1. What Is The Schedule?
Decide if your training method is going to be asynchronous or synchronous.
2. How Is It Planned?
Is it self-paced or instructor-led training?
3. How Is It Conducted?
An online classroom with electronic handouts and virtual interactivities is on one end of the spectrum, whereas a physical classroom with paper handouts and a whiteboard is at the other end of the spectrum. Both must be blended properly.
4. Who Is It Aimed At?
Some training methods aim for individual participation, and some aim for group learning. You must understand both to provide a successful learning experience.
Blended Learning Resources Used For Personalized Learning
Choosing the right resources will help provide the best training to boost individual learning and overall enterprise production. If you are looking to craft a blended learning course that is captivating, it is important to consider the following blended learning resources. These can help effectively upskill your workforce.
Microlearning
This refers to providing learners with content that is quickly and easily digestible and bite-sized. This is suitable for employees with time constraints. Providing them with training content in the form of short quizzes, videos, infographics, or podcasts helps:
Personalize training
Achieve cost-effectiveness
Enhance motivation and engagement
Personalized Learning Paths
Learner feedback, assessments, and data analytics help create personalized learning paths for learners depending on their caliber. These deal with tailoring the training to suit the individual learner's needs. It lets learners focus on the knowledge areas and skills that must be improved.
Augmented Reality And Virtual Reality
These are immersive technologies that help in practical training. These use advanced digital equipment and technology to simulate real-world situations. From skills development to safety training, AR and VR can be used in different training contexts.
Conclusion
Through this effective mix of online and traditional classroom learning, new paths can be explored, and new technologies can be adopted to successfully achieve the desired learning outcomes.
Download AI-Driven Personalized Learning – Revolutionizing Blended Learning today to discover how you can leverage AI to make learning personal. Also, join the webinar to learn how to launch AI-enabled blended learning for upskilling and reskilling.