The Remarkable Role Of AI In Personalized Learning
Artificial Intelligence, or AI, is taking the world by storm, and its significant impact across industries is noteworthy. Its recent advancements are startling, and there seems to be no stopping—of course, for good reason. AI has made human life much easier and simpler. Right from Alexa playing your favorite songs to a robot assembling a car in a manufacturing plant, AI is everywhere. Its role in the enterprise learning space has been garnering much attention in recent times, and many organizations are spearheading it and reaping the benefits.
The use of AI is on the rise and revolutionizing the learning experience by offering personalized learning. Read the article to understand the role of AI in personalized learning to ace your corporate training initiatives.
Personalized Learning: What's The Buzz About?
Gone are the days when organizations only looked at creating and delivering content through classroom or digital media. Upskilling employees has been gaining prominence like never before, and L&D teams are looking at it with a fresh perspective. The sentiment is gradually shifting to offering personalized learning supported by data.
The approach no more aims at creating courses, but rather finding the right approach to cater to specific performance or learning needs to help learners acquire the required knowledge and skills to perform a designated role and contribute to scaling business ROI.
According to Donald H Taylor's L&D Global Sentiment Survey 2019, where 1953 voters participated from 92 countries across the world, the top three options chosen were personalization or adaptive delivery, AI, and learning analytics when asked what will be hot in workplace learning in 2019. [1] This clearly indicates the need for AI and personalized learning.
Role Of AI In Personalized Learning
As per an Infosys study, AI adoption is driving revenue growth for businesses, with 76% of respondents accepting that AI is pivotal to the success of their organization's strategy and 64% believing that AI adoption is crucial for their organization's future growth. [2]
The role of AI in curating personalized learning pathways is unparalleled. AI has certainly given L&D an interesting twist, much appreciated by modern L&D leaders. Here are a few reasons why AI and personalized learning can be a powerful duo.
1. Identifies Skill Gaps
Businesses are expected to evolve to match constantly changing customer tastes and preferences, which subsequently fuels the need for employees to develop skills. The skills gap is becoming a major concern for organizations lately. Personalized learning plays a crucial role in bridging the gap and contributes largely to building a future-ready workforce.
How do we go about assessing the existing skills gap? Can you imagine assessing it for individual employees across the organization manually? Well, you don't have a reason when you can leverage AI to seek data that's comparatively accurate and can save you valuable time.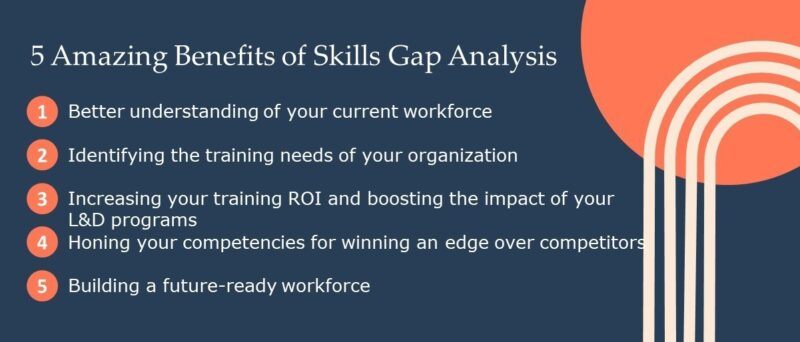 AI-assisted assessments can work like a charm and help you evaluate existing skills gaps. You can design personalized AI-driven coaching programs by using the data from the assessments conducted and streamline employee performance to maximize productivity. 
2. Offers Personalized Learning Pathways
People have varied learning needs, learning styles, and preferences, and the one-size-fits-all approach is quite outdated. The trend is to understand and cater to individual learner needs for better learning outcomes and employee performance. Doing it manually is undoubtedly a cumbersome task.
With the rise in personalized learning powered by AI, LMS administrators are relieved of the pain of analyzing hefty and complicated reports. They can leverage AI to interpret huge amounts of data and get insights that can be helpful in designing personalized learning pathways for employees.
AI-integrated LMSs can comprehend learning behaviors and suggest courses based on past choices. They also take into account aspects such as previous learning preferences, job responsibilities, educational background, and individual learning interests to curate a learning pathway that's just apt for your learners.
You can even customize quizzes and assessments to evaluate individual capacities and design content for upcoming training programs based on assessment results. This subsequently would shorten the learning curve, boost knowledge retention, and enhance employee performance and productivity.
3. Boosts Learner Engagement And Improves Learning Outcomes
Leveraging AI to personalize learning augments learners' interest and boosts their involvement in the course content, thereby leading to improved learning outcomes. Every learner has a unique learning style and prefers unique methods. AI allows learners the freedom to learn in their preferred style using their preferred method, at their convenient pace.
Based on Machine Learning algorithms, AI can be used to create customized content best suited to individual learners' experience and learning objectives. Using AI, you can modify the core training content to various microlearning formats, such as audio-guided presentations, videos, gamified lessons, and infographics, to cater to different groups of learners.
This offers an immersive learning experience, and learners enjoy their learning journey and absorb content better. Providing relevant content to learners in their desired format ensures involvement with training content, retains their interest throughout the session, and boosts course completion rates. A better learning experience leads to improved application of learning at work, subsequently leading to enhanced training ROI.
4. Facilitates Customized Content Creation And Delivery
With the increase in the need for training in this dynamic business scenario, it is a pain for Subject Matter Experts (SMEs) and content creators to create course content, as it involves time and energy. AI tools such as ChatGPT, if used optimally, can help you draw out important and relevant information to create smart content for online learning.
The Natural Language Processing (NLP) feature of this tool efficiently processes human language and can provide engaging content for courses—scenarios, assessments, video scripts, and more. So, using it you can not only create smart content within no time but also translate your online courses to multiple languages to cater to your global workforce.
AI-integrated LMSs can help your learners with customized course maps. Learners thus have a clear idea about what courses they should take up and have easy access to the online training material. These course maps can also be revised as per changing learning needs thanks to the power of AI-generated reports and insights.
5. Ensures Real-Time Objective Feedback
Feedback is an important aspect of any training program, as it enables learners to understand their performance and progress and opens avenues for improvement. It becomes difficult for trainers to evaluate individual learners and provide real-time feedback since it is a time-consuming process.
AI-enabled LMS can make things much simpler, as the courses taken by individual learners can be assessed quickly and detailed feedback can be given to the learners on a real-time basis. This promotes continual learning and scales the overall L&D curve of your employees. Reports can help training managers make global decisions pertaining to organization-wide L&D initiatives and ace corporate training.
AI-Powered Personalized Learning: The Way Ahead For Immersive Learning
L&D is becoming a strategic unit of every organization, and it is essential to offer continual learning to your employees to keep them updated. And, as Zig Ziglar said, "There is only one thing worse than training employees and losing them, and that's not training them and keeping them," you must agree to how important it is to train your workforce continuously. AI-powered personalized learning is undoubtedly the way ahead for undisrupted training of your global workforce, as it offers a bunch of noteworthy benefits. How about giving it a try?
References:
[1]
Global Sentiment Survey 2019
[2]
AI Adoption Driving Revenue Growth for Businesses; Leadership on Workforce Implications Vital