What is Research?
Research is a process of systematic inquiry that involves gathering of data; documentation of critical information; and analysis and understanding of that data/information, in accordance with appropriate procedures based on scientific principles.
The research assesses the validity of a hypothesis; to accumulate substantive knowledge and findings for sharing them in proper manners, and to generate questions for further inquiries.
Importance of Research in Higher Education
There are three key elements that are driving force for revolution in higher education. These elements are
Massification,
Diversification and
Research.
The first is Massification, which defines the increased admittance worldwide to higher education for the masses. Higher education is now not just the preserve of the elite but is now both a right and a need for most people in developing countries. It is a need that comes from the bottom up; it cannot be controlled or mandated by governments. In the next 30 years, the key countries that will make up half the global enrollment in higher education will be China, followed by India. The U.S. pool is already almost saturated with about 75-80% of every of-age cohort entering the system for higher education. There are a few implications of massification.

First, there is now a divergence of higher education institutions; not all institutions of higher education can be universities.
Second, the greater diversity in the student populace.
Thirdly, the dropout or non-completion rates for higher education are more significant than ever. The new norm is that a four-year degree takes five to six years to complete.
Fourth, Massification has led to a lower quality of higher education in all countries where it has occurred.
Although the standard of leading institutions has improved over the years, many higher education institutions face challenges regarding financial constraints, faculty quality and student diversity.
Lastly, the growth of the private education sector has meant that most of the students in higher education study in private institutions that are of lack of quality education and majorly profit-oriented.
The diversification in terms of disciplines taught in higher education growing along with development activities in the view of the future needs of society and humanity.
The third area which needs a generation of newer knowledge to sustain the development activities of the society.
Why Indian Higher Education is Lacking in Research?
There have been various studies around this question and various reasons are sought. Here are a few common reasons which are sought:
Poor or Insufficient Infrastructure.
Lack of quality faculties
Intake of poor quality students in higher education
Insufficient support of government to education up to higher secondary level
Less than adequate funding for research; necessary for innovation-driven society
Inadequate collaboration between Academic and Industrial for society need-based research
Only 7 Indian universities were ranked in the top 400 universities by the well-regarded QS World University Rankings for 2019. And predictably, six of these seven are Indian Institutes of Technology (IITs). The only non-IIT Indian institution in the top 400 in the Indian Institute of Science (IISc) in Bengaluru.
According to the University Grants Commission's website, the total number of universities in India was 874 as of 25 September 2018. That figure includes 47 central universities, 391 state universities, 125 deemed universities and 311 private universities.
What Are Its Consequences of the Lack of Research in-country?
Quality of Teaching and Research
If we look only at the academic reputation and the faculty-student ratio, we can see where most of the universities in India stand. Teaching and research in any University depend on the quality of students and on the quality of their faculties. For teachers to impart knowledge to students they must have a broad knowledge of their subject matter, the curriculum and educational standards as well as enthusiasm and a desire for learning throughout the course of their career. They must have a desire to learn from students and other sources about the impact of their teaching and how it can be improved. There are many universities in India, but scarcely 20 to 30 universities are considered to have faculty of high standing. An estimated 40% of college teachers work on a non-permanent, ad-hoc basis and are designated variously as temporary, contractual, ad hoc and guest faculty.
Pressure to Publish
Even faculty who have been working for many years is under such circumstances that they have to produce a certain number of research/review papers to gain promotion. Thus, they often publish papers in journals that may not be of high quality. This also means that there is more importance on publication of papers than on teaching.
Quality of Student Intake
Another important factor that may affect the quality of education is the level of students admitted. India's undergraduate students have graduated from higher secondary level schools (for 16 to 18-year olds). No serious attempt has been made by central or state governments to open any new higher secondary level schools for the past few decades. The only new such schools opened by central government are Navodaya Vidyalaya and Kendriya Vidyalaya (both of which are central schools).
Where are we standing..?

With over 1.35 lakh scientific papers published, India has become the world's third-largest publisher of science and engineering articles, according to a US government agency data, topped by China.
As per the statistics compiled by the US National Science Foundation (NSF), the number of scientific papers published worldwide increased from 1,755,850 in 2008 to 2,555,959 in 2018.
The global research output, as measured by peer-reviewed science and engineering (S&E) journal articles and conference papers, grew about four per cent annually over the last 10 years.
The data, which was released on Tuesday, stated that in 2008, India published 48,998 science and engineering articles. This increased to 1,35,788 articles in 2018 at an average annual growth rate of 10.73% and the country now accounts for 5.31% of the total world publications in science and engineering.
China, which accounts for 20.67% of all global publications in scientific articles, is at the top position, followed by the US at 16.54%.
In China, the number of global scientific publications increased from 2,49,049 in 2008 to 5,28,263 in 2018, at a growth rate of 7.81% per annum.
The US, the total global publications in science and engineering articles grew at a rate of 0.71% from 3,93,979 in 2008 to 4,22,808 in 2018. Though a long way to go, as compared to the US and China in terms of the number of scientific article publications, India's emergence as the third largest publisher is mainly due to a phenomenal double-digit growth rate in the last one decade from 2008 to 2018, the report noted.
The other countries which made it to the top 10 list are Germany (1,04,396), Japan (98,793), UK (97,681), Russia (81,579), Italy (71,240), South Korea (66,376) and France (66,352).
Steps to be Taken
The government may do the job of catalysis of education up to higher secondary level using various means by creating new schools and increasing competition among the private schools.
The examinations should be more on knowledge-driven and should be based on continuous evaluation with a focus to impart learning of fundamentals and increasing analytical abilities of a child.
The subjects such as industrial mathematics, machine learning, computing-based learning at early stages may help the child to develop their reasoning ability essentially required to pursue higher education.
At the higher education level, the improvement of infrastructure, quality faculty members, improved quality student's intake, and connecting the society and its need for higher education. This will not only provide sustained development but also increase the sensitivity of the students towards society.
For More Such Articles, News Update, Events, and Many More Click Here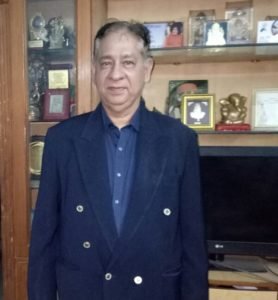 Prof. Ambikanandan Misra
Professor and UGS-BSR Faculty Fellow at
Faculty of Pharmacy, associated with the field of pharmaceutical sciences for more than 40
years.