Whether you are a student, an academic professional, or a web content writer, you need to write unique and authentic content to make yourself stand out.
Even when you are taking inspiration from someone else's work, you need to present it in a unique way, without plagiarism.
When you plagiarize, it makes you lose the lost trust of your readers. So, you need to do all you can to ensure that your content is 100% free from plagiarism.
In this article, we are going to walk you through the complete process of detecting and avoiding plagiarism using free online tools.
What is Plagiarism?
Plagiarism refers to copying someone else's work and presenting it as your own, without crediting the original creator.
Plagiarism is unethical and even illegal in certain cases. For example, plagiarizing an academic document can make you eligible for a lawsuit from the original creator of the content.
Also, when you plagiarize, people stop trusting your work. They'd rather go to the source that you have used for your work, rather than spend time on your writing.
So, if you want to build your reputation as a trusted source of information, you need to make sure that you do everything that you can to detect and avoid plagiarism in your content.
How to Detect & Avoid Plagiarism Using Free Online Tools?
1: Check Plagiarism in Your Content
There are a lot of free online plagiarism detection tools available out there that you can try out. These tools give you a complete plagiarism report, along with the sources of plagiarism.
Based on the report that you get from these tools, you can find the exact percentage of plagiarism in the content.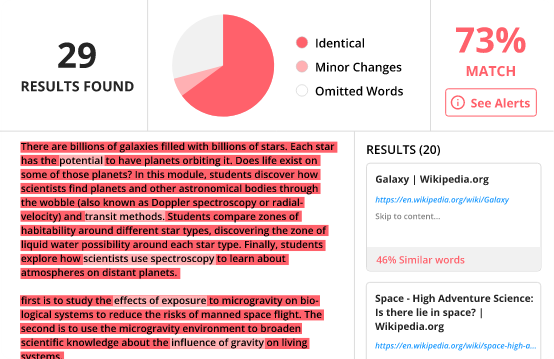 If the percentage of plagiarism is a lot, you'd need to rewrite the content to make it unique. You can either rewrite manually or with the help of an online paraphrasing tool. We are going to discuss both approaches in the next couple of steps.
2: Rewrite the Source Material (Manual Approach)
If you have the time for it, we suggest you rewrite the source material manually. When you rewrite by hand, it greatly reduces the chances of plagiarism in the content.
Here are some of the tips that you can use to rewrite manually:
Change words with their synonyms
Change the sentence structure and sentence order
Break down long paragraphs
Based on these tips, you can start rewriting your content by hand. For example, you can change the sentence structure from active voice to passive voice, and vice versa.
This eliminates plagiarism while keeping the central idea of the content intact. And if you have a good vocabulary, you can try changing words with their synonyms to make the content more formal and engaging for the readers.
3: Use a Paraphrasing Tool
If you don't have a lot of time at your disposal to manually rewrite source content, then you can use the Paraphrase tool to rephrase the content.
Paraphrasing tools use AI to generate unique content based on the source material. These tools are great because they save you from the hassle of manual rewriting.
When you use a paraphrasing tool, you don't have to spend any time rewriting content. You can automate the entire rewriting process which enables you to save time and effort.
There are a lot of free and paid paraphrasing tools available out there that you can try out. We recommend going for the one that offers a lot of paraphrasing modes and additional features for better paraphrasing.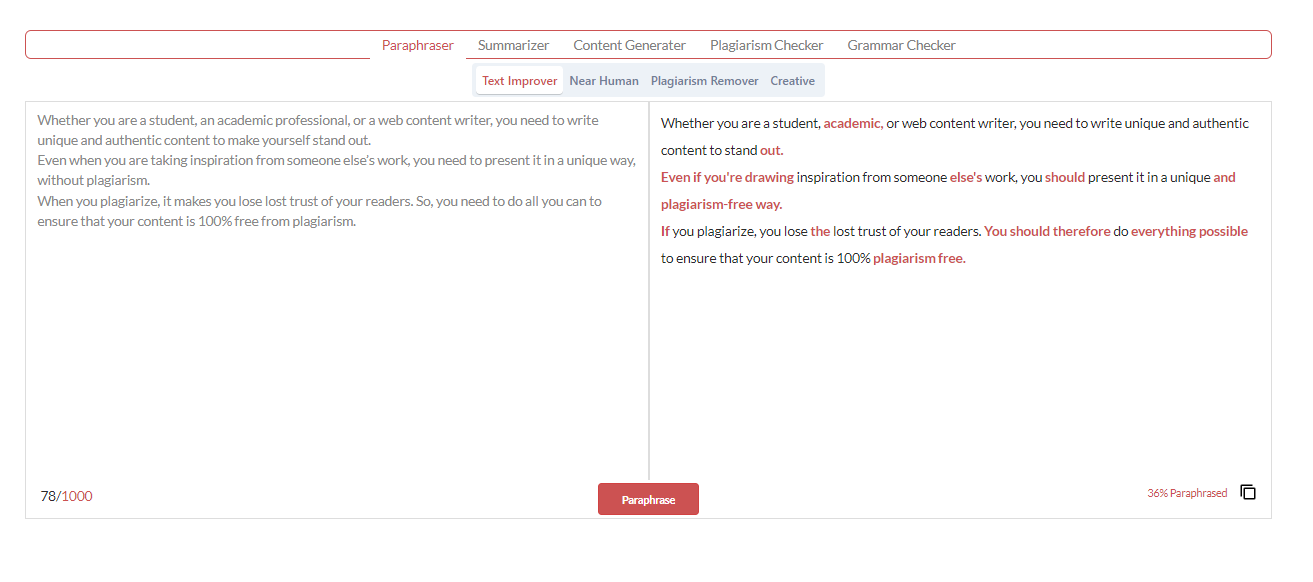 4: Use Quotes & Citations
The use of quotes and citations is highly recommended when you are working on a piece of content that requires you to use prior research.
When you are writing a research paper or a case study, you need to use the existing date to present your case. In this scenario, using the source material won't come under plagiarism.
But still, it would be unethical to use the source material without crediting the source of the content. You can credit the creator by mentioning their name in your content along with their work in the quotation marks.
Or you can use citations to mention the source at the end of your work. Both approaches work fine and have been practiced for decades.
5: Proofread Your Content
When you are done rewriting your content using online tools, you should spend some time thoroughly reading the content. The purpose of this final reading is to find mistakes and potential areas of improvement in your content.
When you proofread your piece of writing objectively, it helps you see things that you can improve to make your work even better.
If possible, you should get a second opinion about your content by having someone else go through it for you. This way, you'd get to see first-hand what people think about your content.
Based on the insights that you get through proofreading; you can improve your content to make it more valuable and engaging for the readers.
6: Check Plagiarism Again to Verify
The final step is to check the plagiarism once again to ensure that there is no plagiarism in your content at all.
Even if you paraphrase everything from scratch, there can still be accidental plagiarism in your content. So, make sure to check plagiarism again once you are done writing the content.
You can use any popular plagiarism checker that you want. We recommend going with a tool that delivers fast, efficient, and accurate results.
Once you find your content to be 100% unique, you can present it to your audience.

Final Words
Detecting and avoiding plagiarism in the content is important because it helps you position yourself as trustworthy in the market.
When you consistently come up with unique and engaging content, people trust your words and they show complete confidence in your judgment in your specific domain.
So, use the above approach to generate unique and plagiarism-free content.