NoPaperForms
Grow your enrollments
NoPaperForms is the de-facto choice for all educational organizations looking to grow their enrollments. We do this by purpose-building and delivering software-as-a-service that makes all teams involved in enrolling more productive. It makes us unique, and the most loved enrollment growth partner in the education industry.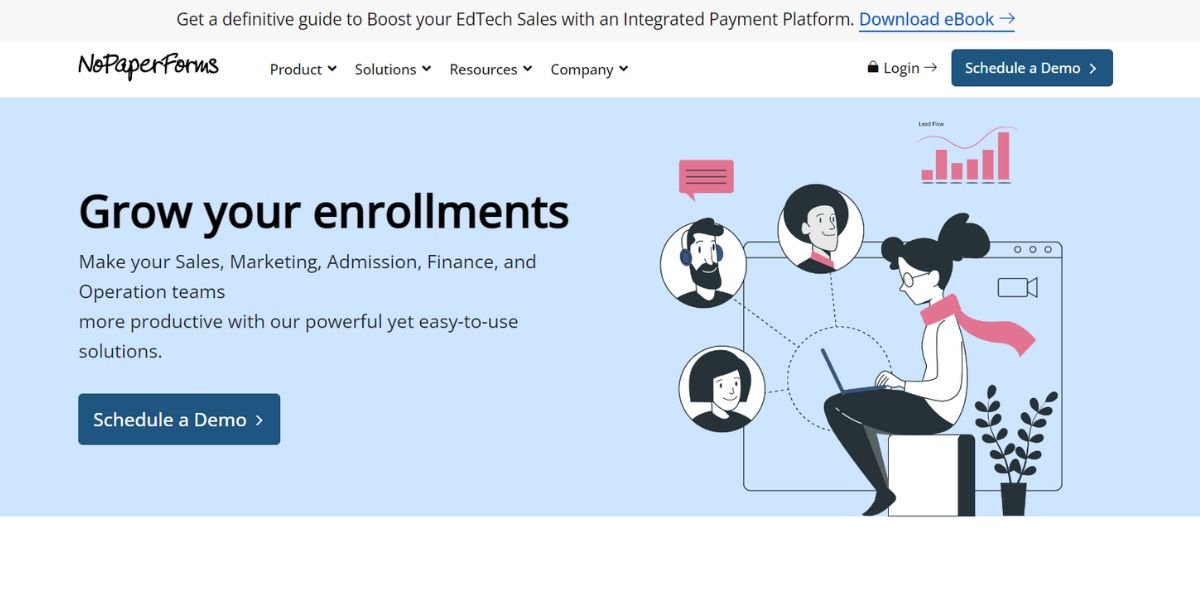 Services:
 EdTech
 Coaching & Training Institutes
 K-12 Schools
 Preschools & Playschools
 Online Degree Programmes
 Higher Education
 Study Abroad Consultants
Benefits of
Partnering with

NoPaperForms

Partnering with NoPaperForms can provide several benefits for educational institutions, including:
Streamlined admission process: It provides a digital platform that enables educational institutions to streamline their admission process. As a partner, you can access their expertise in creating an efficient and user-friendly admission process that can reduce paperwork and administrative burden.
Customized admission solutions: They offers customized admission solutions that can meet the specific requirements of your institution. They can help you create an admission process that fits your admission criteria, program offerings, and other requirements.
Improved applicant experience: NoPaperForms' digital platform provides applicants a seamless and convenient application experience. This can improve the applicant experience, leading to increased applications and enrollments.
Analytics and insights: NoPaperForms' platform provides analytics and insights that can help you track and analyze your admission process. This can enable you to identify areas for improvement and make data-driven decisions.
Multi-channel communication: NoPaperForms' platform enables educational institutions to communicate with applicants through multiple channels, including email, SMS, and chat. This can improve communication and engagement with applicants, leading to increased conversions.
Contact Information
Gurugram, Haryana 1st Floor, Plot No – 242 & 243, AIHP Palms, Udyog Vihar, Phase 4, Gurugram, Haryana-122016