MSM Unify
Your future within your reach
MSM Unify is a student marketplace that connects students with educational institutions and recruitment partners worldwide. We unify and allow everyone in the industry to work collaboratively to reach the world's curious learners and provide them with a host of options regarding their education.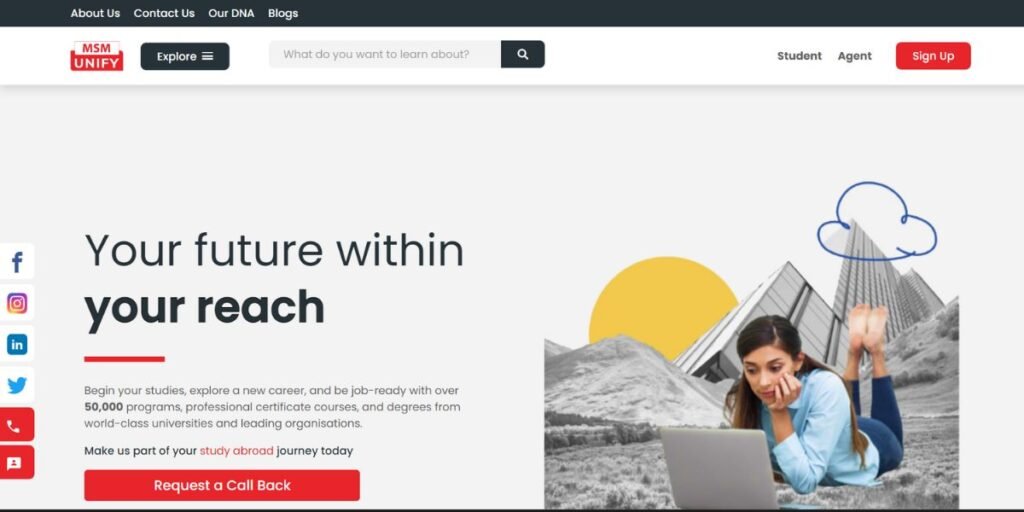 MSM Unify was born in 2020 in the middle of the COVID-19 pandemic as a sustainable and cost-effective approach for institutions to market, recruit, amid an intensely challenged environment, for agents to expand their offerings to their students and maximize their earning potential, and for students to make their dreams of studying overseas happen.
Services:
Academics
Placement Support
Benefits of Partnering With MSM Unify
Partnering with MSM Unify can offer a range of benefits, including:
Expertise and Experience: It has extensive experience in the field of IT services, with a team of experts who can provide industry-specific insights and solutions.
Customized Solutions: They offer customized IT solutions to meet the specific needs of organizations, including cloud services, network infrastructure, and cybersecurity.
Global Reach: MSM Unify has a global presence and can help organizations access IT services and opportunities in different markets around the world.
Innovative Approach: MSM Unify is committed to innovation and uses cutting-edge technology and tools to provide efficient and effective IT solutions.
Quality Assurance: They follows rigorous quality assurance standards to ensure that all IT services are delivered to the highest quality standards.
Cost-Effective Solutions: MSM Unify offers cost-effective IT solutions that can help organizations optimize their IT infrastructure and reduce costs.
Contact Information
1631 Dickson Ave Suite 1100 Kelowna, British Columbia, CA