Mettl
We Are the Only Indian Company to Be Selected by Gartner as a Leader in Remote Proctored Examinations
Our mission is to enable organisations to build winning teams by taking credible people decisions across two key areas, talent acquisition, and development. Our research-backed assessments, efficient cloud platform, and in-depth analytics help us deliver transformative results for our clients and their employees.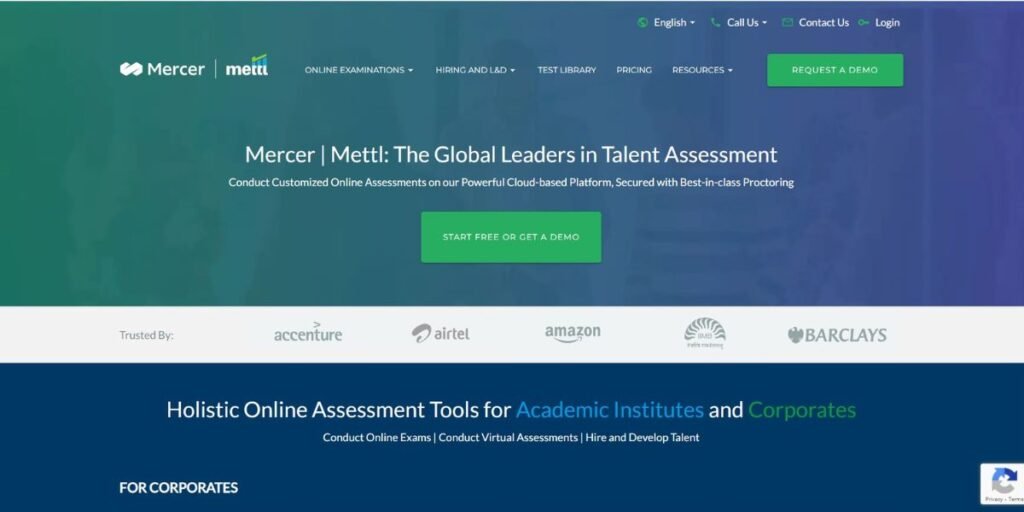 We create customized assessments across the employee lifecycle, including pre-hiring screening, candidate skills assessment, training, and development programs for employees/students, certification exams, contests and beyond.
Services:
Benefits of Partnering With Mettl
Comprehensive assessment solutions: It offers a wide range of assessment solutions, including cognitive, behavioral, and technical assessments, to help organizations effectively evaluate candidates. These assessments provide a holistic view of a candidate's knowledge, skills, and abilities.
Customized assessment solutions: They provides customized assessment solutions to meet the unique needs of different organizations. Whether an organization needs to assess candidates for entry-level or senior positions, Mettl can provide tailored solutions to meet their requirements.
Scalable solutions: Mettl's assessment solutions are scalable, allowing organizations to manage their recruitment process regardless of the number of candidates they need to assess.
AI-based proctoring: Mettl's assessments are proctored using artificial intelligence, ensuring that the assessment process is fair and transparent. This helps organizations prevent cheating and ensure the integrity of their assessment process.
Detailed assessment reports: They provides detailed assessment reports that help organizations evaluate candidates effectively. These reports provide insights into a candidate's strengths and weaknesses, allowing organizations to make informed hiring decisions.
Streamlined recruitment process: By partnering with Mettl, organizations can streamline their recruitment process by conducting assessments online. This saves time and resources, allowing organizations to focus on other important aspects of their recruitment process.
Contact Information
Good Earth Business Bay, 7th & 8th Floor, Sector 58, Gurugram, Haryana 122101