Light House
1000+ Implementations with 100% successful track record and 99% customer retention.
Lighthouse Info Systems Pvt Ltd. specializes in designing and building enterprise business systems that provide exceptional value. Through its numerous projects with a diverse group of 700+ clients of Super Accountant and 350+ clients of Lighthouse ERP™, Lighthouse Systems has acquired an unmatched bank of knowledge and experience. LIGHTHOUSE ERP is a comprehensive business solution that helps companies adapt to new opportunities and continued growth.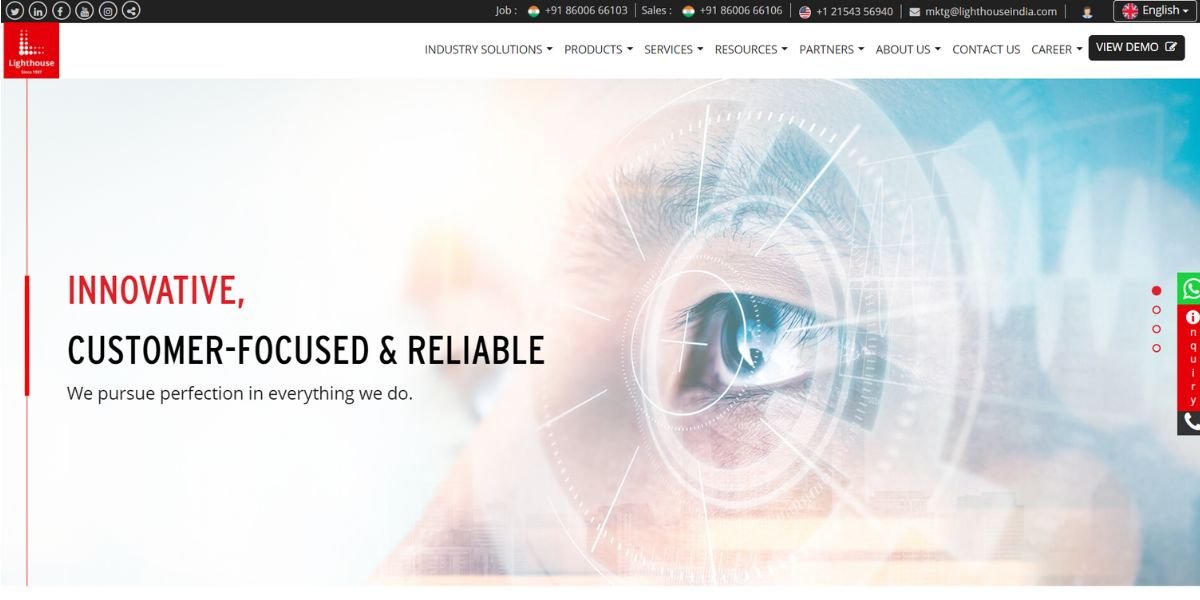 Designed for how people really work, LIGHTHOUSE ERP caters to companies to unique business requirements, and integrate all business processes across the organization. Lighthouse Info Systems is ISO 9001:2008 certified, Crisil accredited and NASSCOM affiliated. It has several testimonies from its 350+ clients across 25 Industry verticals in Indian subcontinent, Middle-East & Africa and South-East Asia.
Services
ERP

Mobile App

B2b for Procurement

HRM

CRM
 Benefits of Partnering With Light House
Partnering with Light House can offer several benefits for businesses. Here are some of them:
Expertise in digital transformation: Light House is a digital transformation consultancy that specializes in helping businesses leverage technology to improve their operations and customer experience. By partnering with Light House, businesses can access their expertise and knowledge to develop innovative digital solutions.

Customized solutions: Light House offers customized solutions that are tailored to meet their client's specific business requirements. This can help businesses provide their clients with solutions that are unique and designed to solve their specific challenges.

Comprehensive services: Light House offers a range of services, including digital strategy, UX/UI design, software development, and data analytics. By partnering with Light House, businesses can offer their clients a comprehensive suite of digital services.

Agile approach: Light House uses an agile approach to software development, which means they can quickly adapt to changes and deliver solutions in a timely manner. This can help businesses meet their client's requirements and deadlines.

Transparent communication: Light House values transparent communication with their clients, which means businesses can expect regular updates on project progress and any issues that arise. This can help businesses build trust with their clients and ensure that they are meeting their expectations.

Customer-centric focus: Light House puts their client's customers at the center of their digital solutions. By partnering with Light House, businesses can offer their clients solutions that are designed to improve their customer experience and drive customer engagement.
Contact Information
14/4, I.T. Park Parsodi,South Ambazari Road, Nagpur,Maharashtra, India. Pincode: 440022