iNurture
iNurture is a pioneering edtech company making waves in the higher education space by offering new-age programs for tomorrow.
'iNurture' stands for 'Intelligent Nurturing'. Intelligent nurturing of young talent to make them employable on graduation with a long-term career orientation is our motto. iNurture began operations in the year 2005, endeavouring to develop and deliver industry-relevant Undergraduate and Postgraduate programmes in the fast-growing sectors of the new-age economy, through a unique University-Industry Partnership (UIP) model. iNurture currently offers over twenty-five programmes in active collaboration with some of the best-known Universities, Autonomous institutions and Colleges across India.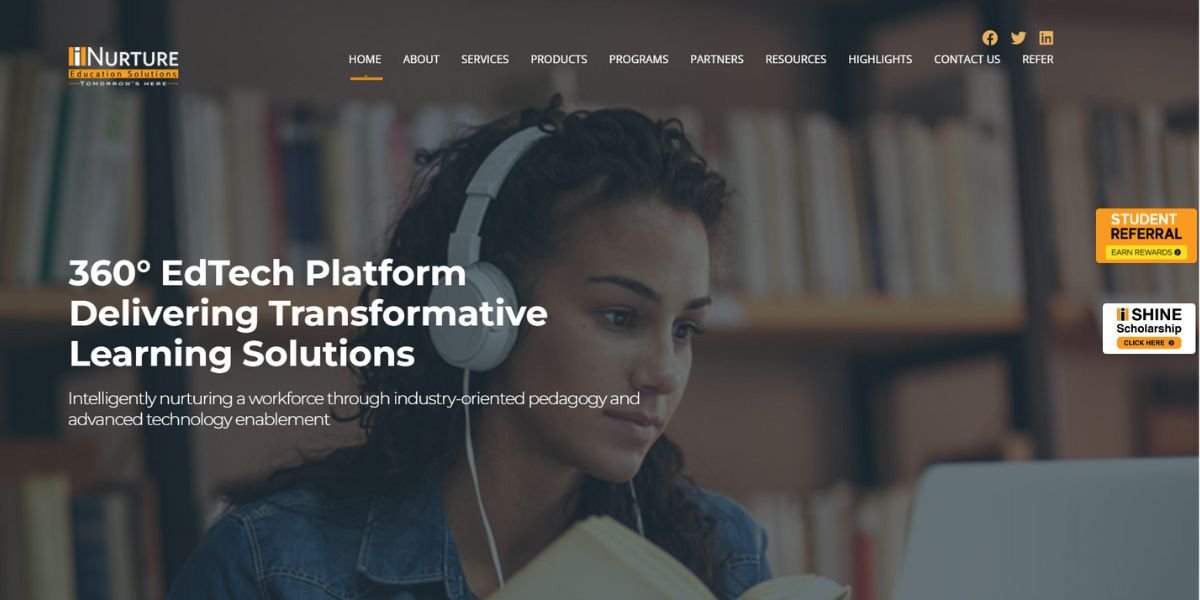 The verticals in which these programmes are offered include advanced sectors such as Information Technology (Cloud Technology, Information Security and IT Infrastructure), Mobile Applications, Creative Industries (Advertising, Branding, Media, Entertainment and Internet), Business Leadership, e-Commerce, Financial Services, Business Analytics, Tourism & Hospitality Management, ToonSkool New Media Edu. (Animation, Visual Effects, Game Design & Development, UI & UX, Digital Film-Making & App Development), SMAC (Social, Mobile, Analytics & Cloud) and Design*.
Services Provided by iNurture
Managed Classroom

Global Education

Managed Campus

Student Acquisition
Benefits of Partnering With iNurture
iNurture is an innovative education company that offers industry-oriented undergraduate and postgraduate programs in various fields. Partnering with iNurture can provide several benefits for educational institutions, students, and industry partners.
Some of the benefits of partnering with iNurture include:
Industry-oriented curriculum: iNurture's programs are designed to meet the needs of the industry, ensuring that students are equipped with the relevant skills and knowledge required to succeed in the job market.
Access to a wide range of programs: iNurture offers a broad range of programs in fields such as technology, management, hospitality, design, and more. Partnering with iNurture can provide access to a variety of programs that meet the needs of diverse student populations.
Flexibility in program delivery: iNurture offers flexible program delivery options such as online and blended learning, which can help institutions reach a broader audience of students.
Collaborative partnerships: iNurture's partnerships are built on collaboration and mutual benefit, with a focus on developing long-term relationships that create value for all stakeholders.
Enhanced employability of students: iNurture's industry-oriented programs can help students develop the skills and knowledge required to succeed in the job market, improving their employability and career prospects.
Access to industry partners: iNurture has partnerships with several industry leaders, providing opportunities for students to gain valuable industry experience and access to potential employers.
Support for institution growth: iNurture provides support for institutions in areas such as curriculum development, faculty training, and program delivery, helping to drive growth and improve educational outcomes.
Overall, partnering with iNurture can provide a range of benefits that can help educational institutions, students, and industry partners achieve their goals and succeed in today's competitive landscape.
Contact Information
Niton Compound, # 11/4 A, Block – B1, Palace Road, Vasanthnagar, Bangalore – 560052