Freshersworld.com
DRIVEN BY PASSION, INNOVATION & YOU
At Freshersworld.com (A TeamLease Company) we all come to work everyday with a singular thought in our mind- How to make things simpler yet advanced, business-focused yet User-Friendly & strive to be Agile yet reach the masses.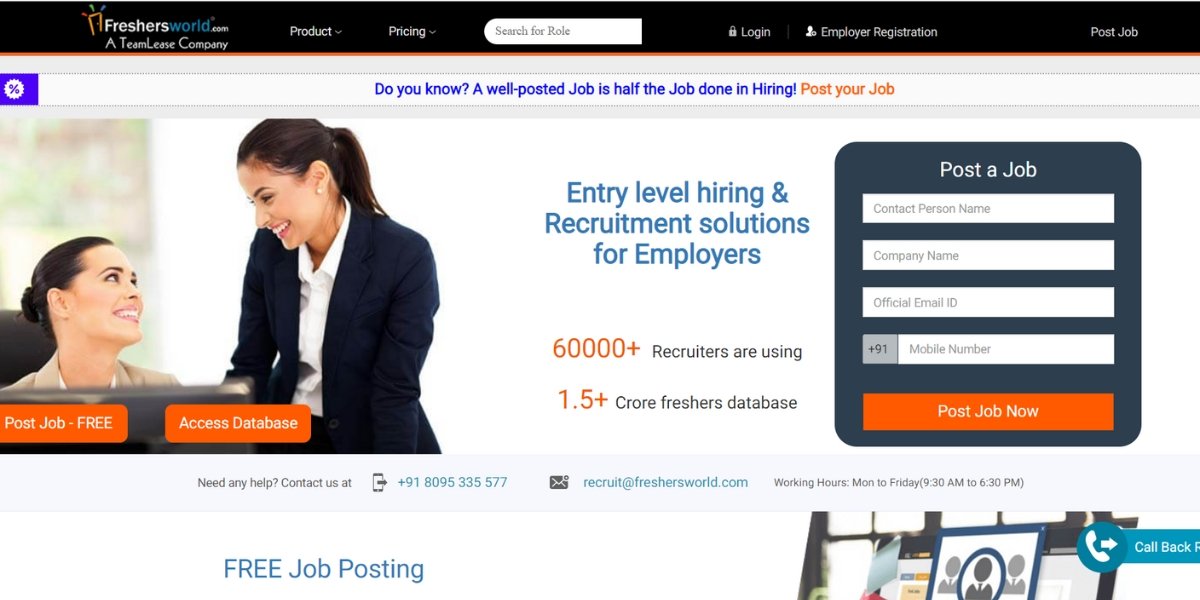 It's this thought that helps us be the "The No.1 Jobsite For Freshers in India" and makes us move forward. ALWAYS.
Freshersworld.com (A TeamLease Company) is NO.1 job Portal for freshers hiring in India with a database of over 1.5+ Crore resumes. More than 3 Lakh+ resumes are added every month from entry level graduates across the country. We offer Fresher Recruitment Solutions for 60K+ recruiters and we have a presence in colleges in 100+ cities across India. Our client list includes Facebook, EMC, Toshiba, Huawei, Sonus Networks, Motorola,Alcatel Lucent, NetApp, Goodrich, Siemens, Amazon, Symphony Services, ABB, MuSigma, Akamai, Flipkart, Oracle, Practo,Berger Paints, HDFC Life and many more. Have a hiring requirement?
Services:
Campus Recruitment Training

Domain Specific Training

Campus Placement Service

Collaboration with MNCs

HR Lab

Lateral Hiring

Corporate Training

Third-Party Payroll
Benefits of Partnering with Freshersworld
Partnering with Freshersworld can offer several benefits to businesses and organizations. Here are some of them:
Access to a large talent pool: Freshersworld is a popular job portal for fresh graduates and job seekers. By partnering with Freshersworld, businesses can access a large talent pool of young and enthusiastic professionals ready to start their careers.
Cost-effective hiring: Freshersworld offers cost-effective hiring solutions for businesses. Compared to traditional recruitment methods, partnering with Freshersworld can save time and money for businesses.
Customized recruitment solutions: Freshersworld offers customized recruitment solutions that cater to the specific needs of businesses. Whether it is campus hiring or off-campus recruitment, Freshersworld can help businesses find the right candidates.
Brand visibility: Partnering with Freshersworld can increase the brand visibility of businesses among young job seekers. This can help businesses to attract top talent and build a positive brand image.
Access to additional services: Freshersworld offers additional services such as employer branding, job posting, and candidate assessment that can help businesses to streamline their recruitment process and improve the quality of hires.
In summary, partnering with Freshersworld can provide businesses with various benefits that can help them attract top talent, save costs, and improve their recruitment process.
Contact Information
Bengaluru, Karnataka, India