Expertrons
Placement Opportunities for your students in India's Top Companies
When we sought to understand the nature of modern employment a year ago, we identified one common issue across industries and geographies – an increasing disconnect between employers and employees that has made hiring a complicated matter.
The extensive research that followed told us that over 1.5 billion upcoming professionals in the world – who change careers 5 to 7 times in their lifetime – could benefit from the right guidance to climb the career ladder. We also found that career guidance is fragmented and lacks innovation.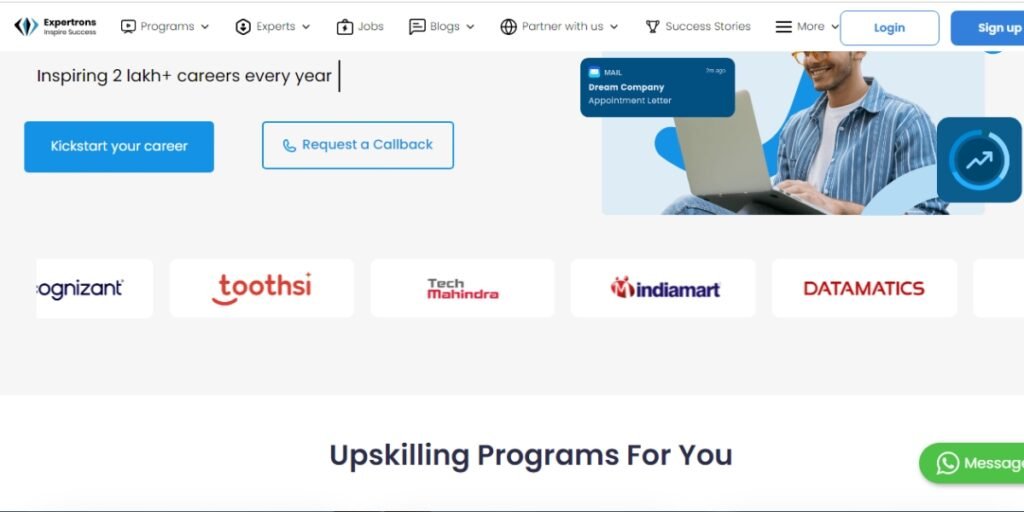 In India alone, 30 million youngsters are completing their higher education and spending nearly $5000 for it – all aimed at getting a dream career opportunity. Most of these aspirants are first-generation graduates with no one in their circle to guide them on their career choices. We bridge this last-mile gap to help students and professionals make the right career decisions.
Services:
Benefits of Partnering with Expertrons
Expertrons is a platform that connects job seekers with industry experts to help them learn and prepare for job interviews. Here are some benefits of partnering with Expertrons:
Expert Guidance: Expertrons provides job seekers with access to industry experts who can guide them in their career paths and help them prepare for job interviews. These experts have years of experience in their respective fields and can provide valuable insights and advice to job seekers.
Customized Learning: Expertrons provides job seekers with customized learning plans based on their career aspirations and goals. This means that job seekers can focus on the skills and knowledge that are most relevant to their desired job roles and industries.
Time-Saving: Expertrons can help job seekers save time by providing them with the resources and guidance they need to prepare for job interviews efficiently. This can help job seekers make the most of their time and increase their chances of success.
Competitive Advantage: By partnering with Expertrons, job seekers can gain a competitive advantage in the job market. They can learn from industry experts, acquire new skills and knowledge, and improve their chances of securing their desired job roles.
Ease of Use: Expertrons is easy to use and can be accessed from anywhere. Job seekers can connect with industry experts and access learning resources using their mobile phones or laptops.
Contact Information
311, A wing, Kohinoor commercial-1, near Don Bosco School, LBS Marg, Kurla West, Mumbai - 400070