Creatrix Campus
AI-driven low code no code platform for modern campuses
We are revolutionizing the world of higher education software by speculating what's next.
Inspired by the transformative impact of education, Creatrix Campus has a full suite of AI-built solutions that automate higher education's end-to-end processes, moving institutions toward centers of excellence.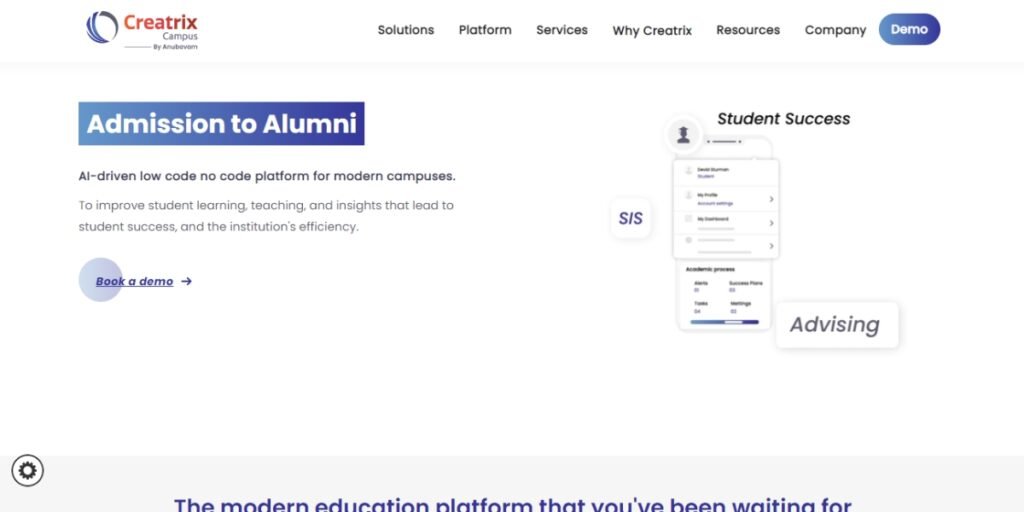 We are here to solve your challenges. We are here to keep you focused, committed, and thriving in the future of Education. A university or a college is much more than its students, faculty, and classrooms. A dynamic campus provides technology and tools for its constituents to better the teaching, learning, and working.
An EdTech company with a singular focus on higher ed, Creatrix Campus helps institutions thrive in an open and dynamic world by charting the right path to excellence. Our integrated solutions empower faculty, staff, and students to give a fresh start in higher education technology.
Services:
Implementation

Training 

Support
Benefits of Partnering with Creatrix Campus
Partnering with Creatrix Campus can provide numerous benefits, some of which are:
Comprehensive Education Management Solution: Creatrix Campus offers a comprehensive education management solution that can help institutions automate their operations, streamline their processes, and enhance their productivity.

Advanced Analytics and Reporting: With Creatrix Campus, institutions can leverage advanced analytics and reporting tools to gain insights into student performance, staff productivity, and institutional effectiveness.

Personalized Learning: Creatrix Campus provides personalized learning solutions that can help institutions offer customized learning experiences to their students, improve their engagement, and boost their academic performance.

Scalability: Creatrix Campus is a scalable platform that can cater to the needs of institutions of any size and complexity. The platform can be easily customized and integrated with existing systems to meet specific institutional requirements.

Cloud-Based: Creatrix Campus is a cloud-based solution, which means institutions can access it from anywhere, anytime, and on any device. This makes it easy for staff and students to collaborate and access resources from remote locations.
Contact Information
# 8/2, Diagonally opp. to 1MG Mall, Ulsoor Road, Off MG Road, Bengaluru - 560042.