Coursera
Start, switch, or advance your career with more than 5,400 courses, Professional Certificates, and degrees from world-class universities and companies.
Coursera was founded by Daphne Koller and Andrew Ng in 2012 with a vision of providing life-transforming learning experiences to learners around the world. Today, Coursera is a global platform for online learning and career development that offers anyone, anywhere, access to online courses and degrees from leading universities and companies.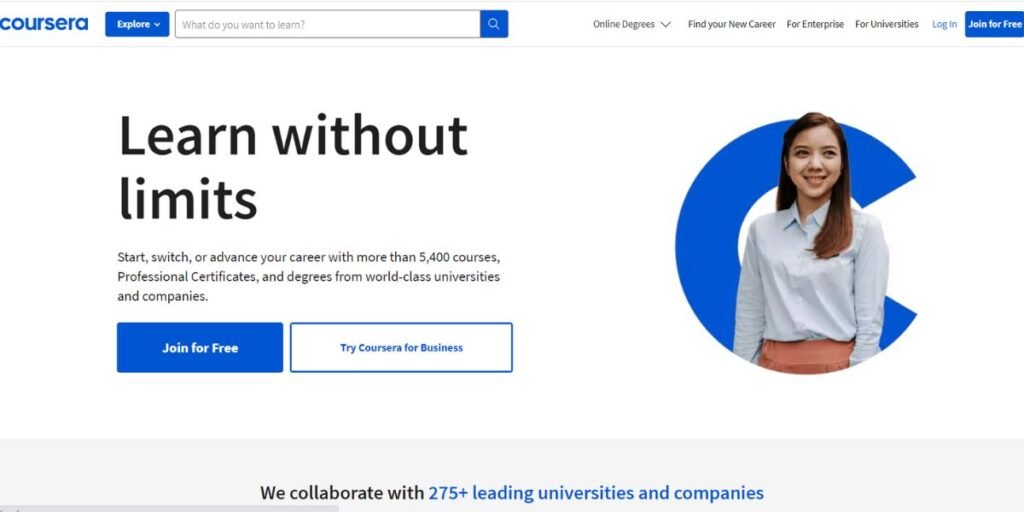 Coursera received B Corp certification in February 2021, which means that we have a legal duty not only to our shareholders, but to also make a positive impact on society more broadly, as we continue our efforts to reduce barriers to world-class education for all.
113 million learners and more than 7,000 campuses, businesses, and governments have come to Coursera to access world-class learning—anytime, anywhere.
Services:
Benefits of Joining Coursera
Here are some benefits of joining Coursera:
Access to high-quality courses: Coursera offers courses from top universities and institutions around the world, providing learners with access to high-quality education that may not be available locally.

Flexibility: Coursera courses are designed to be flexible and can be completed at your own pace, allowing you to fit your education around your busy schedule.

Cost-effective: Many Coursera courses are available for free, and paid courses are often more affordable than traditional university courses.

Career advancement: Coursera offers many courses that can help learners acquire new skills and knowledge to advance their careers.

Networking opportunities: Coursera provides opportunities to connect with other learners from around the world, allowing you to build your professional network and learn from others.
Contact Information
4th Floor Emerald Court, Sco-57, Leisure Valley Rd, Sector 29, Gurugram, Haryana 122002