BYJU'S
Come fall in love with learning!
BYJU'S is a global ed-tech company, providing highly adaptive, engaging and effective learning solutions to more than 150 million students around the world. Founded in India in 2011, BYJU'S mission is to make high-quality learning accessible to students everywhere.
The BYJU'S family of brands includes Disney-BYJU'S Early Learn, BYJU'S Future School, Epic!, Osmo, Tynker, Toppr and WhiteHat Jr, along with our beloved flagship product BYJU'S – The Learning App. Together, BYJU'S solutions support Pre-K – 12 education and a wide range of competitive exams.
BYJU'S delivers a world-class learning experience with tools that sit at the cross-section of mobile, interactive content and personalized learning methodologies. BYJU'S geography-agnostic solutions and 12,000+ teachers make learning engaging, with visual and contextual programs that adapt to the unique learning style, skill level and pace of each student. In addition, we have innovative partnerships with some of the world's leading companies, including Disney and Google, to drive engagement and help even more students become active and lifelong learners.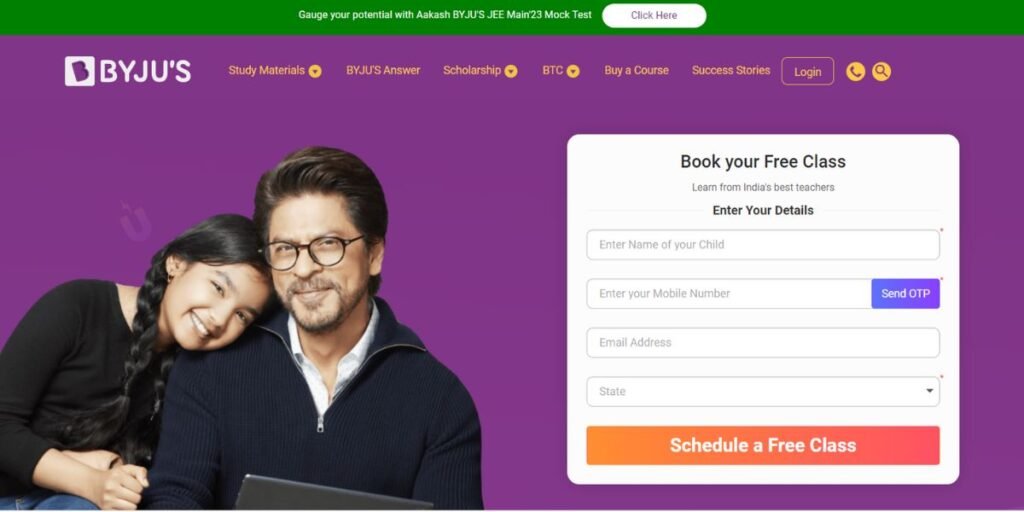 BYJU'S is backed by blue-chip investors including the Chan Zuckerberg Initiative, Sequoia Capital, Bond Capital, Silver Lake, BlackRock, Sands Capital Management, Alkeon Capital Management, Sofina, Verlinvest, Tencent, Prosus (previously Naspers Ventures), CPPIB, General Atlantic, Tiger Global, Qatar Investment Authority, Owl Ventures, Lightspeed Venture Partners, Times Internet, Aarin Capital and IFC. Since 2017, we have completed more than 15 acquisitions, including U.S., UK, Austria, India and Singapore companies.
Services:
Benefits of Joining BYJU'S
BYJU'S is an educational technology (edtech) company that provides online learning resources and tools for students of all ages. There are several benefits to joining BYJU'S:
Comprehensive Learning Resources: BYJU'S offers a wide range of learning resources that cover different subjects and topics, including mathematics, science, social studies, and more. The resources include video lessons, interactive quizzes, and practice tests, which can help students learn and revise concepts effectively.

Personalized Learning: The platform uses artificial intelligence (AI) and machine learning algorithms to provide personalized learning experiences to students. This means that the platform can adapt to the student's learning pace, style, and preferences, which can enhance their learning outcomes.

Experienced and Skilled Teachers: BYJU'S has a team of experienced and skilled teachers who create the learning resources and provide live online classes. The teachers are well-versed in their subjects and can provide students with personalized attention and guidance.

Interactive and Engaging Learning: BYJU'S learning resources are designed to be interactive and engaging, which can make learning fun and interesting. The resources use animations, illustrations, and real-life examples to explain concepts, which can help students grasp them better.

Flexibility and Convenience: BYJU'S online platform is accessible anytime and anywhere, which means that students can learn at their own pace and convenience. The platform is available on multiple devices, including laptops, tablets, and smartphones, which makes it easy for students to access the resources whenever they want.

Competitive Exam Preparation: BYJU'S also offers courses for competitive exams such as JEE, NEET, CAT, and UPSC. The courses are designed to provide students with comprehensive preparation and guidance for these exams, which can increase their chances of success.
In conclusion, joining BYJU'S can provide students with access to comprehensive and personalized learning resources, experienced teachers, interactive and engaging learning experiences, flexibility, and competitive exam preparation.
Contact Information
BYJU'S, 2nd Floor, Tower D, IBC Knowledge Park, 4/1, Bannerghatta MainRoad, Bengaluru