Apex Placement
The new way to Success, Advance & Progress
Apex Placement Consultancy is an Internationally recognized ISO 9001:2008 certified organisation, is emerging as one of the leading specialist HR & Soft Skills Training & Placement Consultancy in Bangalore with a focus on providing Executive Search, Headhunting, Outsourcing, Human Resource and Soft Skills Training to client organizations.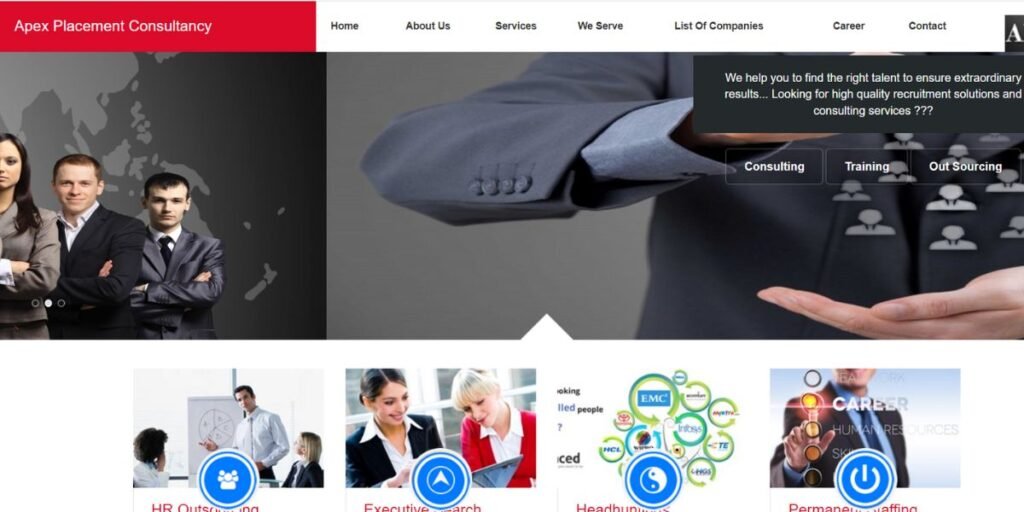 We are committed to offering people and people related services with a view to enhance human talent in the organizations and hence resulting in overall organizational growth at large. We have developed hard-core expertise in managing the entire recruitment process — searching for talent, tracking movement of high-performers, identifying the right fit and matching them with your requirements.
Services:
HR Outsourcing
Executive Search
Headhunting
Permanent Staffing
Contract Staffing
Campus Recruitment
Benefits of Partnering With Apex Placement
Partnering with Apex Placement can provide several benefits to your organization. Some of these benefits include:
Access to top talent: Apex Placement has a vast network of talented professionals across various industries and skill sets. By partnering with them, you can tap into this talent pool and find the best candidates for your organization.
Cost-effective recruitment: Recruitment can be an expensive and time-consuming process. Apex Placement offers cost-effective solutions that can save your organization time and money. They have a streamlined recruitment process and can handle all aspects of recruitment, from sourcing candidates to onboarding.
Flexibility: They offers flexible staffing solutions to meet the changing needs of your organization. They can provide temporary, contract, or permanent staffing solutions based on your requirements.
Expertise: The team at Apex Placement has years of experience in the recruitment industry. They have the knowledge and expertise to understand your organization's needs and find the best candidates to meet those needs.
Improved retention: They focuses on finding candidates who are the right fit for your organization, not just in terms of skills and experience, but also in terms of culture and values. This can lead to improved retention rates and a more engaged workforce.
Contact Information
plot no 27, 50, Subodh Garden Rd, Subodh Garden, Bansdroni, Kolkata, West Bengal 700070