All India Council for Technical Education (AICTE) released a revised academic calendar for the current academic year on 8 July in view of COVID-19.
AICTE Issued Revised Academic Calendar 2020
The All India Council for Technical Education (AICTE) revised its calendar for the session 2020-2021. The revised calendar was released after the UGC issued the new guidelines on examinations and academic calendar for all universities considering the COVID-19 outbreak.
AICTE explained that considering the prevailing pandemic UGC released its new guidelines. Following the UGC guidelines, AICTE released its new academic calendar. MHRD Ramesh Pokhriyal asked UGC to revise its guidelines. After which UGC released its new guidelines for conduction of final year examinations and academic calendar.
The UGC guidelines put aside the request on the cancellation of examinations. It asked all the states to conduct final year examinations. Even if they have ordered its cancelation earlier.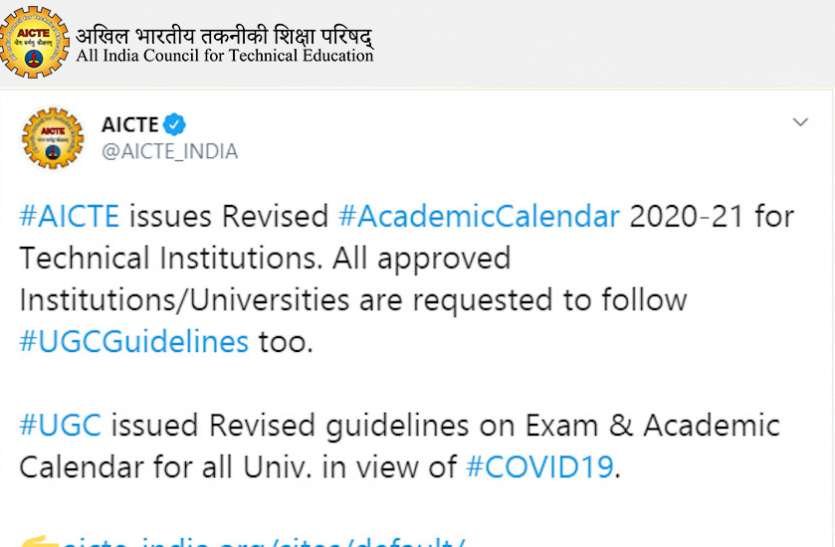 Important Dates
According to the AITCE new academic calendar, the classes for the session 2020-21 will commence from 17th August. While the classes of the new academic session will start on 15th October.
AICTE has also instructed the institution that the first round of counseling for allotment of seats will be completed by 5 October, while the second round will conclude on 15 October. The last up to which students can apply for admission is 20th October.
Admission for Management Programs
Admissions for the Post Graduate Diploma in Management (PGDM) and Post Graduate Diploma in Computer Management (PGCM) courses are to be completed by August 17.
AICTE said in an official statement, "The University Grants Commission (UGC) has issued revised guidelines on the exam and academic calendar for all universities on 6 July in view of COVID-19. All AICTE approvals institutes/universities are requested to follow the revised guidelines of the UGC for the examination. "
The technical body also asked the institutions to hold special classes for the students who will be appearing for their final examinations.
For More Such Articles, News Update, Events, and Many More Click Here