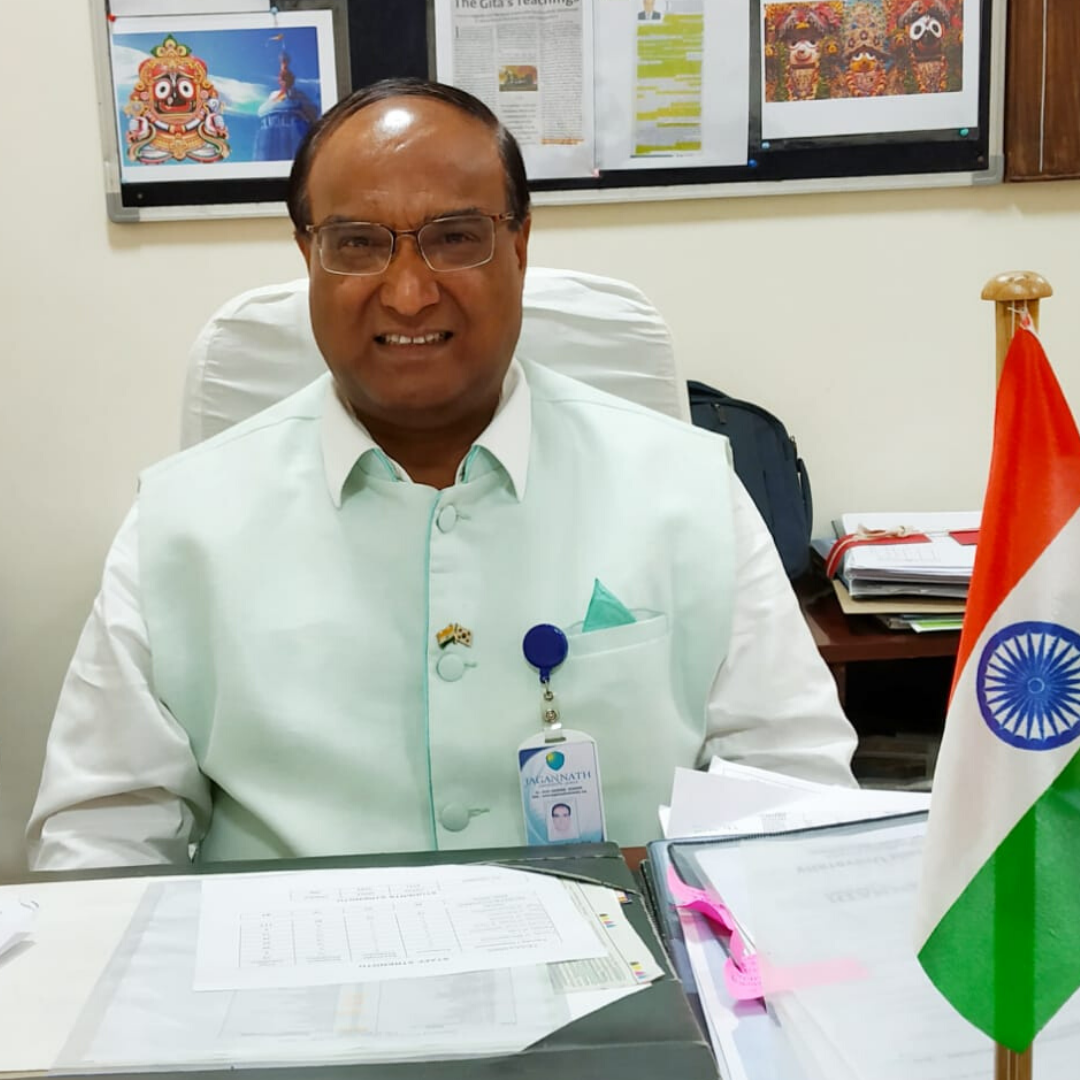 Dr. Madan Mohan Goel
    Former Vice Chancellor
Director, Dean and Chairman
Dr.Madan Mohan Goel (born on August 08,1956) possesses 40 years of teaching experience  including 16 years as Professor of Economics at Kurukshetra University, Kurukshetra (KUK) and administrative experience of 16 years in various capacities including:
Vice-Chancellor/President, Jagan Nath University Jaipur

Director, Rajiv Gandhi National Institute of Youth Development (RGNIYD- An Institution of National Importance) appointed by President of India, 

Pro Vice-Chancellor Veer Kunwar Singh University (State University of Bihar), 

Dean of Colleges & Social Sciences, Chairman, Dept. of Economics &  Dept. of Journalism at KUK. 

Former Vice-Chancellor and known as 'Needonomist' (economist for needs) among the fraternity of economists in India and is living in Kurukshetra
Achievements 
Professor Goel has international recognition. He was

first ICCR (Indian Council for Cultural Relations) Chair Professor in South Korea

at Hankuk University of Foreign Studies,

Seoul. 

He was bestowed upon the honour of

'Ambassador for Peace recognition'

by the Universal Peace Federation. Adjunct Professor at School of Indic Studies, Institute of Advanced Sciences Dartmouth, USA. 

Professor Goel was conferred

Rotary Foundation Award

for international understanding in 1983 which provided him the opportunity to be India representative in USA, UK and Canada. 

At the National front, Professor Goel was honoured in 2018 with

'Dr. S. Radhakrishnan Education Excellence Award'

by Indian Institute of Oriental Heritage Kolkata. 

NAAC, Bangalore has also utilized the services of Professor Goel as Chairperson/Member Coordinator Peer Team several times.

He represented University Grants Commission (UGC) as its nominee in advisory committee DSA III SAP Dept. of Economics, Osmania University, Hyderabad during 2009-14. 

He was the member

Board of Governors Nehru Yuva Kendra Sangathan

(NYKS) and National Service Scheme (NSS), Ministry of Youth Affairs & Sports (Government of India).  

He is also Inspecting Authority of MAEF (Ministry of Minority Affairs, Govt. of India)

One of the distinct honours a Professor involved in research can have is the publication of the book

'Economics- A Research journey with Professor M.M. Goel'

edited by Dr. Pradeep S. Chauhan and published by VK Global publications on retirement. 

Dr Goel's area of research is Economics of Human Resource Development & Indian Economy. He

has  412 publications including 05 books & 01 monograph+ 102 J+ 35 EB+209 PM+ 60 CP

to his credit.  He has successfully guided 21 PhD and 25 MPhil Scholars. He has completed two research   projects. He has established his credentials in economic journalism and development communication. He is also honoured with Adjunct Professor of Doon University, Dehradun.

He enjoys the status of spiritual citizen as intellectual on

www.speakingtree.in (with 113 blogs).

He is an accomplished professor specialised in economics of human resource development, researcher, mentor, guide, orator, prolific writer, leader and experienced administration in higher education under state, public and private sector.