Centre to establish separate board for ITI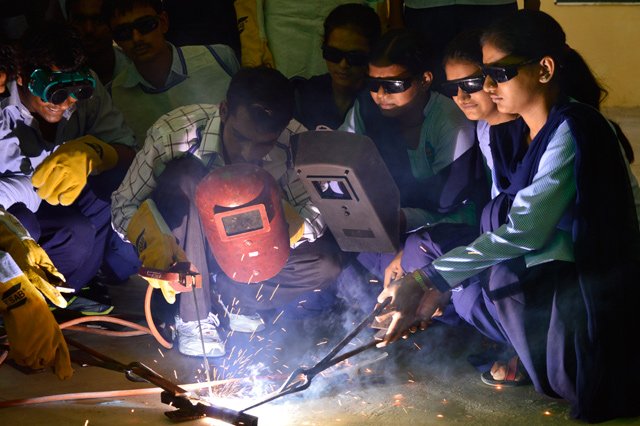 Cheer and a reason for much joy for around 23 lakh students graduating from over 13,000 Industrial Training Institutes (ITIs) across the country. They may soon be awarded certificates equivalent to the ones given to ICSE and CBSE Board pass-outs.
Yes, you read it right. A proposal for the establishment of a separate board benchmarked with the quality standards of CBSE and ICSE has been accepted by the HRD ministry. It was was mooted by the Ministry of Skill Development and Entrepreneurship.
HRD MINISTRY'S PLANS
"First time we have decided. And to much appreciation the HRD ministry is on the same page, that we are going to establish a Board for a certification of equivalence of CBSE and ICSE to all these 2.3 million students (in ITIs)," Union Skill Development and Entrepreneurship Minister Rajiv Pratap Rudy announced at a press gathering in New Delhi.
He said the ministry was working in the direction to establish a national board. This was being done so that exams all over the country are conducted on the pattern involving 70% practical and 30% elective subjects.
Rudy asserted that industrial training institutes (ITIs) will come up like CBSE and ICSE schools in the days to come. He further said that the ministry has completely revamped their infrastructural requirements and syllabus.
HRD MINISTRY'S MOTTO
The minister informed that a figure of 2.5% skilled workforce in India has been put out by the National Sample Survey Organisation (NSSO). Rudy asserted that it was "not true" since there were many areas which have not been captured while arriving at the outcome. Thus more needs to be done. And for this Rudy said that the ministry was looking at the services sector "in a big way". The ministry is working towards skilling its workforce to meet the demands of the industry.
Estonia- land of new education for Indian students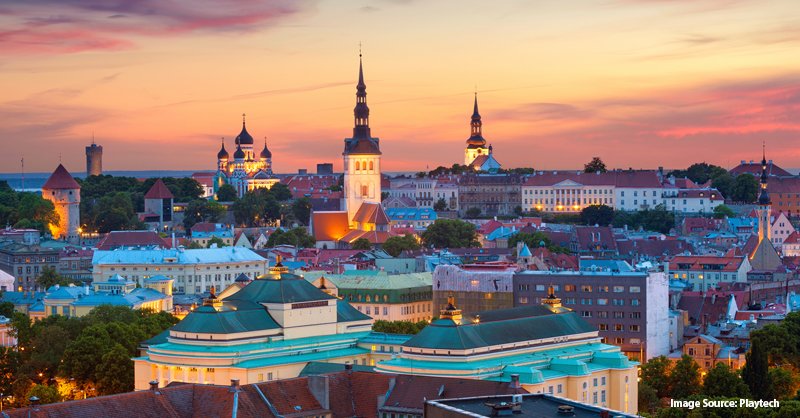 Indian students can now look at Estonia in EU as a new hub to get an international qualification. Estonia, a place for independent minds situated in the Baltic region of northern Europe bordered to the north by the Gulf of Finland. Many students from Indian origin travel from India to abroad for pursuing higher studies. Most of the students, generally head to the United States, the United Kingdom, Australia, Canada and New Zealand. In 2006, nearly 123,000 chosen different countries for higher studies.
Estonia, small country with 1.3 million has emerged as a global leader in e-government operations. . Its electronic ID push has created a more connected society, made public and private services more personalized and convenient, and established the capital city of Tallinn as an innovation hotspot — all while protecting individual privacy.Their citizens complete every municipal or state service online and in minutes.Tallinn their capital city is now mentioned in the same breath as Berlin, London.
Estonia – The New Student Hub
The latest statistics show that there are now more than 22,000 e-residents signed up from 138 countries and they make an enormous contribution to Estonia in return for the opportunities that they deliver to them. In fact, the weekly application rate is currently higher than Estonia's weekly birth rate!
Voting in Estonia have become so easy that 85% are e-voters and once people go digital, they don't go back.
Estonia produced more per capita start-ups than any other European country.They even opened up its e-government to outsiders, offering an "e-residency" that enables entrepreneurs to start a business in the country while living elsewhere.
All courses are internationally accredited and in accordance with the European Standards (ESG).University of Tartu features in the QS World University Rankings® 2016/17, and Tallinn University of Technology features in the QS University Rankings: EECA 2016, a ranking of the leading universities in Emerging Europe and Central Asia.
 A new joint venture of KK Modi Education Group & Stratford University At Noida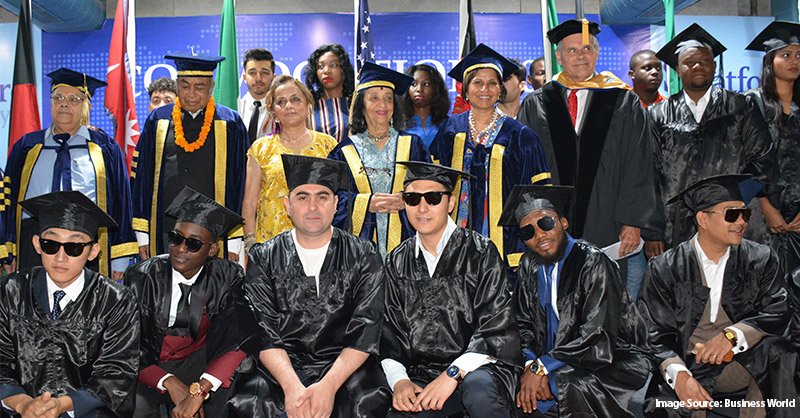 Padmashree Anjolie Ela Menon Inaugurated the campus that is a joint venture of KK Modi group and Stratford University, along with other eminent dignitaries
Many Indian companies after attaining huge profits and substantial growth overtime are investing in the educational sector of the country with the medium of collaboration with foreign institutes. Some existing collaboration institutes are Gandhi nagar institute of technology with De mont Fort University in gujrat, Institute of hotel management with university of Huddersfield in Maharashtra, sr. institute of technology with university of Massachusetts in telangana.
Similarly KK modi enterprises after achieving huge profits and attaining a good market reputation decided to invest in the educational sector of the country. Their investment venture with Stratford University of the United States of America aims at providing good education with industry exposure to its students and graduates. Also it provides students and working professionals with placement assistance.
International educational methods with strong Indian values
KK Modi Education Group (KKMEG) & Stratford University inaugurated the New Campus of KK Modi International Institute, Noida. Conglomeration of these two also provide specialised courses in adult education. This institute also delivers online, classroom, and blended online classroom programs.
This Institue in India is created to offer residential American degrees in India. The legal name of the Indian Joint Venture is Modi Stratford Education Management (MSEM), Pvt. Ltd. The Modi Stratford Foundation is a wholly owned non-profit subsidiary of MSEM which provide the academic programs in India as an accredited campus of Stratford University.
Padmashree Awardee Anjolie Ela Menon and a leading contemporary Artist, S. Lakshminarayanan, Retd. Eminent Civil Servant, along with Dr. Richard Shurtz, President, Stratford University did the honour of inauguration. Also present at the inauguration were KK Modi, Chairman, Modi Enterprises and Ms. Charu Modi, Vice-Chairperson & CEO, KKMII-Stratford University.
The KKMII institute stands apart with the innovative and niche courses like Happiness course. With its Harvard Business study modules, the institute has found success in high corporate placement in companies like Genpact etc.
KK modi International institute has set an exemplary module in India which motivates other big organizations to start ventures in educational sector. Partnership with Stratford University, USA, provides the best of both worlds, the international educational methods with strong Indian values – An American University with an Indian soul."
Survive layoffs – How to survive the layoffs in the I.T. industry
Given the layoffs in IT industry, it's important to keep in mind  and understand skills that are becoming outdated and being replaced by new skills which are highly in-demand.
Jobs in fields such as manual testing, tech support, system administration have become outdated and are being effected by the developments in the field of A.I, machine learning, automation and robotics process automation based systems.
Moreover, with newer developments in artificial intelligence (AI), robotic process automation and cloud computing, which help complete the job with less manpower, software companies are now having to reconsider their strategies.
Furthermore many software developers are at the verge of losing their jobs as they fail to upgrade their knowledge to newer technologies. With AI based platforms that automatically make your website come into existence, web designers are going to get hit hard. Many other programmers might feel the heat too from these automated development platforms.
However, there is surge in demand for latest and innovative technologies like data science, artificial intelligence, hardware product programming, machine learning and digital marketing. These are the fields where demand is higher than supply and hence people with these skills can get a premium on their salaries.
In fact, some of the sources that provide good skill based courses along with their fees are as follows : –
▪ Training + Certification (Around 35000 to 45000)
▪ Training at free or nominal pricing, Certificate at around $350 from renowned university
▪ Universities and offline training institute are also offering these courses
At this point, you must be thinking about the R.O.I of these courses.
Job cuts in Indian I.T. companies will be 1.75 -2 lakh per year in next 3 years, due to under- preparedness in adapting newer technologies hence it is better to invest money right now and be prepared for the future jobs, rather than thinking of R.O.I of the certification program. Although, as mentioned, due to lack of skilled individuals, people equipped with these skills can charge a premium in terms of salary.
Furthermore, in my opinion, one must have the 3 Cs to sustain in the uncertain Job Scenarios :-
▪ Complex Problem Solving Skills which involves computational thinking and solving real time problem
▪ Creativity & Innovation
▪ Critical thinking
If you are in the I.T. industry,  get started in new domains which can lead to employability. Furthermore, just knowing the basics isn't going to cut it. People need to establish themselves as authority in their chosen field and have expertise in it.
Furthermore, the Trump administration has been cited as one of the major reasons behind the layoffs. It won't be right to blame Trump, for he has fulfilled the election promise of giving jobs to local people including IT professionals by tightening H1-B visa norms, which were being misused by companies by paying less to foreign professionals working in US. It is for companies to tackle the situation, and such situation they have undergone in previous years. It is not new for them. They know to tide over it or at least this time, need to learn how to tackle such situations.