Indian Education Congress 2019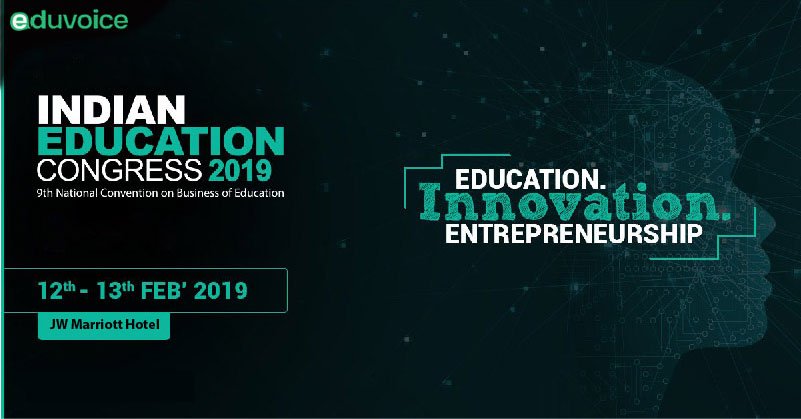 Conference Overview
Welcome to the 9th Indian Education Congress, come walk the most fertile space where the delegates will be enlightened with insightful sessions in a specially crafted Peeer2Peer forum, where the torchbearers of Indian and Global Education fraternity will speak their minds in an exclusive face off to find uni-directional approaches that will usher crucial uprising trend among the community.

More Events: Seventh Higher Education Summit 2019
This year the inclusions at the star-studded conference will prompt many to take note of the current business scenario, recap the era gone by with mentors pointing at the key drivers for future growth in Indian Education sector as the way forward. The topics that will do the rounds at the 9th edition will range from finding the new ways to integrate technology in business, identifying emerging trends in constantly evolving education market and making inroads to the newer market segments of growth via Franchising route.

The roundtable will take in perspective new ways that are emerging and facilitating the assimilation of boarder-less education imparting opportunities across education segments. The onset of virtual classrooms, the replacement of erstwhile blackboards with the new intuitive and interactive whiteboards, the multi-device any-time, anywhere learning / teaching scenarios and how to leverage them. The transformation has been quite rapid and the industry indicators are showing steady growth. More and more individuals and enterprises are playing prolific roles in adding value in the education system as a whole. We invite you to join the debate and dialogue to gain access to the bagful of knowledge shared by the key mentors and dignitaries.
More Events: Education Innovation Conference 2019
Who should attend?
Formal & Informal Educational Stakeholders Including CEOs / Directors / Principals / Deans and Senior Management
Suppliers & Allied Industry
Corporate , Franchisors & Franchisees
Associations, Agencies & Media
Education Ministries and Councils (Regional & International)
Investors, NBFC, Micro-finance Companies into Micro-Finance with focus on Education Sector
Key Takeaways
Evaluate how technology is transforming the education industry
Stay updated on the latest advances in the field of education
Compare and evaluate the right growth format for your education enterprise
Identify efficiencies and measurable outcomes coming to the classroom
Keep a Tab on Public-Private Partnerships (PPP) and government investments
Place yourself in front of the biggest audience of policymakers, contractors, architects, consultants and many more
Gain a modern outlook on curriculum, programme delivery, and training
Discover the importance of marketing and getting it right both at the national and institutional level
Financing education deals – where to find liquidity?
New methodology on quality assurance and school improvement
Values, strategy, and implementation
integrated internationalization
DATE: 12-13th February, 2019
If you are interested you can BOOK YOUR SEATS
Our Speakers
Venue
JW Marriott Hotel, New Delhi
Blockchain Summit INDIA 2019
The Summit is targeted towards enabling Indian government and ministries to speed up the process of developing a flourished Blockchain and Cryptocurrency ecosystem. Global Blockchain brands and government bodies are joining to make India, a Blockchain capital.
Vision Blockchain 2030!
Started with a vision to bring full transparency in Governance and a flourished economy for India in coming 10 years.
Blockchain Summit India 2019 is first edition in series of Vision Blockchain 2030. Indian Government, various ministries, country's premium academic institutes and country's most influential people are participating to support the initiative.
Making India Blockchain Capital
The Summit is targeted towards enabling Indian government & ministries to speed up the process of developing a flourished Blockchain and Cryptocurrency ecosystem. Global Blockchain brands and government bodies are joining to make India, a Blockchain capital.
Why get involved?
Exhibition offers a great return on your investment and gives you a chance to achieve several goals at once. PITCH STOP provides an opportunity for you to engage with key decision makers and demonstrate your products and services. This is your chance to shine and showcase your organization and be a force in the industry.
Speakers
DIDAC INDIA Exhibition, Conference & Workshop 2019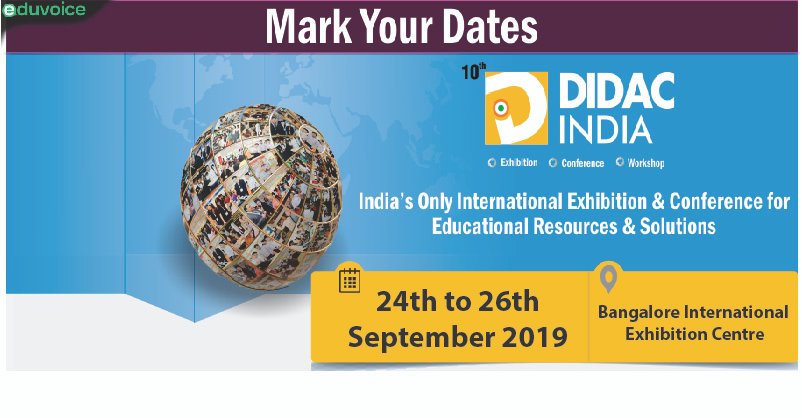 Didac India is Asia's only event showcasing educational, training, technology and didactic resources & solutions for Education and Training professionals from across the globe to experience, evaluate and purchase an innovative and comprehensive range of edtech products & solutions. The exhibition serves as a comprehensive platform to meet executives and decision-makers from educational and training institutes globally and assist in implementing concepts and enhance their educational standards at par with global practices.
It is the BEST forum for exhibitors to meet, interact and showcase advanced and innovative resources to education stakeholders, institutions & companies to facilitate the continuous improvement of instructional teaching and learning development. The platform is the perfect marketing opportunity for face-to-face interactions with vendors and the creation of new channel partners.
Didac India is an ideal stage to tap the Asian market and network across continents with educators and those from the Educational Resources and Training sector.
A visit to DIDAC INDIA 2019 is a must for all in this sector. Update your global overview of education, training trends, products and solutions. Network with educators across the continents and those from the educational supplies & training industry.
Why Exhibit?
DIDAC INDIA is the most influential trade event in the region of Educational Resources, Training and Technology-based solutions for all levels and sectors of the Indian Education and Training Industry. It is a platform to reach out to Education Leaders and professionals from across the globe and make their Brand visible in the fastest and progressing education industry.
Why Visit?
The Exhibition cum Conference is the meeting point of the international Education and Training industry. Exhibitors from various countries around the Globe will showcase products & services for all levels and sectors of education & training.
Didac India is the best platform for visitors from Education and Training sector:
To update global overview of education,training trends and products
To implement new concepts and enhance educational standards and practices
To catch a glimpse of the most advanced and innovative education materials to manage institutions in a better, more effective and competitive manner and thus facilitate the continuous improvement of instructional teaching and learning development
To view the latest and innovative technology, modern instruments, supplies and training solutions, inventive materials, latest methodology, contemporary educational advances and services from the leading manufacturers who aid and fuel learning, teaching and skill improvement
To see, evaluate and purchase a comprehensive range of educational
Conference
Every year, The International Education & Skill Summit (TIESS) is held concurrently with Didac India Exhibition. TIESS is the global education and training dialogue emphasizing on various advancements and developments in the international education scenario with a special focus on India.
The 3-day conference is the best platform for the Leaders of Education and Training sector to:
Discuss the Challenges & Opportunities in education and training globally
Network with passionate educators, leaders, and experts on one platform
Emphasize on various advancements and developments in the global education scenario
Deliberate on the rapid developments in technology and communication
Recognize the importance of knowledge-based societies
Review the education and skills framework in developed countries vis-a-vis developing countries
Examine the role of key education stakeholders
Exhibition Highlights- Didac India 2018
The 10th edition of Didac India exhibition commenced with a grand opening by International ministers & ministry delegates from 11 countries, 7 state ministers and key education stakeholders. The event served as a comprehensive platform for collaborating, exchanging, promoting, networking and sharing of the best practices and know how of the industry, collecting information on the latest products and technologies, making procurement and much more.
This edition witnessed a huge success with participation from:
200+ exhibitors over 15 countries
1800 +innovative edtech resources & solutions
13,000+educators from over 32 countries & covering all 29 States & 3 Union Territories of India
New elements added to the 10th edition of the event received an overwhelming response from all education stakeholders that include:
Round Table Meets
Didac Talks
MakerSpace & Experiential zone
Didac India Mascot – "ED"
The mega Exhibition provided a unique opportunity to showcase the latest trends and technology used by institutions internationally in the fast changing world of education and network across continents with educators and those from the educational supplies and training industry. Over the 3 days of the exhibition, DIDAC INDIA witnessed the presence of thousands of quality visitors from various sectors and segments of the education and training industry and government bodies from 32 countries.
The event proved to be a success receiving an overwhelming response from all the exhibitors, visitors, delegates, media and all the important dignitaries who attended the show. The event concluded successfully with the establishment of important ties and business deals.
DON'T MISS THE OPPORTUNITY … BE THERE TO BE THE CHANGE.
A Must Visit For Everyone in the Education & Training Industry
Date: 24th – 26th September 2019
Timing: 10:00 a.m. to 6:00 p.m.
Venue: BIEC – Bengaluru International Exhibition Centre
10th Mile, Tumkur Road, Madavara Post,
Dasanapura Hobli, Bangalore 562 123, INDIA
EdtechReview Summit & Expo 2019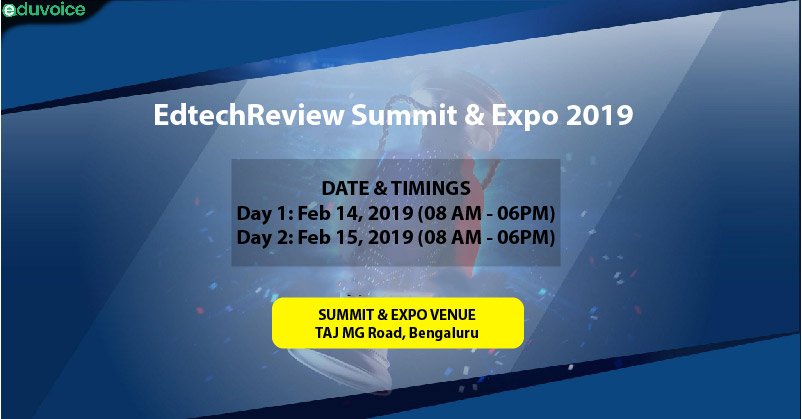 JOIN MORE THAN 300 EDTECH STARTUPS & INVESTORS AT THE SUMMIT & OVER 1000 AT THE EXPO
EdTechReview Summit 2019 is going to be held in Bengaluru, India on 14-15 Feb 2019. The event expects participation of 1000+ Edtech stakeholders ( Edtech & e-learning startup founders, publishers, investors, venture capitalists, institution owners & heads, educators etc.) through the 2-day SUMMIT | EXPO | PITCH | AWARDS and is going to be India's biggest gathering in Edtech with global participation. Through a series of interactive sessions, inspirational keynotes, demos, and start-up pitches around 100 international thought leaders and speakers will share their insights & perspectives on the future of EdTech. 

EdTechReview Summit 2019 will explore forward-looking themes with a motive to educate the attendees on both the Indian and global educational technology landscape. Sessions and Panel discussions will focus on mapping and meeting future demand for technology in education, the state, and growth of Edtech in India, Asia and beyond. The Summit will be joined by more than 300 Edtech leaders as we explore current and emerging technology trends that are changing the landscape of education across the globe including India. 

EdTechReview summit 2019 will have over 1000 visitors comprising of potential buyers, partners & educators during the two days. 

Niche forum to showcase, present, interact and network with 1000+ Edtech stakeholders (Edtech & e-learning startup founders, publishers, investors, venture capitalists, institution owners & heads, educators etc.) during the 2-day Summit, Expo, Awards & Pitches.
WHY ATTEND
1000+ EDTECH STAKEHOLDERS AS VISITORS, 400+ EDTECH STARTUP FOUNDERS & INVESTORS, INSTITUTION LEADERS, AWARDS & PITCH ATTENDEES.
BENEFITS
Attend and network at the summit and expo with over 1000+ Edtech stakeholders exploring the Indian and global educational technology landscape.
An epic opportunity for EdTech & e-learning startups to pitch to investors, potential buyers, share inspirational & disruptive ideas and get feedback & business.
Nominate your Edtech/e-learning startup in the relevant category and get recognized for your precious efforts in the Edtech system.

Join relevant panel discussions – Engage with your peers and exchange ideas on best practices. Best way to show your thought leadership in the tech sector.


1000+ Edtech stakeholders, you can flash and market your brand by becoming the sponsor and getting access to unique branding, marketing and networking opportunities at the event.
When 1000+ Edtech stakeholders are under one roof, you can't miss the opportunity to engage with them. Form new partnership, alliances and explore new customer opportunities.
Check Out: Indian Education Congress 2019
WHO SHOULD ATTEND
EdTech Start-ups & Entrepreneurs
Investors, PE, VC and Angel investors
Accelerators & Incubators
Education/edtech/Product Companies, Retailers & Distributors
IT & Technology Solution Provides and Suppliers
Corporate – CEOs, CMOs, MD, VP, Management, etc.
Govt. Officials
Freelance Educators, Trainers & Working Professionals
K-12 Teachers & Educators, Principals and School Heads
University, College heads, Decision-makers
Curriculum & Technology Directors, ICT Advisors
Superintendents
Technology Integrators & Trainers
Business and Foundation Leaders
Franchisors & Franchisees looking for prospects
Students looking for Career in EdTech
Anyone interested in the Edtech market
SUMMIT & EXPO VENUE
Address: 41/3, MG Road , Bengaluru, Karnataka – 560001, INDIA
SPEAKERS