Faculty Shortage In Indian Universities Are Now Permanent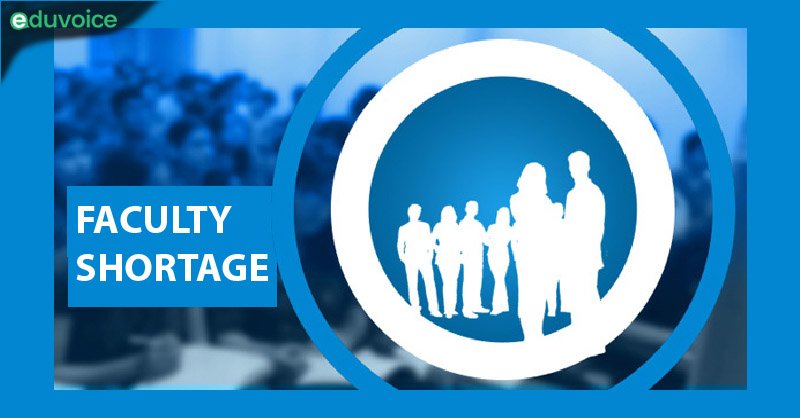 It is possible to offer world-class facilities and infrastructure to the students here in India but yes there are constraints; the major of them being is the shortage of faculties.
The problem of faculty shortages and large numbers of part-time faculty is no latest talk in town. This issue is being faced probably since the 1980s, with innumerable reasons be it financial, legal, technical/administrative or others. However, the condition of faculty dearth has worsened constantly with time especially since the 2000s. The numbers of institutions increased legion in the 2000s, by about 1,000 colleges each year since 2003. Certainly, many colleges close down every year, but overall, there has been a massive increase in the total number of higher education institutions.
Recently, in a few surveys, it has been revealed that faculty shortages in many universities are increasing at a faster rate. Not only is this, but the number of part-time faculty in older central universities also increasing. The quality of India's higher education is at stake as the sanctioned faculty strength which is being functioned at the central universities set up since the past decade or so is around 52%. The overall vacancies in all of them count about nearly 48% (in new central universities) and 33% (the older universities).
The Union HRD Minister Prakash Javadekar recently stated that there are 40% vacancies in central universities and IIT's for the faculty members. It has also been observed that to bring quality members it is essential to streamline the recruitment process. He explained that it is possible to offer world-class facilities and infrastructure to the students here in India but yes there are constraints; the major of them being is the shortage of faculties. He said that the ministry would try and make it easier for IIT's to acquire visas for foreign faculty, hoping to narrow the gap between sanctioned and existing strength of teachers.
TYPES OF FACULTY SHORTAGES
The very less understood fact and a concept is that there are different kinds or sources of faculty shortages. Faculty dearth can only be resolved if the reasons and the consequences are crystal clear in the minds of the people. They are classified as under:
1. Faculty shortages due to poor supply
The academic profession has been destroyed by various constraints like bureaucrats, politicians, and at times the common people. The condition is so worse that in the end it does not stay about the education and knowledge but just about getting things done quickly and giving away the degree. This certainly puts an entirely negative impact on the students and therefore they don't opt to go into the academic and pedagogy profession; which leads to the poor supply and the cycle keeps going on.
2. Faculty shortages due to the inability of many institutions to hire new faculty
This is certainly very common among st the government institutions. The government always claims to be out of funds when it comes to improving the quality of education; which results in the fact that these universities are unable to hire new faculties which are needed more if the old faculties retire. In addition, the salaries paid by these institutions remain below as recommended by the Sixth Pay Commission, and even then, in some states, teachers are only occasionally paid on time. Such environments lead the students to dissipate to consider teaching as a career, hence boosting to the first kind of shortage.
3. Faculty shortages due to the unwillingness of institutions to hire faculty
This kind of faculty shortage are common with the private institutes. The main motive of these institutes is the maximization of profits. Private institutes mostly hire part-time faculty or ad hoc faculty in large numbers due to experimental behavior and weak recruitment process. It is a great challenge in finding well-qualified faculty in some disciplines and aspects which leads to this sort of faculty shortage.
4. Faculty shortages due to legal and related reasons

This type of faculty shortage occur due to the legal and at times the untold reasons. At times the faculty appointments are at hold, or some strikes take place or any other issues. Universities then need time and permissions for the execution of the next steps. The process then takes more than the expected time and it lags behind while the universities wait. However, in this endless game, such legal hurdles and much more contribute a lot to the making of faculty shortages.
5. Faculty shortages due to unwillingness or reluctance of faculty
This kind of shortage occur when the faculties are unwilling to work at a particular institute due to the institute's location or poor infrastructure. The faculty dearth at many of the new central universities or the new IITs is because of their location. Certainly, universities in urban locations are less likely to go through such problems. Among other factors, it is easier for the spouses to find work in cities than in smaller urban centers. In one of the reports cited earlier, it was stated by the vice-chancellor of a new university that, "Location of the university is a problem, which is why we have a problem in getting faculty members. Who would want to come to such a remote location with their family?" there is a great lack of employment opportunities for spouses, decent schools for children, good medical care, and attractive options for potential faculty in such remote locations.
READ MORE: Let's Say NO To POLITICS For Education System
 CONSEQUENCES
Although in order to lower the rate of faculty dearth many things should be considered b tie a strict recruitment process or increase in the funds provided but all this needs to be started soon else there will be a complete doom of the education system. Rather, faculty positions must first be sanctioned by the state government and then the proceedings should take place. However, since the commencement of this decade this issue has grown rather fast with the following consequences.
Faculty shortages lead to an increase in the part-time faculty which leads to no permanency of the faculties and the services suffer at large.
It also leads to the great leniency casual outlook towards the recruitment process.
Lack in the budgets to hire full-time faculty
Depletion in numbers of faculty members as older ones continues to retire. Hiring ad hoc faculty who are paid poorly.
The ad hoc faculty they lose all their motivation to do the job well and at the end, it is just a matter of money.
The services given to the students and their class and studies suffer as a whole both directly and indirectly.
The education system slows down and then people rush towards western universities for education.
At times, among st the ad hoc faculty, the lesser qualified are also employed for the job that lacks appropriate knowledge and skills.
Universities and institutes face genuine challenges because of the high demand for them in industry and services as they are suffering from faculty shortages.
CONCLUSION
Faculty shortages and growing numbers of part-time faculty are not merely old problems that have become worse over time. However, faculty shortages are no hot topic as we read about this issue nearly every few months. Prior to such news, the university officials and the government just express great dismay and make worried statements. The hiring of more faculties is obviously which is called for by the ministers and political leaders. Announcements for the new strategies to find and hire faculty is made. All the more, nothing much happens and no steps are taken in a real manner and the cycle of faculty shortages keeps on repeating.
Say NO to plagiarism by using PLAGTRACKER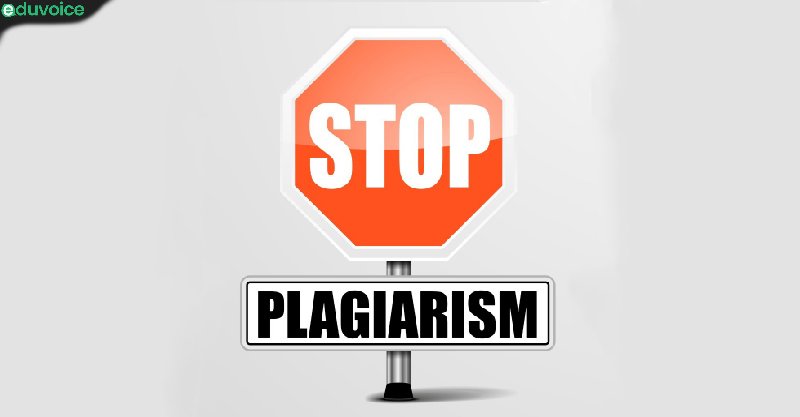 A PlagTracker is generally used by content owners (students, teachers, bloggers, and researchers) to detect and analyze cases of "content theft".
The issues being faced due to plagiarism are spreading immensely and rapidly. According to the experts, plagiarism is the illegitimate appropriation and stealing/copying and publication of another author's work and representing it as one's own original work. It is basically copying of the language, thoughts, ideas, or expressions of some other author and showing it as owns. However, to control the issues being caused by plagiarism PlagTracker comes to the rescue.
A PlagTracker is a Ukrainian-based online plagiarism detection service which was launched in 2011 by Devellar. It checks whether similar text content appears elsewhere on the web. It also gives the list of all the sources, from where the particular content is copied.
PlagTracker is generally used by content owners (students, teachers, bloggers, and researchers) to detect and analyze cases of "content theft". The content is copied to another site, without the permission of the author or owner, from the original site. Many content publishers also use the PlagTracker in cases where old content is repackaged and sold as new original content also known as content fraud.
A proprietary algorithm is used by the PlagTracker in order to scan a given document and compare it to the content sources across a database of academic papers and the web. It uses a set of algorithms to identify and recognize the copied content that has been modified from its original form. Today, there are a variety of techniques for checking the plagiarism, but the end results are almost always the same. A PlagTracker processes the text to find matching sections of words between the documents it is processing and the ones it has indexed in its databases.
PlagTracker: A Wonder for teachers, faculty, and staff
A PlagTracker is of major importance especially in schools and colleges for the faculties. They generally use it while checking the annual final dissertation projects, research projects, yearly reports and projects, and much more. with the help of a
PlagTracker, a teacher cannot only help in the improvisation of the student's work but also in developing a healthy and motivational environment in the classroom. Let us see a few out of many uses of a PlagTracker especially for the pedagogy.
READ MORE -: Plagiarism norms tightened by UGC.
Easy and User-friendly for all
Allows the users to scan and detect plagiarism
A complete plagiarism report is received which is henceforth analyzed
Checking the originality of the content
Checking the sources of the content from where it is copied
Checking the originality of project reports, dissertation projects, research projects and reports etc.
The plagiarism report shows and highlights the lines where there is duplicity of the content and where changes are needed.
It also shows the links of copied sources.
The report gives a percentage to show and state the amount of content that has been plagiarized
There is complete scanning of each and every word from top to bottom irrespective of the link, font size, color, and family.
How To Use a PlagTracker
Teachers spend a lot of time and energy while checking the reports, research papers, projects of the students. Time is a very precious thing in both a teacher's and a students' life. A PlagTracker certainly acts as a helping hand as it saves both time and energy while checking the student's work.
A PlagTracker might not be first such service which provides these benefits but is very quick, easy and user-friendly. Most of the plagiarism detector tools work on the same plagiarism test principle and basically function very much the same as Google or any other search engine works to find the matching words or phrases in other sources. They provide the best results, sometimes along with the plagiarism checker percentage and the complete report. The checking process comprises three steps.
Step: 1
In the first step, the users are required to upload (copy-paste) the document they want to run the plagiarism check on. The uploading is done by entering (or copying) the text in a text box. To start the plagiarism checker, hit the 'Start Checking' tab or 'Check Plagiarism' tab.
Step: 2
The entered text is then scanned by the PlagTracker within no time and is very quick.
Step: 3
In the final step, the users are provided with the plagiarism report and the plagiarism percentage that highlights the areas where they need to provide citations or rephrase the text. It includes the complete information about from what source the text was copied and how much of it.
EXAMPLES OF PLAGTRACKER SITES
Here are two of the most used PlagTrackers.
It is a very challenging task to find a free plagiarism checker for teachers and students. It is not just free but also proves itself to be the best because the software that works behind plagiarism checker is costly to develop. Good plagiarism software is the one that doesn't cost you heavily and is reliable and so is SST. After the test is completed the user is given the exact percentage that tells how original or unique the content is. The Phrases or sentences are shown in red and they mean that they already exist online and will not pass Google plagiarism tests. There are also links given on the red lines which enable to see the original source for the records. SST is a perfect platform to check the paper for plagiarism, in order to verify the integrity of the written content. It is trusted by millions of people globally, who use it daily as a part of their studies or work for articles, papers, essays, etc.
plagiarism tests. There are also links given on the red lines which enable to see the original source for the records. SST is a perfect platform to check the paper for plagiarism, in order to verify the integrity of the written content. It is trusted by millions of people globally, who use it daily as a part of their studies or work for articles, papers, essays, etc.
Small SEO Tools also checks sentence one by one on various search engines comparing it with already indexed content. Moreover, this plagiarism detector does not save any content in the database; therefore, it is not risky. The user may sign up for free and will also receive updates about the latest developments and improvements in the tools through the newsletters. Unlike Other plagiarism checker tools, SST is not limited to the option to 'go premium. It is completely free and holds no catch and hence, no membership is required.
This is a website which provides the features of a Student Management and Tracking System i.e. all the grades, classes and groups are made available on one easy to use dashboard. There is the feature of custom filter setup which allows selecting of specific pieces of information which one needs to include or exclude from the document. The grading system in this site allows the users to check problems with originality and grammar quickly. It also keeps the document in its original format with the live document view. The document cross-checks feature allows the user to check a group of papers against each other to detect plagiarism. This site is very user-friendly and free to use.
Teachers can be benefited from this site by having the student's essays or research papers checked for any plagiarism. Many university and college students face extreme penalties for plagiarism such as failing an assignment, loss of privileges, academic probation, or even expulsion. In severe cases, punishments may also include lawsuits, criminal charges, and even imprisonment. Even if anyone commits unintentional plagiarism, it can still be viewed as plagiarism in the eyes of the law.
READ MORE -: UGC's New Policy To Curb Plagiarism
Nowadays, the use of a PlagTracker is gaining a lot of influence. It is useful for both the teachers and the students. They can now easily do an originality test and then proceed with their respective work to be completed. It is a red signal to those students (and users) who just copy text from same sources while working on the same project. The examiner will have to do nothing but just check the content in a PlagTracker. Many educational institutions also ask for a plagiarism report attached to the project which is submitted. It is being accepted widely across India as no any prior training is needed and just copy-paste is required to analyze the content which is useful for busy students and teachers who want to check plagiarism and protect their written work.
5 Technologies for Professor's Bucket list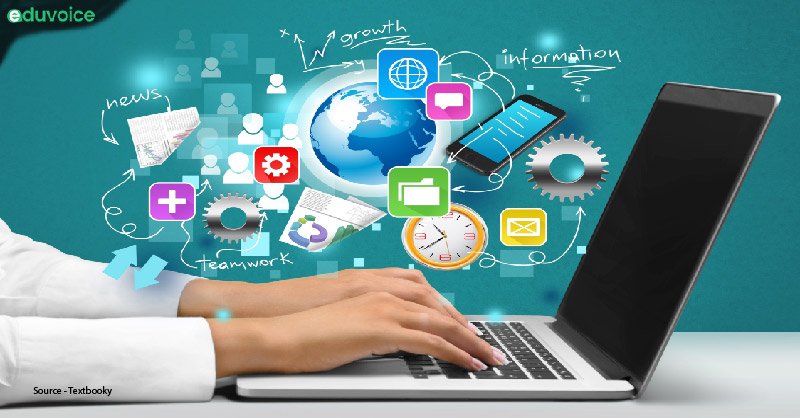 In the 21st century, Technology is the modern revolution that is now successfully invading our classrooms. And if you do not wish to be swept away with the Tech-savvy invasion, I'd suggest that the Professors of the modern era do some pre-preparations apart from their courses and ride along the wave of change.
Most professors have accepted this new norm in their classrooms while others are still implementing it into their learning spaces. Though technology does enrich pedagogy providing new methods and making it highly diverse but not everything that's on the web is beneficial for the students.
Here are a few things that professors should hold onto and be careful of so lets TURN YOUR CLASSROOM TABLES WITH THESE IMPORTANT TECHNOLOGIES
Wikipedia – Is it really flawless?
 If you Google search about Wikipedia then you'll probably get something like "Wikipedia is a free online encyclopedia, created and edited by volunteers around the world and hosted by the Wikimedia Foundation." This means that any information it contains at any particular time could be vandalism. Some edits on Wikipedia that are in error are sometimes fixed, however, because Wikipedia cannot monitor contributions made by millions of users, there are many errors that remain unnoticed.
Read Also: All You Need To Know About NCTE (Amendment) Act, 2017 Bill
  However, If an assignment is given the first instinct of your students will be to use information from Wikipedia, if only to gather the background information of the relevant topics. To avoid the use of Wikipedia is to suggest your students use factually correct online platform such as :

Mobile Devices – Are the teacher's no. 1 enemy?
 Students are addicted to these small metallic boxes and unlike drugs, there are no rehabs to cure this disease. Then what's the cure? Why not use this disease wisely, use this technology for good instead of yelling at the students because it isn't going to work.
A professor would have to be very creative in a way that integrates the technology in the classroom because it gets distracting to the point that it distracts not only to the person using it but to multiple people in the classroom.I'd suggest that you ask your students to shut down their phones during the classes unless you are conducting some debate and want your students to have access "immediate fact check" and make your classrooms more engaging.

Social Media – Are you connected?
Despite being distracting, social media is one the largest platform to be connected on and mass sharing of information. And it's unavoidable in modern times so why not be connected with your students? Share articles, work details, homework submissions and reminders on social media with them. Tag them on famous work of professors, artist, researcher of your fields. Open the floor of Facebook and twitter discussions with them.
Read Also: How To Create Google Forms? 6 Ways To Use Google Forms for Teachers
Introduce them with better management of their work with Google Drive and Docs or Save their notes on online platforms like Evernote or Dropbox. Changing times, It's the duty of professors to use the technology innovatively.

Digital Textbooks – Are your friends in disguise?
With students having access to the Internet 24*7 Digital textbooks are widely replacing the traditional paperback books. It is important for educators to realize this shift. This also helps some students who can't afford the books. So help your students with providing them appropriate material on the web they can refer to but don't forget to your roots. Not all students prefer digital textbooks, also it can higher the risk of eyesight issues. Suggest your students use Electronic textbooks outside your classrooms for self-studying and research as they can acquire both visual and audio guidance on the net.

Flipped Classroom – Are you flipped enough?
 In a  Flipped classroom one is supposed to do background learning of a particular topic or skill occurs outside of class time – utilizing technological tools like videos and podcasts to teach the essential skills. This leaves class time free to work collaboratively on the higher-order thinking needed to utilize these skills. Though some researches show that this method is resulting in improved test score it's necessary to switch back to the traditional learning time to time to have a balance and give attention to each individual.

With these tricks in your pockets, You can crack the Tech- savvy generation and Work with them with ease making your classrooms more engaging and better than ever.
Bloom Your Creativity With Bloom's Taxonomy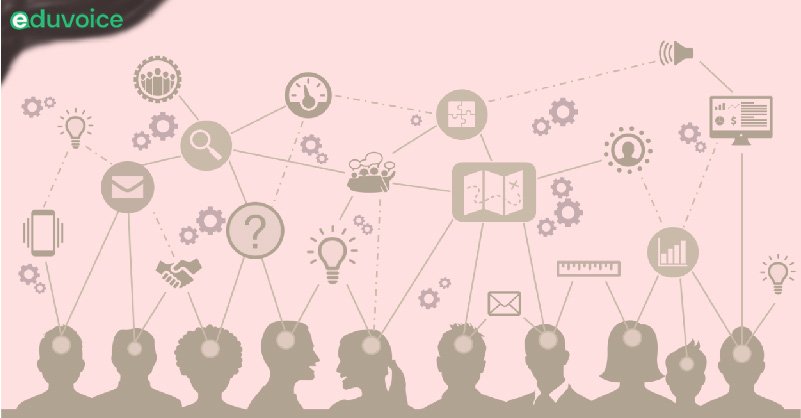 Education is one of the basic indicators of the prosperity of any social group. Connotations of the development process of any nation have historically focused on the improvement of standards of living people through activities leading to economic improvement. In this effort, education, in general, and science education, in particular, have attained high importance. Today we are seeing a lot of educators are making reference to Bloom's Taxonomy. In 1956, Benjamin Bloom published a framework for categorizing educational goals: Taxonomy of Educational Objectives, popularly known as Bloom's taxonomy, this revolutionary framework has been incorporated by school and higher education educators in their teaching method.
Benjamin Bloom didn't anticipate inventing this doctrine. When he started developing his taxonomy of educational objectives, his main aim was to locate a common language that educational measurement connoisseurs could use to share findings and exchange test items.
Bloom taxonomy emerged from a series of informal discussions with his friends started at the American Psychological Association in 1948. During that period veterans enrolled in college graduated with more than just lower-level factual knowledge. Educators started considering assessment. Bloom tried to share ideas and test evaluations. Bloom identified four principles that eventually led to the development of the taxonomy. Categories should:
• Be based on student behaviors
• Show logical relationships among the categories
• Sheds a light on the modern understanding of psychological processes
• Describe rather than impose value judgments
The highest three levels of learning according to Bloom was Analysing, synthesizing and evaluating & The lowest three levels were knowledge, comprehension, and application.
The new version of Bloom's Taxonomy has been converted from noun to the verb forms. Originally, Bloom's cognitive taxonomy was one dimensional but with the addition of products the Bloom's taxonomy becomes a two dimensional one. The revised Bloom's taxonomy places stressed upon its application as a tool for the curriculum planning, Instructional delivery, and assessment. The new taxonomy is the biggest asset and is a sign of profound thinking and is perhaps more accurate.
Today it has become part of the language of teaching. Educators mainly talk about"lower-level "questions. According to them the hierarchy which puts knowledge at the bottom especially knowledge-based questions, especially via recall and retrieval practice are not so productive in nature.
In other ways, you need to teach a lot of facts to instill and reinforce knowledge enough to store it I long-term memory. or you can try them at the beginning but is going to be fruitless. Knowledge followed by recall and retrieval practice is the prime precondition
It was initially set apart in three domains
•  The Cognitive– knowledge-based domain
• The Psychomotor– skill based field which is also known as KSA (knowledge, skills, and attitude) or ASK (Attitude, skills, and Knowledge)
The cognitive domain includes knowledge and the development of intellectual skills (Bloom, 1956). This endorses the recall or recognition of specific facts, concepts, and procedural patterns that serve in the empowering of the intellectual abilities and skills. There are six major categories, which are stated below, initiating from the simplest behavior to the most complex.
According to the process one needs to master in the first one in order to go to the next one.
Knowledge
The knowledge level, which is slated at the lowest level of the hierarchy, is defined on the basis of retrieving previously studied material. It often includes key terms, repeating something seen or heard, listing steps in a process.
Comprehension
Comprehension serves the largest category of cognitive skills and abilities. The key proficiency that can be learned at this level is processing new information.
Application
At the application level, a learner should have reached a position to solve a new problem by applying information without having to be assisted. At this level, learner requires to interpret information, demonstrate mastery of a concept, or apply a skill learned.
Analysis
At the Analysis level, learners should have learned to recognize relationships among parts. At this level of the hierarchy, learners are requiring to learn to differentiate, contrasts and compare, criticize, or experiment.
Synthesis
At the synthesis level, learners yearn for creative behavior as learners produce newly constructed and, many times, unique products. At this level of the hierarchy, learners are requiring to create a plan, propose an innovation, design a product, or organize information.
Evaluation
At the evaluation level, learners learn to make judgments about value. At this level of hierarchy learners are required to measure, value, estimate, choose, or revise something, perhaps information, a product—or solve a problem.
The next sphere of learning is effective which speaks about growth in feeling and emotional area. They are in sync with affective is valuing, internalizing, responding and receiving phenomena.
And the third and final sphere of learning is psychomotor which refers to the physical skills, the categories adapt to psychomotor skills are adaptation, origin, perception to name a few.
 Bloom Taxonomy in its various forms represents the process of learning. It has been classified in some case like the Three Story Intellect (Oliver Wendell Holmes and Art Costa), but it still essentially represents how we learn.
Prior understanding a concept, we need to remember it
Prior to applying the concept, we must understand it
Prior to analyzing it, we must be able to apply it
Prior to evaluating its impact, we must have analyzed it
Instructional object analyzing or learning objectives are statements which determines what learners will be able to achieve after completion of a unit of instruction. They help us to decide what learners should learn and how we will know whether they have learned that content. Whenever we write any content, at the outset, we write these objectives to guide the design of the instruction.
These objectives can be aligned with educational outcomes. Suppose that a University is planning to start a training programme to improve the creativity of their students. If the students meet only lower- level objectives, their skill is unlikely to innovate and improve. They might be able to learn a few things about creativity, but to do their job effectively, they must develop the higher order skills to plan and design any new thought.
The significance of Bloom's Taxonomy lies in its verbs. The verbs associated with each cognitive level establish learners can do to demonstrate what they have learned. The secret of this level is to select verbs that correlate instructional goals with content and assessment. Suppose a university develops a program to improve facilitators skills. If the learning objectives are "List the steps in the methodical process" and "Define training," the program has a fatal flaw: its objectives are limited to the knowledge level, but its aim includes mastery of higher-order skills that participants may not have learned or practiced. If the objective is limited to the knowledge level and participants must turn to higher-order skills to show mastery.
But there will always be a debate, some will say that you do not require all the stages for each and every task, some will argue about the necessity to reach the apex level for all activities. This should be left to the individual choice. Before we create anything, we must have remembered, understood, applied, analyzed & evaluated.
Implications
Educational implications of Bloom's Taxonomy include the following:
Bloom's taxonomy provides a universally effective strategy for delivering all type of content to impart learning.
The taxonomy assists teachers to make decisions about the classification of content.
Bloom's taxonomy also helps educators to map content tasks that students need to perform.
Bloom's taxonomy guides educators to instill higher levels of thinking process for critical thinking or creative thinking.
By facilitating taxonomy, a teacher develops questions or projects that require the development of cognitive thinking and reflection from the knowledge level to the evaluation level.
An educator or a syllabus designer designs a curriculum as well as classroom assignment using Bloom's taxonomy to advance the learning process from recalling learning materials to a higher level of thinking.
An educator motivates the class by assisting his lectures based on Bloom's Taxonomy.
A Teacher's Role
The role of teachers everywhere is to guide their students to not only learn basic information but also to them improve cognitive ability. In other words, educators want to help improve their students' ability to think. They should never promote students to just memorize information. After all, memorizing something is not the same as thinking or understanding or creating any new thing. Helping students to improve their thinking skills isn't easy, but educators can follow
Bloom's Taxonomy to help us reach our goal.  Teachers can follow Bloom's taxonomy by asking questions and delivering assignments that directly correlate with specific learning objectives in each stage of the process, formulating the objectives clear to the student.
Bloom's Taxonomy can benefit not only academia but also workplaces. From financial models to optimization, students should be nurtured and encouraged to create new ideas. Tonnes of group activities and team-work can promote the exchange of ideas and brainstorming.
Follow this model in the everyday task you undertake and let your hidden talent bloom!