Emerging Global IT Trends
---
Founder, Professor, and Managing Director
Global Institute for IT Management
---
Read on our article by Dr Jerry Luftman, Professor & Managing Director of Global Institute for IT Management, bringing his insights into the emerging Global IT Trends
Institutional management in the field of Higher Education has undergone major evolution over the decades and has typically been characterized by a special emphasis on "efficiency" which entails producing high quality and maximising the number of educational services for a given budget. Technological evolution has taken the reins of management of such institutions into its hands. While IT Management has become the poster face of efficiency in educational institutes and it is the ultimate choice for today's global campus, educational institutions need to evolve, like other industries, to also leverage IT for effectiveness, as indicated in the following global IT trends research.
IT Management – The Graph
With the immense number of opportunities and benefits to reap, IT management does face certain concerns. Since starting surveying Chief Information Officers (CIOs) on an annual basis in the 1980s, most of the top IT management concerns that CIOs had to address have changed considerably. Many of the top concerns of previous years are no longer in the top ten, and new concerns have emerged as essential. Very few concerns remained relatively constant. To obtain the current years ranking, respondents were asked to identify their top concerns.
The 2017's top 10 management concerns are listed in Table 1, along with comparative rankings showing trends since 2012. You will note that security/privacy was ranked the top IT management concern in 2017; it was ranked 2nd in 2016 and 2015, 6th in 2014, etc.
Table 1: Top IT Management Concerns Rankings, 2012-2017*
IT Management Concerns
2017
2016
2015
2014
2013
2012
Security/Privacy
1
2
2
6
9
8
Alignment of IT and the Business
2
1
1
1
1
2
Compliance and Regulation
3
15
Business Cost Reduction/Control
4
5
5
4
3
1
IT Cost Reduction/Control
5
6
9
16
5
5
Data Analytics/Data Management
6
Innovative use of IT
7
3
4
10
Business Agility
8
4
5
2
2
3
IT Agility
9
5
11
24
Digital Transformation
10
* Cells with blank data indicate that the issue was not asked in the survey
Table 1 shows that indeed the top IT management concerns continue to change dramatically even in recent years. One exception is the Alignment of IT and the Business concern, which remains a top concern for CIOs (persistently ranked either 1st or 2nd).
IT Investments – The Graph
In addition to identifying the top management concerns, as in previous surveys, respondents were also asked to rank the importance of their IT investments by selecting their top technology investments from a list of 38 IT technologies. IT technologies have fuelled and will continue to fuel, the development of new products and services for all organizations. The list of choices in the survey continues to evolve from the authors' research and experience as well as technologies added by survey participants. Table 2 lists the top 10 IT investment rankings since 2012. You will note that security/cybersecurity was ranked the top IT investment in 2017; it was ranked 3rd in 2016, 7th in 2015, etc.  As expected, the top technologies have varied greatly over the years, and recent developments in cloud technologies, security, and analytics caused IT executives to rethink their technology priorities.
Table 2: Top IT Investments, 2012-2017
2017
2016
2015
2014
2013
2012
Security/Cybersecurity
1
3
7
8
16
15
Analytics/Business Intelligence
2
1
1
1
1
1
Application/Software Development (previously Apps developments)
3
2
3
2
5
4
Cloud Computing (SaaS, PaaS, IaaS)
4
4
4
4
2
2
Enterprise Resource Planning (ERP)
5
6
2
3
4
3
Customer Relationship Management (CRM)
6
5
5
6
3
5
Data Center/Infrastructure
7
7
6
3
Networks/Communications
8
8
10
11
10
8
Legacy Applications
9
10
9
15
16
Enterprise Application Integration (EAI)
10
9
11
10
11
16
The data shows that security remains a top concern and a top IT investment. Nevertheless, when looking at the big picture and the trends of IT investments over time, CIOs need to be mindful that the technology will keep on changing and evolving in the future. The buzzwords of the day, like Big Data, Cloud Computing or Cybersecurity will most likely be replaced by different ones (e.g., Robotics Process Automation, Blockchain) in a few years' time. Therefore, IT leaders do not need to be experts in the technology but are somewhat conversed in how technology can be leveraged to provide demonstrable business value. Furthermore, IT leaders need to focus on achieving the goals and objectives of the organization as a whole, in light of its vision, and not just focus on the available technology. IT leaders, as strategic leaders, should consider the overall benefits of the organization, lead valuable IT initiatives, continuously improve information systems quality, and develop and utilize information resources to enhance the business value of IS.
Digital Transformations – The Reach and its Impact
Successful IT leaders need to concentrate not on what technology is available, but how the technology can be leveraged to produce demonstrable value to the business. IT leaders should not become simply a technology or a service provider for the business, but an innovator – the leader who introduces new ways to apply the technology for the business. This emphasizes the importance of creating alignment between IT and the business, as well as with external customers/clients. Consequently, IT leaders today need to be both open and agile: be open to technological innovation and also be able to direct the organization towards change quickly. Successful IT professionals possess more than mere technical skills.  Having the appropriate balance of technical, business management, leadership, business, industry, and interpersonal skills are essential.
At the same time, given the digital transformation, where every organization is becoming an IT organization, a non-IT executive must also be cognizant of the important changes underway that are being enabled and driven by IT. How these emerging technologies can be leveraged in the organization, the important roles that non-IT executives must play to ensure successful deployment to maintain competitive advantage and leadership are fundamental in today's changing world.
IT is a vital part of the 21st-century organization's strategy. IT is more important today with the digital transformation than ever. Changes in technology and how they are applied by the business are shaping the future of IT. Organizations must recognize that competitive advantage is driven and facilitated by IT. That requires the role of IT leadership and the IT organization to transform. A harmonious IT-business relationship is fundamental.  As new organizational positions directly related to technology (the Chief Technological Officer), data (the Chief Data Officer) and security (Chief Information and Security Officer) emerge, the role of the CIO, their responsibilities, the IT organizational structure and governance, and even the CIO's reporting supervisor will probably be very different in the next few years than what we see today. With top management concerns focusing on IT-business alignment, business and IT cost reduction, innovative use of IT and agility, it is those organizations and individuals who are best prepared that will thrive in the coming years.
Employability + Entrepreneurship = Empowerment = Development : 3E&D Formula
---
Director, National Outreach & Network
Former Dean, Liberal Arts, Science & Commerce
MIT-World: Peace University, Pune, India
---
Read on our article by Professor Dr Sudhir Gavhane explaining Employability & Entrepreneurship and the 3E&D Formula.
The higher education system in the world is passing through transition and India can't be an exception to it. In India, there are 850 universities and more than 49,000 colleges / standalone institutions with 35 million students. The Indian higher education system is one of the biggest higher education systems in the world. Any higher education system of any country aims to train human capital of that country. This empowered human capital generates wealth for their nation. This human capital is the only source of capital creation. If human capital is weak and unemployable, then the country becomes week in terms of economy and if it is strong in terms of employability then economy becomes strong as well as wellbeing is achieved. This happens because quality human capital creation provides quality jobs and quality jobs generate the higher level of purchasing power. Higher purchasing power generates the higher level of demands in the market and higher demand gives the boost to higher production for industry, in result more employment generation and more investment and ultimately more prosperity is achieved. This is the importance of employable youth power which empowers nations. Therefore, employability matters for the future of the youth and future of any nation. The higher education system has to produce graduates which are employable, industry-ready as well as future ready.
Six Hundred Million Jobs Required
Globally to provide jobs to youth, as per ILO (International Labour Organization), 600 million jobs are required to be created in the next decade. This is a huge task for the organized sector and industry. "Jobless Growth" can't be the path of progress. Inclusive growth with progressive Human Development Index is what we require.
At present, 75 million youth are unemployed worldwide, which were 4 million in the year 2007. This means that the unemployment ratio and even number too is increasing globally. One will be shocked to know that more over 6 million youth out of frustration had given up looking for jobs, as despite multiple attempts they failed to get a job. This systematic exclusion of youth from the labour market is highly dangerous for the world. Apart from this globally 200 million young people were working but living on less than two dollars a day. If youth is not able to survive and look after their livelihood then their future is going to be dark and full of misery. In the light of this background, the higher education system of colleges and universities need to create graduates which are fully employable and skilled enough to take any job in that knowledge or industry sector related to their degrees. They must be equipped with life skills.
"Jobless growth and jobless youth" is highly dangerous to any society. Our Higher Education Institutions (HEIs) must impart industry -required skills and knowledge so that their students/graduates become employable and equally important is that students also passionately acquire skills and build capacity to apply knowledge to generate value in themselves as the job-ready student. More importantly, 5 to 10 % among students must move to entrepreneurship to become job creators instead of job seekers.
The mantra is
" Employability+ Entrepreneurship = Empowerment = Development. "
In my view, this is the "3 E & D" formula for achieving prosperity. Is our higher education system is competent enough to execute this "3E & D" formula? The answer is a big NO. We need to crack down and dismantle conventional mode of higher education and create a system flexible enough to cope up with the changing environment and industries. The whole way of educational culture needs drastic change. We are living in the age of disruptive innovation, and old systems will not work in this age of revolutionary technology-driven change.
If our teachers are not future ready then how we can expect that our students will be Future Ready? Let's strive for implementing "3 E & D" Formula stated by me here. I would like to end this article with a quote from Ms Christine Evans-Klock, Former Director of Skills and Employability of ILO.
She says:
"Employability entails much more than the ability to get the first job. It is having the capacity to network and market oneself, navigation through a career and remain employable throughout life. It requires the ability to ask questions, acquires new skills, identifies and evaluate options, understands rights at work including the right to a safe and healthy work environment, adapts successfully to changing situations and the courage to innovate."
We must adopt this in full spirit as the future of our nations depends only on this roadmap. Isn't it?
Read more by Dr. Sudhir Gavhane: Higher Education Sector: New Trends In Teaching Learning Methodologies ( TLM )
Higher Education Systems of India and Malaysia – Similarities and Disparities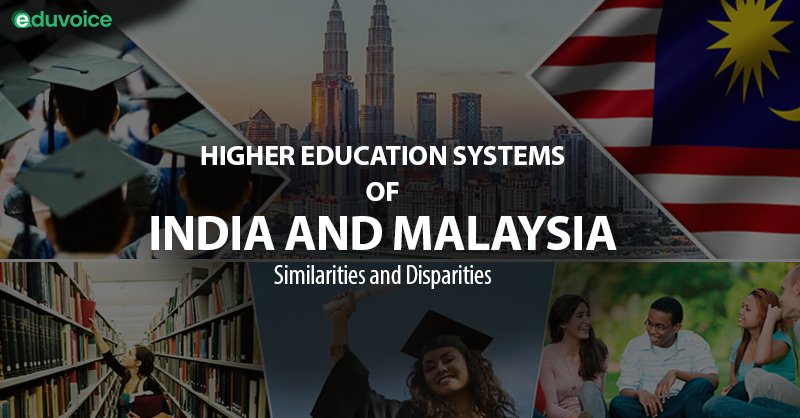 ---
Professor & Dean – Academic Affairs
---
Read on our article by Dr. Sandeep Kautish, Dean of Academics at Lord Buddha Education Foundation (LBEF Campus) reflecting his insights on the Higher Education Systems of India and Malaysia  and the Similarities and Disparities both these systems share with each other
India and Malaysia are emerging study abroad destinations for students from many Asian and African countries. UNESCO has categorized Malaysia as the 12th most preferred education destination in the world while India earned the name of "Vishwa Guru" when Takshashila and Nalanda kind of Indian universities used to attract pupils from all over the world.
In the modern era, affordable fee structures, a variety of courses and a low cost of living are major factors which attract students from different countries. Both the countries have shown steady growth in the economy and infrastructural development in the past two decades which had made these countries very popular study abroad destinations. Five universities of Malaysia have appeared in prestigious QS ranking of 2017 while 12 institutions from India showed their names in the list.
Despite many similarities, the education systems of both India and Malaysia are quite different in many forms. Having experience in both the education systems i.e. India (initially as a student and then as a professor) and Malaysia (as a professor working with a top Malaysian University), I am writing this article for making a comparative assessment of both.
Educational Board – India & Malaysia
The first and foremost difference I find in India and Malaysia Education Systems is the inclusion of foreign universities culture. Several American and British Universities have already come up with their campuses in Malaysia for not only Malaysian but also international students while at the other hand, the Indian education system is still dominated by the major government giants like IITs, NITs, Central/State Universities and after that many prominent private institutions i.e. BITS, Jaypee etc. According to All India Council of Technical Education (AICTE), India has more than 10,000 engineering institutions in 2016 which offer a wide variety of study options to students. In fact, these institutions are not only catering Indian students but also thousands of students from Nepal, Sri Lanka, Bhutan and many African countries also opt Indian universities and colleges for higher education degrees.
The second difference is the opportunity of intake. In Malaysia, students get the opportunity of three or intakes in a year. Moreover few institutions of Malaysia takes admission for four times in a year which is double than India where maximum two intakes are allowed in a year. Here Malaysian institutions have a competitive advantage.
Another difference in the higher education systems of Malaysia and India which I could personally seem is the difference between assessment methodologies. In India, AICTE and other regulatory bodies are still struggling with finding the deciding line in many areas like plagiarism, documentation methods and assessments of student evaluation. Moreover, there are variations and discrepancies in policies related to higher education in India. At the other side, Malaysia has adopted the Malaysian Qualification Framework (MQF) which is a unified system of post-secondary education implementation and regulations. It clarifies all qualifications and academic achievements in higher education and these qualifications are directly linked with attainment goals of educational delivery. The Malaysian Universities mandates their students to write at least 4-5 individual assignments at even undergraduate level and these assignments are perfectly mapped with MQF guidelines which boost the creative writing skills among students which helps them to understand real-time scenarios.
MQF- Malaysia Qualification Framework
We can compare Malaysia Qualification Framework (MQF) with accreditations bodies of India like National Assessment and Accreditation Council (NAAC) and the National Board of Accreditation (NBA). As far as the conception is concerned, MQF is quite similar to NAAC and NBA accreditation. Having been worked at India for more than 13 years under the institutions running under AICTE and accredited by NAAC and NBA, I have to say the deliverables of NAAC and NBA could not reach the level where they were intended to. The major barriers of the implementation are the scattered policy frameworks with no clear guidelines and negligence of government agencies in regulating the implementation of same. Another difference is the flavour of the education systems. In spite of having world-class education setups, India lags behind Malaysia when it comes to attracting foreign students from the Middle East and Africa.
Being the most liberal Muslim country of the world, Malaysia is able to attract more students from the Asian subcontinent while India is not very popular among non-Asian students due to its cultural diversities and other political reasons.
Higher Education Sector: New Trends In Teaching Learning Methodologies ( TLM )
---
Director, National Outreach & Network
Former Dean, Liberal Arts, Science & Commerce
MIT-World: Peace University, Pune, India
---
Read on our article by Professor Dr Sudhir Gavhane elaborating on the new trends in TLM –  Teaching Learning Methodologies and its advancing impact in the higher education sector in general.
The change is the heart of the world and nature. However, the pace of change we are experiencing at present is an unprecedented one. We are now the fastest moving human society, facing its all complexities, with an unpredictable future. We are living in the society of which driving force is technology, thus we are part of technology-driven society. Most importantly digital technologies and their applications are generating "disruptive innovations", which are change makers in its true sense. Digital innovations are responsible for digital revolutions and these digital revolutions have changed even our global economy into Digital Economy. The disciplines of Humanities (arts, drama, music, literature, paintings, media etc.) are now renamed as the Digital Humanities. Due to this technology-driven changes, education & higher education sector to is changing, not only this it is becoming the originator or source of unpredictable change. This is the unpredictable time aligned with unpredictable opportunities.
In this ever-changing and fastest moving environment conventional path of "Teaching and Learning Methodology (TLM) " is now an outdated one. There is a disconnect between knowledge acquired and real-life problems. Critical thinking is missing and applying knowledge to solve problems is never thought of. Most of the engineering graduates are in business management and not in core engineering activities. There is no direct connection between what you learn and what you practice. Employability of our graduates is going down. Our human capital is not being considered as the capital but a liability on our society and family.
In the light of this background, globally new kinds of TLMs are designed to re-engineer our human capital to make them useful to society and themselves. They are aimed at filling the gap between theory and praxis. Higher education institutions must change themselves and change their systems from show to substance, then and then only there will be acceptance by society at large.
These new TLMs are as follows:
 Service-Based Learning (SBL):
Every student of every HEI (Higher education Institute) must prove herself or himself as a committed person of society. If you want to create socially and nationally connected and conscious citizen, serving society must be a part of mandatory TLM. There should be credits assigned for this and earning satisfaction and pleasure must be part of the curriculum. Many SBL micro assignments can be worked out which is nothing but "learning by Doing".

Research-Based Learning (RBL)
Today is the age of knowledge. Knowledge has become the engine of economic growth and prosperity. The generation of knowledge is only possible through Research and Development (R&D). Therefore, it's an international trend now that even undergraduate students are given assignments to do research. Learning through research is something unique and not practised largely in India. I know that there are examples around the world that, even at the age of 19 undergraduate students have got their own patents. Why can't we imagine this scenario in India and other developing countries? We need to imbibe research culture among our generation next. Indian higher education institutions must modify their curriculum to incorporate RBL.

Project Based Learning (PBL):
There is always a question, which comes to our mind about our new generation graduates. The said question is about, why our millennial are problem creators, instead of problem solvers? Why are universities and colleges are not able to equip our students with skills and competencies to solve the problems of our present society? Higher education is not for creating problems but to solve these. The Problem Based Learning (PBL). In this system of learning, students on their own identity problems of our society and by applying their mind and knowledge they provide solutions to the problem. This is what meaningful higher education is.! "Learning to Work and Working to Learn" is the mantra. Our colleges and universities must begin with baby steps in this direction.