Groom The Young To Take Interest In Astronomy: ISRO Chief,Kasturirangan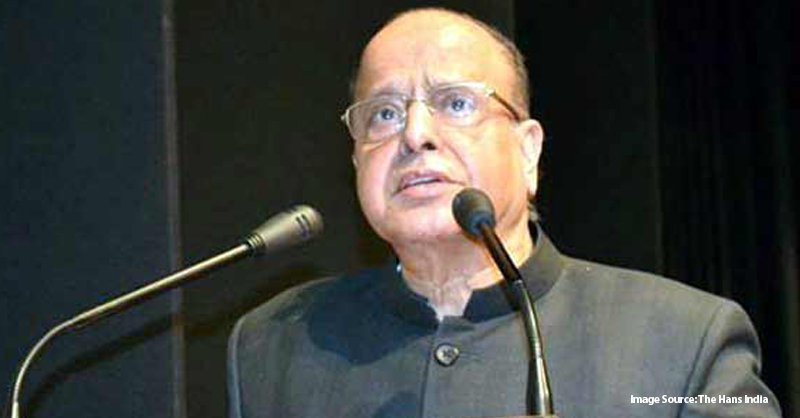 Indian students can reach for the skies if an interest in astronomy is instilled in them right from their school days, former Indian Space Research Organisation (ISRO) Chief K Kasturirangan has said. India would be one of the leaders in the field of astronomy in the future, he stated so speaking to PTI.
For India to be "right in the forefront" of astronomy, it was important to draw the interest of the youth, he told PTI. Predicting that planetary explorations would further grow in the coming years, the scientist said there was a great scope for youngsters in this field. To generate interest in astronomy among the youth, the government should promote activities right from the schools, in colleges as well as universities and other research areas, he said.
We need a large number of youngsters from the university system, institutions, observational institutes," he stressed. Asked if India was capable of taking up space expeditions and research works on its own, K Kasturirangan said ISRO would need to partner other nations after a certain point.
He, however, advised the government not to go in for loans to facilitate space research programmes. "We should not take loans because investments are very large and the resources can be very demanding. And I don't think there is any reason why we should when the international community also looks to collaboration with India because Indians are easy to collaborate with, are capable and can contribute substantially to major programmes. We have demonstrated that in the past," the space scientist said.
Underlining India's strong presence in international space programmes, the Padma Vibhushan awardee of 2000 predicted tremendous opportunities for the country in this field.
News Source :PTI COURTESY
Top 10 Indian Scientist Who Changed The World
Indians have contributed immensely in the field of science and technology. This article takes us down the memory lane of some of the brilliant minds in India.
Looking around you will find Indians reaching heights in every area. With the ease of accessibility of information, improvement in technology and the growth of quality institutions, Indians are able to use their capability and mind to its best. But even during British India, Indians were responsible for contributing and developing in the field of science and getting honors and awards for the same. Amongst the many here is a list of 10 Indian scientists who succeeded in changing the world.
Jagadish Chandra Bose:
(30th November 1858 to 23rd November 1937)

About:
Bose was born on November 30th, 1858 in Bikrampur, Bengal Presidency, British India (Now Munshiganj District Of Bangladesh).
He started his education from a vernacular school moving to St Xavier's, Kolkata. attended the University of Cambridge to study natural science.
He was a professor of physical science until 1917 when he established the Bose Institute at Calcutta, initially for the study of plants.
Research:
He was the first Indian scientist who proved that animal and plant they both are very common and share the same feelings. Along with the research of life and feelings in plants, he also researched there response to fertilizers, light waves, and wireless waves. He also wrote two illustrious books; 'Response in the Living and Non-living' (1902) and 'The Nervous Mechanism of Plants' (1926) and research on the behavior of radio waves.
Prafulla Chandra Ray (Father of Indian pharmaceuticals):
(2nd August 1861 to 16th June 1944 )
About:
Prafulla Chandra Ray was born on 2nd August 1861 in Khulna.
He completed his schooling from " Albert School", higher education from 'Vidyasagar College'.
He completed his graduation from 'Edinburgh University' in Scotland and then worked on his Ph.D.
Research:
He was known as the "Father of Indian pharmaceuticals".
He was recognized for his work of mercury. He discovered compound of mercurous nitrate.
He also established a manufacturing company known as 'Bengal Chemicals and Pharmaceuticals Works Ltd.'
He also established awards like Nagarjuna Prize' for chemistry and 'Ashutosh Mukherjee Award' for biology.
Srinivasa Ramanujan:
(22nd December 1887 to 26th April 1920 )
About:
Srinivasa Ramanujan, a brilliant mathematician, was born on 22nd December 1887 in Erode, Madras.
He did not complete his degree because he was interested and dedicated to only one subject, mathematics.
Research:
His work included the study of the partition function (Pn) along with Hardy to give a non-convergent asymptotic series that permits exact computation of the number of partitions of an integer.
He was the first Indian to be honored by being elected a Fellow of Trinity College.
He was honored by Google o his 125th birth anniversary and India declared that day as "National Mathematics Day"
C.V.Raman:
( 7th November 1888 to 20th November 1970)
About:
Chandrasekhara Venkata Raman was a Brahmin born on November 7, 1888, in the city of Trichinopoly now known as Tiruchirappalli, Tamil Nadu, in a very low-income family.
He completed his under graduation and masters from Presidency College, Madras.
Research:
Raman has conducted a lot of research and experiment and the most known discovery was his "Raman effect".
He was awarded Noble Prize in 1930 for "work on the scattering of light".
Raman showed that the energy of photons scattered inelastically serves as a 'fingerprint' for the substance the light is scattered from.
Apart from Noble prize he also received the prestigious Bharat Ratna Award for the Raman Effect.
He became the director of the Indian Institute of Science, Bangalore, India's first National Professor and founded the Raman Research Institute, Bangalore.
Satyendra Nath Bose:
(1st January 1894 to 4 February 1974 )
About:
Satyendra Nath Bose was born on 1st January 1894, in Kolkata India.
He got the opportunity to be taught by Jagadish Chandra Bose and work with Albert Einstein.
He completed his B.Sc in mathematics from Kolkata and then served as a lecturer in the physics department.
Research:
He was known for his work in quantum mechanics and one of the two classes of particles in quantum mechanics was named "Bosons" after him.
He also worked on the Planck's blackbody radiation law.
Later he also worked with Albert Einstein and they formed some ideas which were known as Bose-Einstein Statistics.
He was given the title of Padma Vibhushan in 1954.
Further Rabindranath Tagore dedicated his only book on science, 'Visva–Parichay', to Bose.
Homi Jehangir Bhabha:
(30th October 1909 to 24th January 1966)
About:
Homi Jehangir Bhabha the "Father of Indian nuclear programme'' was born on 30th October 1909 in Mumbai, India
He set up the foundation for nuclear research in India.
Research:
His major worked involved helping India with the nuclear programme
He helped in conducting nuclear research and experimenting extracting power from thorium instead of uranium reserves
The government of India honored him with Padma Bhushan for contribution to science.
He built a research center now known as Bhabha Atomic Research Centre (BARC)
Dr. Subramanyan Chandrasekhar:
(October 19th, 1910 to 21st August 1995)
About:
Dr. Subramanyan Chandrasekhar was born on October 19th, 1910 in Lahore, British India (Now a part of Pakistan).
He completed his high school from Hindu High School, Madras and went to the University of Cambridge along to pursue Ph.D.
Research:
He has identified a lot of theories that includes the theory of white dwarfs, theory of Brownian motion, the theory of radioactive transfer, the theory of relativity and relativistic astrophysics, the mathematical theory of black holes etc.
He is known for " Chandrasekhar Limit" which was a theory of maximum mass supported against gravity.
He was given the title of Padma Vibhushan in 1968 for his services towards science and research by the government of India.
He was also awarded Noble Prize along with Willian A. Flower in 1983 for his work on star structure and evolution.
Vikram Sarabhai:
(12th August 1919 to 30th December 1971)
About:
Vikram Sarabhai, Father of the Indian Space program, was born on 12th August 1919 in Ahmedabad, India
He studied in Gujarat and went to England for higher studies.
Research:
Vikram Sarabhai is the founder of Indian Space Research Organisation (ISRO) and Indian Institutes of Management (IIMs)
The government of India honored him with Padma Bhushan and the Padma Vibhushan for his contribution.
He was behind the launch of "Aryabhatta" India's first satellite.
Dr. Har Gobind Khorana:
(9th January 1922 to 9th November 2011)
About:
Dr. Har Gobind Khorana born on 9th January 1922 in Punjab, India.
He completed his High school from D.A.V High School in Multan, studied chemistry from Punjab University, Lahore and completed his Ph.D. degree from the University of Liverpool.
Research:
Dr. Har Gobind Khorana's work involved research in the field of genetics and DNA. He was the first person to demonstrate the role of nucleotides in protein synthesis.
He was awarded Noble Prize along with, Robert W. Holley, and Marshall W. Nirenberg "for their interpretation of the genetic code and its function in protein synthesis".
A.P.J. Abdul Kalam:
(15th October 1931 to 27th July 2015)
About:
A.P.J. Abdul Kalam also known as the "Missile Man Of India" was born on 15th October 1931 in Rameswaram, Tamil Nadu. He served as the 11th President of India.
His contribution to India is immense in the field of science.
He completed his high school from Schwartz Higher Secondary School, graduation from Saint Joseph's College, Tiruchirappalli and studied aerospace engineering in Madras Institute of Technology.
Research:
The government of India honored him with Padma Bhushan, Bharat Ratna and the Padma Vibhushan for his contribution.
The government of India honored him with the Indira Gandhi Award for National Integration.
His 79th Birthday was given the title of World Students' Day by United Nations.
He has developed the Satellite Launch Vehicle (SLV 3) at the Vikram Sarabhai Space Centre.
Dr. Kalam has received many more honor and awards for his contribution in the field of science. He has also authored many books.
He was loved and followed by a lot of youths in India.
With Government investing more in the development of institutes, dedicated for research and discoveries, many Indian scientists are returning to carry on their research. Attractive avenues are being provided to researchers mainly conducting their research abroad. A lot of improvement in technology has taken place. Information is easily available for researchers. India is full of brilliant minds, now with the support of Government funding the future of science in India is very bright.
The Real-Life 3 Idiots 'Phunsukh Wangdu' – Sonam Wangchuk
The innovator Sonam Wangchuk, has recently been awarded the Honorary D.Litt Degree
Sonam Wangchuk, famous for his innovations of SEMCOL (Students' Educational and Cultural Movement of Ladakh) and the Ice Stupa has been awarded the Honorary D.Litt Degree by the by the Symbiosis International (Deemed University). With President Ram Nath Kovind as the chief guest on the occasion, Wangchuk was awarded in recognition of his works as an innovator, inventor, engineer, and educationist. After accepting the degree, the Ladakh-based engineer and the real-life 'Phunsukh Wangdu' of the Aamir Khan-starrer film '3 idiots', stated, "I did what humanity demands people to do". He said that that he had not done anything out of the box… just what he was supposed to do.
Mr. Wangchuk has not only set up SEMCOL or the Ice Stupa but has also worked very hard to make the best use of solar energy and has created artificial glaciers in order to focus on the major issues of water scarcity. He certainly has put in his vigorous efforts and has made headway for everything with the feeling of humanity in his heart.
Early Years:
Sonam Wangchuk, the education reformist was born in 1966 in Uleytokpo in the Leh district of Jammu and Kashmir. In the very early years of Wangchuk, his education was not very progressive. Being not many schools in his village, he was taught all the basics in the native language by his mother, until the age of nine.
The Darkest period:
At the age of nine, he along with his family shifted to Srinagar and was enrolled in a school there. Certainly, his appearance was different from the rest of the students; it was quite difficult for him to adjust to the new environment… the different language being the major issue. He was rather taken erroneously to be dumb for the lack of communication and responsiveness. As he was Unable to adapt to the environment of the place and the way he was treated, he ran away alone to Delhi. He pleaded his entire situation to the school principal at Vishesh Kendriya Vidyala. Wangchuk, still believes it to be the darkest part of his life.
Career Surges:
After some time, in 1987, he came back to Srinagar although and did his B.Tech in Mechanical Engineering from National Institute of Technology, Srinagar. He had to finance his own education because of the disagreement of his father over the choice of engineering stream. In 2011, he went to Grenoble (France) for his higher studies in Earthen Architecture at Craterre SCHOOL of Architecture for two years.
After completing his graduation, his career took a huge turn as he began to explore, learn, and grow with his great intelligence, innovative ideas and, hard work.
In 1988, Wangchuk started SEMCOL, along with his brother and his companions.

He worked for 12 years (from 1993-2005) as the editor, for Ladags Melong- the only print magazine of Ladakh.

In 2001, he was appointed as an Educational Advisor, in the Hill Council Government.

In 2002, he founded LVN (Ladakh Voluntary Network) and worked there as the Secretary in its Executive committee up till 2005.

He was entrusted with the formulation of the policy on Education and Tourism in 2004, after being appointed to the Drafting Committee of the Ladakh Hill Council Government's Vision Document Ladakh 2025.

By 2005, he was appointed as a member of the National Governing Council for Elementary Education in the Ministry of Human Resource Development, Government of India.

He also worked for Mellemfolkeligt Samvirke (MS) as an Education Advisor for three years (2007-2010) to support the Ministry of Education (Nepal) for education reforms.

By the end of 2013, Wangchuk invented and built a prototype of the Ice Stupa.

In 2014, for framing the J&K State Education Policy and Vision Document, he was appointed to the Expert Panel.

Since 2015, the real-life 'Phunsukh Wangdu'; has been working on establishing Himalayan Institute of Alternatives. The movie justified his character as, in real life also, he is concerned about how maximum Universities; especially those in the mountains have become irrelevant to the realities of life.

The initiation of a project named, farmstays Ladakh, was done in 2016; which was very unique and thoughtful in its own as it provides the tourists to stay with the local families of Ladakh, run by mothers and middle-aged women. The official inaugurated was done by His Holiness Chetsang Rinpoche on 18 June 2016.
Achievements and Innovations:
The list of Wangchuk's achievements is endless but the ones which have deepened their roots in the past years have proved out to be of great inspiration to all of us.
The Students' Educational and Cultural Movement of Ladakh or SEMCOL is a non-traditional school which brought in a huge educational reform in Ladakh. For those circumstances, he usually says, "For me, my house was on fire and young brothers and sisters were in distress. So when your house is on fire, there is nothing special in throwing water on it, it is your duty, and if you don't do it, that is surprising."
The infrastructure of SEMCOL is such that even in -30 Celsius winters, his solar-powered school, built with the rammed earth, keeps the students warm.
SEMCOL has won the International Terra Award for best building in July 2016 at the 12th World Congress on Earthen Architecture in Lyon, France. However, the campus was built by using the very simple, low-cost traditional techniques on the principles of passive solar architecture.
Back in 2014, Wangchuk started a project named the Ice Stupa with the aim of finding a solid solution to the water crisis being faced by the farmers in Ladakh, especially in the planting months of April and May. They successfully built a two-story prototype of an ice stupa, which could possibly store roughly 150,000 liters of winter stream water. In 2016, Wangchuk started applying the Ice Stupa technique for disaster mitigation at high altitude glacier lakes. This although gained much attention and in October 2016, Wangchuk and his team went to the Swiss Alps and started building the first Ice Stupa of Europe, together with the Swiss partners.
The Popularity Quotient:
Sonam Wangchuk is the person who is truly responsible and has worked very hard for the growth and upliftment of various aspect of society… especially education, for the land of high passes – Ladakh and its people. Apart from his work and assistance in politics; there were several other reasons for him to gain attention and respect worldwide. One of the major reasons for his popularity was in 2009. He came into accentuation when the movie '3 Idiots' was released. The movie was totally inspired by Wangchuk's life story. His character was played by Aamir Khan as Phunsukh Wangdu or Rancchoddas Shyamaldas Chanchad (Rancho). The character and the movie gained so much appreciation that Wangchuk has been referred to as 'The real-life Phunsukh Wangdu'. However, he always states that he is not Phunsukh Wangdu.
Wangchuk has received and has been honored with various Awards and tiles, is yet another reason for him to be popular.
Recently in 2018, he has been given the

Ramon Magsaysay Award

and

Back in 2017, he was awarded the

Indians for Collective Action (ICA) Honor Award, San Francisco.

He has also received the

GQ Men of the Year Awards, Social Entrepreneur of the Year, 2017; 

the Global

Award for Sustainable Architecture, 2017;

and the

State Award for outstanding environmentalist by J&K Govt., 2017.

The

other major awards being, the

Rolex Award for Enterprise, 2016,

and The

International Terra Award for best earth building, 2016.

The UNESCO Chair Earthen Architecture, by CRATerre France, 2014; being one of his worldwide achievements.

Other awards including,

The Green Teacher Award by Sanctuary Asia, 2004,

the

Ashoka Fellowship for Social Entrepreneurship, by Ashoka USA, 2002,

Man of the Year by The Week, 2001,

and
The Governor's Medal for educational reform in Jammu & Kashmir in 1996.
Abhay Ashtekar – An Inspiration For Every Indian
Once again an Indian made a mark in the history with his outstanding achievement. Abhay Ashtekar, an Indian born American professor received the prestigious Einstein prize.
It was a proud moment for every Indian when Abhay Ashtekar, an Indian born and bought up in a small town named Kolhapur in Maharashtra state, received the prestigious Einstein prize.
The prize was established by the American Physical Society (APS) in 1999.
APS rules and eligibility criteria states, the award is given for outstanding achievement, in theory, experiment or observation in the area of gravitational physics.

The award prize consists of 10,000$ and he received the award on 23rd October 2018.

He plans to spend the

prize money by contributing to scientific societies

, according to his reply given in an email interview with a local newspaper. He also mentioned that he has used honoraria and prizes in the past to contribute to scientific societies, e.g. to the International Society on General Relativity and Gravitation to support travel expenses of the `Young Scientist Gold Medal' winners, to the triennial international conferences of the Society.
ABOUT ABHAY ASHTEKAR:
No matter what the hurdles, you have the capability to make a difference when you follow your passion with all your heart and hard work. Abhay Ashtekar proved this with his achievement. Kolhapur, the city he was born in, is a very small city that is dominated by a very distinct style of Marathi language.
Having a rich cultural background, Abhay Ashtekar was aware of only Marathi literature till the age of 11. Hindi and English literature were introduced later in his life.
Physics piqued his interest and he moved forward to follow the same.
He enrolled in the graduate program for gravitation, at the University of Texas at Austin and then completed his Ph.D. from the University of Chicago.
In graduate school, he chose to work in general relativity, cosmology and quantum physics because he thought those areas covered the most fundamental questions about space, time and the nature of the physical universe were discussed.

Starting from a small city with many challenges on the path to receiving the prestigious Einstein prize, the journey of Abhay Ashtekar has been remarkable and an inspiration for every Indian.

Currently, Abhay Ashtekar is the Eberly professor of physics and director of the Institute for Gravitation and the Cosmos at the Pennsylvania State University.

He also authored and co-authored over 270 scientific paper along with writing or co-editing nine scientific books.

He received this prestigious award only after four years of starting his scientific engagement with gravitational science.
The APS cited, the prize was received by Ashtekar"For numerous and seminal contributions to general relativity, including the theory of black holes, canonical quantum gravity, and quantum cosmology."
ASHTEKAR 'S VIEW:
When Ashtekar was asked about his emotions regarding the award, he answered by saying it will be recognized as a "Lifetime achievement".
When asked about the status of physicists in India for producing world-class research, his response was filled with a lot of pride and affection.
He disclosed in the email interview with a local newspaper about his role model.   
From Bob Geroch, He got clarity of thoughts and the capability to develop his own, fresh perspectives.
From Roger Penrose, he learned the art of `dreaming' –the mysterious process by which one gropes in the dark and grasps the key structures even before they have come into light.
From Chandrasekhar, he learned the meaning of  `inner, moral fiber' in a scientist.
His life work and achievements have been listed on the website stated in Pennstate Department of Physics website is http://cgpg.gravity.psu.edu/people/Ashtekar/
Abhay Ashtekar's research and discoveries have given a different perspective to not just a particular country but the whole generation and future generation. Indians have excelled in many areas across the world and he just made another achievement for India as a country. Abhay Ashtekar is looked upon as role model for all our millennial aspiring to make a difference in the world.