Najma Heptulla Appointed as the New Jamia Chancellor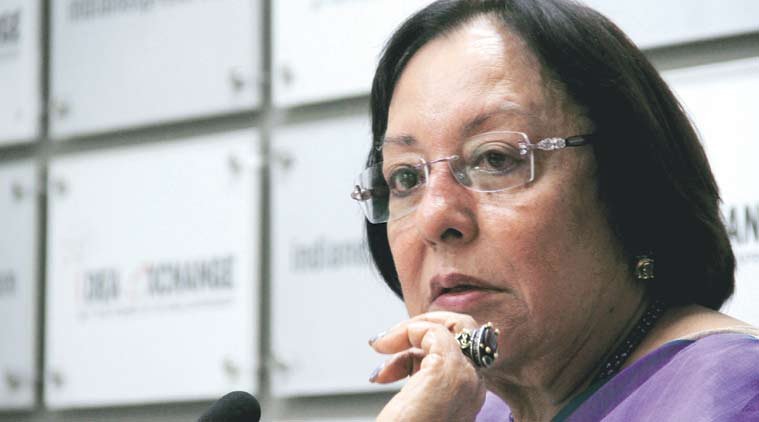 Jamia Milia Islamia just got its new Councellor. And it is none other than the Manipur Governor and former Minority Affairs Minister Dr Najma Heptulla. Infast she has been unanimously elected as Chancellor or as they call it at Jamia–'The Amir-e-Jamia'–of Jamia Millia Islamia by the University's Court – Anjuman in a special meeting held on May 25, 2017.
77-year old Dr Heptulla succeeds Lt. Gen. (Retd.) M.A. Zaki, who completes his term this month. Dr Heptulla has been appointed as Jamia Millia Islamia chancellor for a term of five years.
Confirming the development, Jamia Millia Islamia Vice-Chancellor Talat Ahmad said, " University will greatly benefit from her rich experience in both political and public life." Expressing his happiness over her election as Chancellor, Ahmad added, "It will be our privilege to work with her and to learn from her distinguished career in Parliament and internationally."
A Chancellor of Repute
Grand niece of independent India's first Education Minister, Maulana Abul Kalam Azad, Dr Heptulla has been a five-time member of the Rajya Sabha, She has also been its Deputy Chairman for sixteen years. She has also served as the Minister of Minority Affairs in Prime Minister Narendra Modi's Cabinet before being appointed as the Governor of Manipur.
Dr Heptulla also has had the distinction of presiding over the women's parliamentarians' group of the Inter-Parliamentary Union (IPU) in 1993. She was elected president of IPU — a Geneva-based international organisation from 1999 to 2002. She was nominated by the United Nations Development Programme (UNDP) as its Human Development Ambassador.

Woman of Powerful Words
She is also a woman with a mighty pen. Dr Heptulla has authored the much-acclaimed book "AIDS: Approaches to Prevention". She has also written on human social security, sustainable development, environment, reforms for women and on ties between India and West Asia.
A Guide To Finding Digital Books: Free Online Library In Education Sector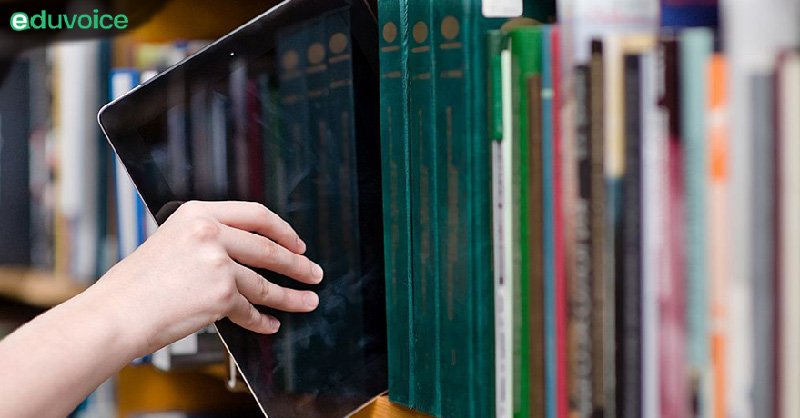 Online libraries have emerged as a very important component of global information infrastructure, adopting the latest information and communication technology (ICT) to promote an organizational structure that encourages communication and resource sharing between the academician and scholars across the nation.
Introduction
A new dimension to information technology has been added due to the emergence of the internet; which gave birth to new concepts of Digital Libraries (DL's) or online libraries. Online libraries have emerged as a very important component of global information infrastructure, adopting the latest information and communication technology (ICT) to promote an organizational structure that encourages communication and resource sharing between the academician and scholars across the nation.
The origin of online libraries is no new thing, yet there is a large amount of population who are unaware of online libraries. The knowledge of free online library is unknown to a great number of people and many don't use it knowingly. They can immensely vary in size, scope, and can be maintained by individuals or organizations. The digital content in these online libraries can be stored locally or can be accessed remotely via computer networks. There are great varieties available of Databases, books, research papers, videos, audio recordings, e-books etc. with great updated data and information; which is just a click away to be used and viewed.
The free online library helps ardent readers, serious researchers, and casual surfers in a great manner by the supply of endless free books and information they need. In India, a number of free online library initiatives and digitization programmes have been initiated throughout the country. Most of the Online Library initiatives are government funded. The Ministry Of Communication And Information Technology has also established the Digital Library of India. In India, in recent years several online library development initiatives have been seen. They have certainly gained insight, assess and growth. A lot of scholarly journals have reflected light and have come to the conclusion that there are 63 published studies on digital libraries in India which have been reviewed.
The study reveals that there are more plans and initiatives to come in the future, whose major focus is on developing the status of free online library and digital collections in India. The National Digital library of India (NDLI) is a project under the Ministry of Human Resource Development, India. The major objective of NDLI is to integrate several national and international digital libraries into one single web- portal. The NDLI provides free of cost access and serves as a free online library of many books in English and the Indian languages. Free online libraries are growing with great significance especially in India. Some of them include the following:
National Digital Library of India
Contribution in the educational field (for teachers)
Free online library fundamentally has proved itself to be an organized set of resources, which not only includes human services, but also the entire spectrum of media (e.g., text, video, images, etc.). They possess both physical and virtual components such as space, equipment, and storage media. They also include intellectual components like, collection policies that determine what materials will be included and organizational schemes that determine how the collection is accessed.
Read Also: ENGINEERING : The Road Taken By Many Indians
A free online library offers classroom materials and professional development which help teachers effectively and efficiently to use primary sources from the Library's vast digital collections in their teaching. This builds partnerships with educational organizations to support effective instruction using primary sources. Many schools, educational institutions, and colleges have already begun the task of converting their traditional collections of books and educational materials to electronic format or online format; with the option with some files which become available in HTML format while others can be downloaded in PDF format, to be printed if necessary. However, from being easily accessible and user-friendly, the free online library holds much more benefits in the educational field not only for the students but for the teachers as well. Here are few of the major benefits of the free online library.
1. A heightened amount of variety and choice
Free Online libraries give complete and easy access to multiple contents with a potentially infinite number of resources and selections at hand. Teachers and students don't have to limit their source of information from traditional libraries which are represented by physical space; more time consuming and difficult as books consume a lot of space and people often have to walk round in search of a particular material. With the help of Internet and cloud storage, free online libraries have overcome this limitation, expanding teachers' horizons in teaching and learning. The facilitation of the expansion of education is automatically done as teachers can access an enormous amount of knowledge and share contents with others.
2. Building a heritage for the next generation
Free online library contribute a lot in helping the scientific society as they act as a reservoir for the storage of important research data, information and findings. This certainly, helps the teachers in the easy access of such resources as these libraries serve in the preservation of artifacts and ideas. The critical issue of the physical records of scientific studies and researches of being destroyed or lost has been solved with the emergence of digital libraries.
Free online library provide free and easy access to the online copies of studies and researches which help the teachers in the complete inculcation of knowledge to his/her students. They not only serve a cultural role in preserving and organizing artifacts and ideas, but also make great works of literature, art, and science must be preserved and made accessible to teachers and future learners. In addition to preservation, free online library ensures access to materials via indexes, catalogs, and other finding aids that allow learners to locate items appropriate to their needs.
3. Instant access to educational content
As long as an Internet connection is available, free online libraries are accessible anywhere and at any point of time. They can be easily accessed with the use of any simple technological device, such as a PC, a tablet or even a smartphone, and information and knowledge can be gained easily. Certainly, this means teachers can consult online books, images, videos, and all the other educational contents, without any delay of going to the nearest physical library. This can easily be done in a formal environment as well, for instance at school, or they can relax at their homes getting instant access to the information they need.
4. Fight against deterioration
The online storage of books and other sources of information from the entire spectrum of media like images, audios, videos, etc. the problem of deterioration is solved. In the traditional libraries, audio cassette tapes, vinyl records, CD's etc. are shared among a lot of teachers and students causing the problem to stand a large number of playings, which hamper the cassettes, CDs and the audios. Ancient documents or fragile photographs need to be resisted of several handovers and consultations, with the risk of being subjected to breakages or other damages. Digitizing of materials and resources has made it possible to access contents how many times a teacher or a student needs, using much safer formats (mp3, digital images, online textbooks, etc.)
5. An easy information retrieval
Over the years, free online library have developed a great range of search features; like boolean and proximity operators, truncation, etc. They facilitate access to data collections and information, which allows the teachers, researches, and students to perform sophisticated searches for a variety of queries. Even novice users can start using free online library and accomplish their searches independently. Not only this, the most encouraging thing is that, as the digital collections grow larger, the level of sophistication of these searching features increases rapidly.
Read Also: How To Create Google Forms? 6 Ways To Use Google Forms for Teachers
6. Inexpensive resource
Free online library serve a practical role in sharing expensive resources. Physical resources such as books and periodicals, films and videos, software and electronic databases, and specialized tools such as projectors, graphics equipment, and cameras are shared by a community of users. Librarians (also called information specialists or media specialists) respond to the requests of teachers and students (responsive service) and initiate activities for teachers and students (proactive services) with the help of support instructional programs. Responsive services also include services like maintaining reserve materials, recommending books or films, answering reference questions, providing bibliographic instruction, developing media packages, and teaching users how to use materials. Proactive services include services like selective initiating thematic events, dissemination of information to faculty, and students,collaborating with instructors to plan instruction, and introducing new instructional methods and tools. In these ways,free online library serve to allow teachers, instructors and students to share expensive materials, and expertise.
7. Social and intellectual role
The free online library serves social and intellectual roles in bringing together people and ideas. They allow people with different perspectives to interact in a knowledge space that is both larger and more general than shared by any single discipline or affinity group in a physical library. Browsing a catalog in a free online library provides a global view for people engaged in the specialized study and offers opportunities for essential insights or alternative views. In many respects, the free online library serves as centers of interdisciplinarity which are the places shared by learners from all disciplines. Free online library extends such interdisciplinarity by making diverse information resources available beyond the physical space shared by groups of learners. One of the greatest benefits of the free online library is bringing together people with formal, informal, and professional learning missions.
CONCLUSION
Of all the benefits and advantages, free online library holds a great scope in future as well. They are not only a collection of digital resources but are also accessible for retrieval over computer networks. Digital information of various types can be incorporated into the collection, including both retrospectively converted printed materials and those that exist only in digital form. They may vary according to a broad range of material formats including, books, journals, pictures, manuscripts, sound recordings, videos, etc.
Republic Day Special: Padma Vibhushan Award Winners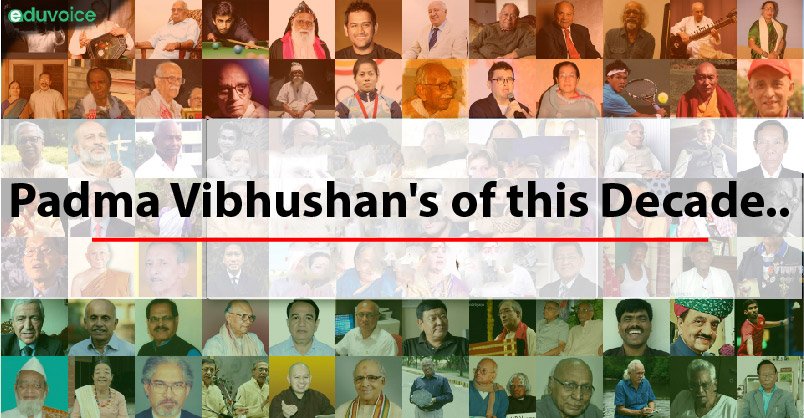 The Padma Awards seek to acknowledge the achievements made in all fields of disciplines where a component of public service is involved. The Padma Vibhushan Awards are India's second highest civilian honor.
PADMA AWARDS
One of the highest civilian honors of India is the Padma Awards. They are announced annually on the Republic Day of every year. The Padma Awards are given in three categories:
Padma Vibhushan (for exceptional and distinguished service),
Padma Bhushan (distinguished service of higher order), and
Padma Shri (distinguished service).
The Padma Awards seek to acknowledge the achievements made in all fields of disciplines where a component of public service is involved. On the recommendations for The Padma Awards to be bestowed are made by the Padma Awards Committee, which is constituted by the Prime Minister every year. The process of nomination is open to the public. Self-nomination can even be made.
The Padma Vibhushan Awards are India's second highest civilian honor. We in this article; are going to tell about the Padma Vibhushan Award winners. The questions regarding the winners of the Padma Vibhshan Award arise very often in the minds of the people. Here is a list which spans the history of the Padma Vibhushan of the famous Padma Vibhushan Award winners. This list is a walk down the memory lane of the most memorable and well-known Padma Vibhushan winners (2001-2018) who hold golden influence for all times.
1.Shri P. Parameswaran (2018)
1927                                                                                                                                 
(Born in Cherthala, Kerala)
About:
P. Parameswaran completed his graduation from University College, Thiruvananthapuram with distinctions in BA (Hons.) in History. 
He is one of the senior most RSS pracharak and ideologues in Kerala.
He received the Padma Vibhushan Award on Republic Day for Literature & Education in the year 2018.
Research:
P. Parameshwaran has authored several books on cultural, social, and religious themes and Indian philosophy as well. He has also been the editor of the magazines ‑ 'Kesari' and 'Manthan'. He is currently the editor of the monthly 'Yuva Bharathi' and the quarterly 'Vivekananda Kendra Patrika'. He has also written books on the teachings of Sri Aurobindo, Marx and Vivekananda, Chhatrapati Shivaji, and Swami Vivekananda.
2.     Shri Ramoji Rao (2016)
16th November 1936                                                                                                     
 (Born in Pedaparupudi, Andhra Pradesh)
About:
Cherukuri Ramoji Rao is an Indian businessman, film producer, educationist, journalist and media entrepreneur.
Rao is the head of the Ramoji Group. The world's largest film production facility, Ramoji Film City and film Production Company Ushakiran Movies. 
 In 2016, he was honored with the Padma Vibhushan, for his contributions in literature, journalism, and education.
Research:
Companies owned by the Ramoji group include Margadarsi Chit Fund, Eenadu newspaper, ETV, Ramadevi Public School, Priya Foods, Ushakiran Movies, and the Ramoji Film City near Hyderabad.
Rao is also the chairman of Dolphin group of hotels in Andhra Pradesh. 
3.  Shri Avinash Dixit (Foreigner) (2016)
6th August 1944                                                                                                             
(Born in Bombay, India)  
About:
 In 1965, Avinash Dixit received a B.A. from Cambridge University in Mathematics. In 1968 he became a Ph.D. holder from the Massachusetts Institute of Technology in Economics.
 He is the author of "Investment under Uncertainty" (With Robert Pindyck) which the first textbook exclusively about the real options approach to investments.
 He received the Padma Vibhushan Award on Republic Day for Literature & Education in the year 2016.
Research:
Avinash Dixit is an Indian-American economist.
He was the senior research fellow at Nuffield College, Oxford and Sanjaya Lall Senior Visiting Research Fellow at Green Templeton College, Oxford.
4. Sitakant Mahapatra (2011)
17th September 1937                                                                                               
(Born in Cuttack district, Odisha) 
About:
Sitakant Mahapatra is an eminent Indian poet and literary critic in Odia as well as English.
Since 1961 he was in the Indian Administrative Service (IAS) until retiring in 1995.
He has been awarded the Padma Bhushan in 2002 and Padma Vibhushan in 2011.
Research:
Apart from numerous translations, he has published over 15 poetry collections, 5 essay collections, a travelogue, and over 30 contemplative works.
His remarkable works include Sabdar Akash (1971) (The Sky of Words), Samudra (1977) and Anek Sharat (1981).
5.  O. N. V. Kurup (2011)
27th May 1931 – 13th February 2016                                                                         
(Born in Chavara Village, Kerala) 
About:
O. N. V. Kurup was a Malayalam poet and lyricist from Kerala, India.
He was the leader of All India Students Federation (AISF).
He received the Padma Shri in 1998 and Padma Vibhushan on Republic Day in 2011.
Research:
'Munnottu' (Forward) was O. N. V.'s first published poem. It appeared in a local weekly in 1946.
Porutunna Soundaryam was his first poetry collection which came out in 1949.
he was also one of the leading lyricists in Malayalam film/drama/album industry.
6. D. P. Chattopadhyaya (2009)
November 5th, 1933                                                                                                   
(Born in Tamil Nadu)                                                                              
About:
He is the Founder/Chairman of the Indian Council of Philosophical Research, New Delhi.
Presently, he is the Chairman of the Centre for Studies in Civilizations, and General Editor of the Project of History of Indian Science, Philosophy and Culture, which has produced a multi-volume cultural history of India.
Many books on culture and philosophy have been authored by him. He was awarded the Padma Vibhushan In 2009.
7.  Sri K. Raja Rao (2007)
8th November 1908 – 8th July 2006                                                                         
(Born in Hassan, Karnataka)
About:
K. Raja Rao studied for his degree at Nizam's College at the Osmania University after matriculation in 1927
His first stories published were in French and English. During 1931–32 he contributed four articles for Jaya Karnataka, an influential journal written in Kannada.
He received the Padma Vibhushan Award for Literature & Education on Republic Day in the year 2007.
Research:
His novel Kanthapura (1938) was based on the impact of Gandhi's teaching on non-violent resistance against the British.
Rao died at the age of 97 due to heart failure on 8th July 2006, at his home in Austin, Texas.
8.  Mahasweta Devi (2006)
14 January 1926 – 28 July 2016                                                                                   
(Born in Dhaka, Bangladesh) 
About:
She was an Indian Bengali fiction writer and socio-political activist
. Her remarkable literary works include Hajar Churashir Maa, Rudali, and Aranyer Adhikar. 
Devi was honored with various literary awards such as the Sahitya Akademi Award (in Bengali), Jnanpith Award and Ramon Magsaysay Award along with India's civilian awards Padma Shri and Padma Vibhushan (in 2006).
Research:
She has written over 100 novels and over 20 collections of short stories majorly in Bengali. 
In 1956 her first novel, titled Jhansi Rani was published which was based on a biography of the Rani of Jhansi.
9. Amrita Pritam (2004)
31st August 1919 – 31 October 2005                                                                         
(Born in Gujranwala, Pakistan)  
About:
She was an Indian novelist, essayist, and poet, who wrote in Punjabi and Hindi. 
She was known as the most important voice for the women in Punjabi literature.
In 2004 she was honored with India's highest literary award, the Sahitya Akademi Fellowship (given by the Sahitya Akademi) given to the "immortals of literature" for lifetime achievement and also received the Padma Vibhushan on Republic Day in the same year.
Research:
Amrita Pritam is considered as the first prominent woman Punjabi poet, novelist, and essayist.
She is the leading 20th-century poet of the Punjabi language, who is equally loved on both sides of the India-Pakistan border.
 10. Bal Ram Nanda (2003)
1917 – 30 May 2010
About:
 Bal Ram Nanda was a writer from New Delhi. He was the dominant Indian biographer of Mahatma Gandhi.
After completing his studies in student of History at Lahore University, B.R. Nanda becomes the first Director of the Nehru Memorial Museum & Library.
He received the Padma Bhushan in 1988 and Padma Vibhushan Award for Literature & Education in the year 2003.
11.  C. Rangarajan (2002)

1932                                                                                                                             
(Born in Tamil Nadu)                                   
 About:
C. Rangarajan is an Indian economist and a former Member of Parliament. He is the 19th Governor of the Reserve Bank of India.
He is the former Chairman of the Prime Minister's Economic Advisory Council and resigned the day, the UPA lost power.
He received the Padma Vibhushan Award for Literature & Education on Republic Day in the year 2002.
Read Also: Happy Republic Day 2019 Quotes
Research:
C. Rangarajan is the Founding Chairman of the CR Rao Advanced Institute of Mathematics, Statistics and Computer Science; and the Chancellor of the University of Hyderabad.
He also served as the Governor of Andhra Pradesh from 24th November 1997 to 3rd January 2003. After relinquishing that office, he took charge as the chairman of the Twelfth Finance Commission.
 12.  Kotha Satchidananda Murthy (2001)
1924-2011                                                                                                                     
(Born in Sangam Jagarlamudi, Andhra Pradesh)
  About:
Kotha Satchidananda Murthy was an Indian philosopher and professor.
He served as the Professor of Philosophy, Andhra University, Visakhapatnam and Vice-Chancellor of Sri Venkateswara University, Tirupati in the state of Andhra Pradesh, South India.
He received the Padma Bhushan in 1984 and Padma Vibhushan Award for Literature & Education in the year 2001.
Research:
After graduation from Andhra University, Visakhapatnam, he carried out Ph.D. research in Philosophy from the same university.
His lectures on Philosophy of Religion – "The Realm of Between" have gained extensive acclaim.
In 1975, a group of professors in Andhra University published his lectures in a volume entitled Collected Criticism of K. Satchidananda Murthy.
13.  John Kenneth Galbraith (2001)
October 15th, 1908 – April 29th, 2006                                                                       
(Born in Iona Station, Canada)  
About:
John Kenneth Galbraith was an economist, public official, and diplomat. He was also a leading proponent of the 20th-century American liberalism.
He stayed as a professor of economics at Harvard University and was a long-time Harvard faculty member for half a century. He was a prolific author as well who wrote four dozen books.
He received the Padma Vibhushan Award for Literature & Education on Republic Day in the year 2001.
Research:
His works included many books like the trilogy on economics, American Capitalism (1952), The Affluent Society (1958), and The New Industrial State (1967).
As an economist, he leaned toward post-Keynesian economics from an institutionalist perspective.
Here was the list of the winners of Padma Vibhushan award, from the year 2001-2018. The Padma Visbhushan Award is rewarded on the Republic Day every year. We hope that we as Indians thrive for more to achieve this award and the number of Padma Vibhushan award winners increases every year and so in 2019.
Happy Republic Day 2019 Quotes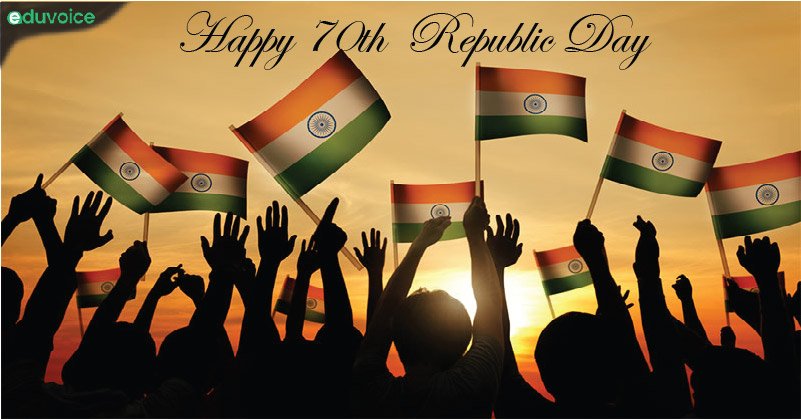 Our Motherland India was a slave under the British rule for long years during which Indian people were forced to follow the laws made by British rule. After long years of struggle by the Indian freedom fighters finally, India became independent on 15th of August in 1947. After two and half years later the Indian Government implemented its own Constitution and declared India as the Democratic Republic.

Around two years, eleven months and eighteen days were taken by the Constituent Assembly of India to pass the new Constitution of India which was done on 26th of January in 1950. After getting declared as the Sovereign Democratic Republic, people of India started celebrating 26th of January as a Republic Day every year.
Read Also: Best 20 Inspirational Quotes For Teachers 2018
Celebrating Republic Day every year is the great honor for the people living in India as well as people of India abroad. It is the day of great importance and celebrated by people with big joy and enthusiasm by organizing and participating in various events.

Here we are representing top 10 quotes for Republic day 2019:
Education is the most powerful weapon which you can use to change the world – Nelson Mandela
On this day think of our past and
Try to build a better future for all of us.
It is a duty of all of us!!
I am proud to be an Indian
31 states,
1618 languages,
6400 castes,
6 religions,
6 ethnic groups,
29 major festivals & 1 country!
Be proud to be an Indian!
The Great REPUBLIC…Happy Republic Day 2019
The historical day to remember our national heroes & freedom fighters,
Who suffered to give us a republic nation
Happy 26th January
One Nation, One Vision, One Identity
"No Nation is Perfect, it needs to be made perfect."
Meri Pehchaan Mera India. Happy Republic Day 2019
Let us remember the golden heritage of our country and feel proud to be a part of India.
Freedom In The Mind,
Strength In The Words,
Pureness In Our Blood,
Pride In Our Souls,
Zeal In Our Hearts,
Let's Salute Our India On Republic Day

Independence a Precious gift of God
May We Always Remain Independent
A Very Happy Republic Day 2019

Saluting India!
Where each bud blooms in its true colors,
Where each day in celebration of unity, harmony, and synthesis.
A nation's culture resides in the hearts and in the soul of its people.
Mahatma Gandhi